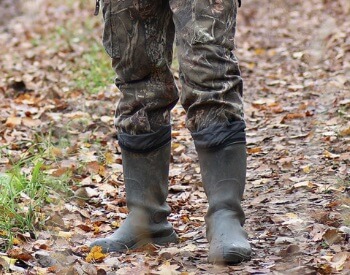 If you are looking for the best hunting boots for cold weather, you have to know which properties matter and which materials make sense. Also, you need to think about the terrain and the occasions and the time of year you would like to wear the boots.
Hunting boots for cold weather are designed for harsh environments so check with the magnifying glass quality and robustness of the model.
If your activity in areas with low temperatures as well difficult to access, the pair should at the same time keep you warm and provide you with maximum comfort.
We have listed the 10 pairs of winter hunting boots and offer you a complete buying guide.
Best Cold Weather Hunting Boots At a Glance
IMAGE
PRODUCT
DETAILS

Best Overall

Best Overall

Sole:

Rubber

Shaft:

15.25″

Weight:

2.6 lbs

Check On Amazon

Editor's Choice

Editor's Choice

Sole:

Rubber

Shaft:

17″

Weight:

Light

Check On Amazon

Best for Men's

Best for Men's

Sole:

Rubber

Shaft:

7″

Weight:

14.2 oz

Check On Amazon

Best for Both Men & Women

Best for Both Men & Women

Sole:

Rubber

Shaft:

9″

Weight:

4 lbs

Check On Amazon

Sole:

Rubber

Shaft:

10″

Weight:

1.4 lbs

Check On Amazon

Aggressive Rubber Outsole

Aggressive Rubber Outsole

Sole:

Rubber

Shaft:

9-13″

Weight:

4.2 lbs

Check On Amazon

Sole:

Rubber

Shaft:

14.75″

Weight:

2.7 lbs

Check On Amazon

Sole:

Rubber

Shaft:

7-15″

Weight:

2.1 lbs

Check On Amazon

Snake Boot Option

Snake Boot Option

Sole:

Rubber

Shaft:

18″

Weight:

Light

Check On Amazon

Durable Snake Boot

Durable Snake Boot

Sole:

Rubber

Shaft:

14″

Weight:

4.8 lbs

Check On Amazon
1. Muck Boot Men's Arctic Pro Hunting Boot for Cold Weather
If you are familiar with hunting boot brands, you may know that all Muck boots are always high quality and last forever. This Arctic Pro cold weather boots comfort rated from -60 °F to 30 °F (-50 °C to -1 °C). The fleece lining is soft, durable and provides exceptional comfortable in extreme cold. The price is cheaper and much better than the more expensive ones.
The boots are 17 1/2″ high and come up below your knee. With typical height for these style boots, they are not crazy heavy but not light either. But compared to leather insulated boots, they are lighter and so much better. The entire boot is waterproof all the way to the top of the neoprene section.
The sole made of excellent quality rubber, pleasantly soft, comfortably fit and protective inner lining for cold temperatures. It has a very snug fit. The sole could also convince and proved to be very sure-footed and easy to clean. This pair of hunting boot is also very good for winter walking.
They are easy to get on and off. Keep in mind, these boots are only designed only for winter weather. So it is vital that you keep these dry after use or your feet will freeze the next time you use them.
Features:
8mm neoprene
Rubber sole
100% Waterproof
Shaft measures approximately 15.25″ from arch
2mm thermal foam under the footbed
What we liked:
Waterproof & shock absorption
Very warm in extreme cold weather
Fleece lining for additional warmth
Extremely comfortable
They are not bulky and heavy
Soft and very flexible
What we didn't like:
Not available for women
It has a strong chemical odor
---
2. Hisea Insulated Rubber Waterproof Hunting Boots for Men
HISEA is quickly becoming a name brand in outdoors products and this statement I mean. These boots are great and the quality is remarkable at this price range. They are very comfortable, durable, and most of all warm. They are warm but not too warm – and good down into the 20's.
Hisea waterproof cold weather hunting boots are also easy to get on and off due to the neoprene upper construction and will not walk your socks off like some rubber boots do. It has a very wide opening that extends down at least six inches with diminishing circumference.
The sole is made of very soft rubber, which is an absolutely good thing for long trip hunting. They are also nicely insulated and heavy duty.
The straps to tighten the tops are a wonderful touch because you can tighten the boot up to keep the cold out. These boots are perfect for winter, not intended for spring or summer because your feet will sweat!
The package also comes with a lifetime warranty. I would and have recommended these boots to anyone looking for a good priced hunting boot or just working around the farm boot.
Features:
8mm neoprene
Rubber sole
100% Waterproof
Shaft measures approximately 17″ from arch
The back has a double pleat of material
What we liked:
Very well constructed
Great for the price
Very comfortable to use
Good against snakes
Completely waterproof
Lifetime warranty
What we didn't like:
May be a bit hot in the midsummer
Exaggerated tread pattern on the sole
---
3. Danner Men's Waterproof Hunting Boot for Cold Weather
These Danner Vital hunting boots are lightweight, comfortable, and waterproof to keep your feet dry and comfortable all day long. They are comfortable even they keep your toes warm. It made in Vietnam by expert manufacturers, and built-in high quality with no doubt.
The soles are comfy, making it easier to get up and down those tree stands. The footbed is made from PU material that stands for polyurethane. It built with lock and load lacing system for a secure fit.
The Shaft measures approximately 7″ from arch and will stand up to a day in the field under the worst Montana conditions. These winter boots with relaxed look will keep you warm in the cold probe season.
The inner shoe is very thick and durable so that the shoe remains comfortable for a long time, even with intensive use. Its Multi-density foam patterning eliminates hotspots and pinch points. As a cheap pair of hunting boot, they have all the necessary properties and fulfill all the criteria.
Bottom line if you're looking for a comfortable lightweight breathable winter season boot I believe Danner nailed this one.
Features:
100% leather and textile
Rubber sole
Danner Dry waterproof protection
Shaft measures approximately 7″ from arch
Heel measures approximately 1.25″
What we liked:
Ultra light boots
Waterproof and warm
Rugged and very comfortable
Hike Inspired & hunt proven
Danner Dry waterproof protection
What we didn't like:
Fabric is a little bit noisy
---
4. Ariat Men's Conquest Round Toe 8″ GTX Hunting Boot
The next winter hunting boots from our list, which knew how to convince customers in terms of quality, workmanship and price-performance ratio, comes from Ariat. Available in less than 80 dollars. They are insulated, so there is not a lot to worry about great in the snow, rain, cold weather.
The model manufactured in the located in Union City, California, not only impresses with its high-quality workmanship and pleasant wearing comfort but above all with its thermos leather sole and multi-layered stable liner perfectly adaptable to individual needs
In general, not for strolls at the mall you are going to boil your feet super comfortable out of the box great quality boots. The footbed inserts are outstanding and the groves really help circulate air. If you never had leather boots before, I recommend a model that keeps you comfortable.
The only issue I have is the rubber strip between the leather boot and the sole has separated on the left boot. They are also a little bit wide for narrow foot but heavy weight socks made for a perfect fit.
Features:
100% Leather
Rubber sole
Shaft measures approximately 9″ from arch
Round Toe Profile
GORE-TEX Construction with waterproof full grain leather
What we liked:
Very comfortable boots
GORE-TEX construction
Clearly maintained size
Solid waterproofing
Good insulation
What we didn't like:
The sole is not aggressive
---
5. Muck Boot Pursuit Shadow Rubber Insulated Hunting Boot
Our next model, which we would like to introduce to you on the basis of its quality and the opinion of customers on the Internet, is the hunting boot also from Muck Boot. The shoe offers a high level of comfort, a perfect fit for men. This pair of hunting boot is also waterproof and breathable.
The weight is very light, and the height is 11 1/4. It is constructed exactly the same from the inside. Due to the high measure, it is very suitable for stalking in higher scrub or even wet knowledge. You can walk for hours without feeling the weight. Not the best traction on frozen fields but good in the mud.
As an insulated, these boots can also be used in all weather conditions. Thanks to its sturdy lacing and flexible and non-slip outsole, which offers a perfect step on any terrain. The soles are fairly soft but if the rocks aren't sharp, you should be fine. It is also very simple to clean.
Features:
Rubber/5 mm Neoprene
Rubber sole
Shaft measures approximately 10″ from arch
Inscentable Scent-Masking technology
Shock absorption and heat retention properties
What we liked:
Lightweight and waterproof
Agion anti-microbial treatment
High quality but cheap price
Non-slip thermal rubber sole
Very lightweight but still warm
What we didn't like:
It has a removable inner sole but not a liner
---
6. HUNTSHIELD Men's Neoprene Insulated Muck Boot
HUNTSHIELD men's winter hunting boot is made of natural rubber, pleasantly soft and has a great shaft width. Due to the high level of comfort despite the fact that it is "only" a rubber boot, this model could fully convince and is rightly found as a pure rubber boot in the best list.
These are perfect for fall weather throughout winter, and again in early spring before the summer greenery hits. This product works 100% waterproof and these boots are not too heavy and very sturdy and durable.
It built with 4MM neoprene insulation which provides comfort, flexibility, and warmth along with great overall heat retention.
Aggressive tread because it is not a clown boot. They look good and come exactly like the pictures. Feet will stay warm. They are also really comfy. They have good insoles and boot is lightweight. The insulation isn't overwhelming during the summer heat either.
Features:
Realtree xtra camo
Secure elastic cuff
4mm neoprene insulation
100% waterproof
Wide range of sizes available
What we liked:
These boots are not too heavy
Very thick and a good fit
Very sturdy and durable
Secure elastic cuff
4MM neoprene insulation
What we didn't like:
These aren't not snake proof
Doesn't come with wide toe
---
7. ARIAT Men's Hunting Boots Outdoor for Cold Weather
The Ariat Men's Conquest hunting boot is comfortable and easy to ON and OFF. Also, these are warm enough for extreme cold weather. These boots are not stated to be insulated. However, the boots have a lining that provides comfort during the winter fall hunting season.
The cold weather hunting boots come with a tag that read "Use caution and avoid snakes! These boots are also designed as a last line of defense to provide additional protection against unintended snake encounters. They are water-resistant not waterproof.
The soles are made of rubber inside is neoprene type of material. With tall brush and rough terrain, these boots protect your feet and legs better than standard western boots. As mentioned, they are easy in and out due in large part to the high-quality zipper and roomy design.
ARIAT Men's Hunting Boots don't let socks get moist. They are super comfortable and look cool. They are also thick enough so you'll need tall socks that stay up & boot cut jeans.
Features:
100% Leather
Rubber sole
Shaft measures approximately 14.75″ from arch
Wide Square Toe Profile
What we liked:
Very nice boots for the price
Fit well and are comfortable
Wide Square Toe Profile
Great rubber soles
Easy on easy off
What we didn't like:
The height of the boot rubbed my calf
---
8. Timberland PRO Men's Waterproof Work and Hunt Boot
The first thing I noticed about Timberland PRO cold weather hunting boots is their weight and solid construction, they are rock solid. The boot leather is thick and the composite toes feel every bit as strong as steel. The Comfort level is pretty amazing. With a combination of soft tread padding, it's definitely one of the 'cushiest' hunting boots available on the market.
It is completely waterproof and has a high-quality insole. They run slightly wide. However, some styles are insulated, so your feet will get pretty hot which is great for a winter hunter. Also, leather is soft and rip at the eyelets. These boots are perfect for 8+ hours of walking.
This model has a regular attached insole that can be removable. They come with no insulation but are also available 600 and 1000. They are of outstanding quality and very warm. This boot looks big when you have it on so I strongly recommend making sure that the regular size fits before going to the wide.
Features:
100% Leather and Textile
Rubber sole
Shaft measures approximately 8″ from arch
Heel measures approximately 2″
Dual-purpose top hardware for instant lacing
What we liked:
Attractive in style
Good ankle support
Excellent sole wear
Very moisture resistant
Sole stitching is solid
Decent grip in wet conditions
What we didn't like:
Non-insulated, only waterproof
---
9. LaCrosse Alphaburly Pro 18″ Hunting Boot for Men's
LaCrosse Alphaburly Hunting Boot very comfortable with good traction. It is a little bit heavier than cheap rubber boots but still quite lightweight overall. I prefer the fit and overall feel to muck boots but price a little high. They are also much easier to get on and off compared to the older version of LaCrosse cold weather hunting boots.
They're getting smarter and put a grip behind the heal so you can step on it with your other foot and slip it off without wrestling with it. It is not super warm but sufficient for some time in cold water. These boots will perform adequately in saltwater conditions.
These hunting boots are not guaranteed to be snake bite proof by the manufacturer, but these would do good against snakes. These boots are good and thick, very high as well. The inside is a thin, almost velvet-like material for moisture-wicking. It's US size, you can depend on the size chart to choose the right size.
Features:
100% Rubber and Neoprene
Rubber sole
Hand-laid premium rubber over a 3.5mm neoprene core
Flexible and scent-free comfort
Wide range of color options
What we liked:
Flexible & easy on and off
Hand-laid premium rubber
Premium grade rubber outsole
Tight around the ankles
Comfortable to use
What we didn't like:
---
10. RELIANCER Durable Cold Weather Snake Hunting Boots
Last but not least, RELIANCER durable hunting boot is built with hand-laid premium rubber over insulating 6mm neoprene which provides comfort, flexibility, and excellent water repellency. It features with breathable knitted lining and 6 mm of internal neoprene for excellent heat retention properties.
It built with heat-resistant insulation which prevents radiated body heat from escaping and returns up to 90% of your body's warmth. The sole is suitable for all terrains and boasts an excellent grip. This is a high-quality rubber hunting boot, which should be great for both winter and summer.
These boots built with comfort technology that offers a unique scalloped top-line and stretchy shaft to accommodate different calf. They also feature three layers of rubber in the toe and heel and two layers of rubber across the instep to provide additional durability and protection from dangers.
Features:
6mm Neoprene
Shaft measures approximately 14″ to sole
Built in Comfort Technology
Shock-absorbing Cleated Outsole
Reinforced Construction at Heel and Toe
What we liked:
Warm and Comfortable
Shock-absorbing Cleated Outsole
Reinforced Construction
Breathable Inner Fabric
Heat-resistant Insulation
What we didn't like:
---
Buyer's guide: Winter Hunting Boots
It is important to choose the right equipment for hunting activity. Because only if a hunter is properly equipped from head to toe, can the hunt be successfully and safely committed.
To make the selection a little easier, we took a closer look at the most important features of a high-quality and good winter hunting boots that will help you make the right choice.
Design and materials
Make sure that the design materials of your hunting boots are waterproof and act as real thermal insulation when you go through the most unlikely places. You may actually have to cross lakes or ponds.
When hunting, or for any other activity in the mountains, you will surely have to stay still in the snow. In order to prevent possible risk of frostbite, a product fulfilling this function would be ideal.
There is always a certain risk of injury for hunters when the hunter is used. You should therefore choose a hunting boot with light stab protection on the forefoot area if possible.
Comfortable soles
Then choose models with comfortable soles. With this asset, you will be able to walk along stony paths or step over tree trunks, branches without worries. Therefore, choose a reference that offers these fundamental features: a manufacturing material and its thickness.
Classic brand hunting shoes are sewn with impregnated yarn, using the double seam technique. Modern cold protection shoes usually have a completely rubberized foot area that merges into a profile sole.
Naturalness and comfort
Rubber represents the ideal in terms of naturalness and comfort of cold weather hunting boots. It is flexible and light. On the other hand, synthetic and polyurethane seem to show more tenacity in the face of obstacles standing in your way. In both cases, make sure that the lining of your winter hunting boots is as solid as possible.
The budget
The large selection of hunting boots encourages some buyers to go bargain hunting. If a certain idea already circles in the head how the model should look like, the quality must not be neglected. The limit is generally around ninety dollars, where the chaff separates from the wheat.
In cheap cold weather hunting boots, there are usually no natural materials such as leather, felt or lambskin. Most inexpensive imports from Asia are made of molded rubber, which is positively sold as "waterproof" in the product description.
One or two sizes larger
Similar to the safety shoes of the PPE (Personal Protection Equipment), the hunting boot is worn differently than an ordinary street shoe:
When it comes to stalking in the wet and cold dawn, each participant puts on one or more pairs of thick thermal socks in the boots. Hunting boots should offer enough space for several layers.
Stable and secure hold
A narrower heel gives the foot support under increased stress. The shoe should not be too big either, as a slipping foot causes the socks to have their own dynamic: These twist into beaded folds or slide forward with each step until they are completely stripped. Friction in the boot is also the cause of blisters.
Safety aspects
Last but not least, when buying a hunting boot you should of course pay attention to important safety features. The shoe should also reduce the risk of injury as best as possible. A stable boot toe cap is an important purchase criterion that protects you from painful pressure and shock injuries in the event of minor accidents while hunting.
If stabbing weapons such as hunting knives are also carried during the hunt, it is recommended that the boot has a slight stab protection (at least in the toe area). In this way, serious injuries are prevented in the event of a mishap with the knife and stalking does not become an incalculable risk.
Conclusion
Perhaps you have already experienced how difficult it can be to "get" winter hunting boots. In addition, modern winter hunting boots have numerous characteristics that accommodate their use. Almost every modern pair of hunting boots is water-repellent or even waterproof. At the same time, they have a breathable feature, so you don't have to have sweaty or aching feet even after long hours on the road.
Newest product technology and proven raw materials such as leather and resilient rubber form a shoe shape that is versatile and reliable, that can be used over a long period with high-quality workmanship.
Also Read: