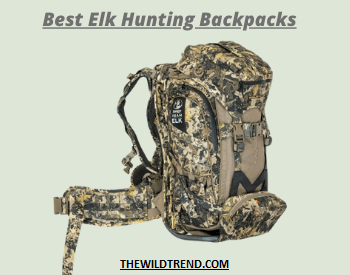 When it comes to elk hunting, having the right gear can be the difference between a successful expedition and a challenging one. Among the essential tools, a reliable hunting backpack stands as a sentinel, carrying the weight of expectations and provisions alike.
Manufacturers continue to push the boundaries of design & functionality and offer a diverse range of options tailored specifically for elk hunters. However, because of the large selection of hunting backpacks and variants of design available on the market, it is sometimes quite difficult to find the best model that suits your needs.
In this guide, we'll review the 10 best elk hunting backpacks available in 2023. From durable construction to specialized compartments, these backpacks are engineered to enhance the hunting experience, making them essential companions for any avid elk hunter.
Each of these backpacks brings its own unique features and advantages, ensuring that you have a variety of top-tier options to choose from. So whether you're an experienced hunter seeking to upgrade your gear or a newcomer looking for the perfect pack, this guide will provide valuable insights to help you make an informed decision.
Best Elk Hunting Backpacks Reviews 2023
1. Tenzing TZ 2220 Hunting Daypack with Rain Cover
Specs:
Material: Textile and Synthetic
Capacity: 2400 cubic inches
Hydration compatible: Yes
Weight: 5.0 lbs.
The Tenzing TZ 2220 is an amazing pack for elk hunting and the quality and craftsmanship are phenomenal. This hunting backpack earned the top position, also one of my favorites, for so many reasons. For example, it is robust with outstanding finishing. At the same time, it's extremely durable, light, and comfortable to carry.
The zippers are super smooth, quiet, and easily manipulated. You can easily access the pockets and compartments. Tenzing TZ 2220 hunting daypack has both rifle and bow carrier, which is convenient and simple to use.
It has plenty of small pockets and storage for all hunting needs especially big game hunts. You can carry a snack or small equipment such as a pair of binoculars. And with 2,400 cubic inches of usable space, it could be your best ally for your next elk hunting trip.
It has 10″ padded hip extensions on each side, and the hip belt adds an additional 14″ to the buckles, again on each side. This will give you 24 total inches of length from the inside back of the pack on each side. There is also a rain cover in the small top compartment. The rain cover is nicely positioned in the bottom pockets.
Tenzing TZ 2220 big hunting backpack has an elastic top pouch in the main pocket that separates it from your gear. It also has a rigid back composite inner backing which keeps the pack in its shape. However, this unit cannot be folded or collapsed. But it's a very sturdy and well-made daypack for the price.
PROS
Built with various attachments
It has a holder for rifle/bow
Waist strap isn't removable
Unreal quality at a superior price
Tons of small storage space
CONS
It does not come with bladder
There is no seat cushion
---
2. Mossy Oak Pegtooth Tactical Hunting Backpack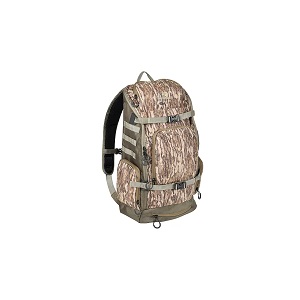 Specs:
Material: 100% Other Fibers
Capacity: 1850 cubic inches
Hydration compatible: Yes
Weight: 2.2 lbs.
The Mossy Oak Pegtooth is a nice suitcase-style hunting pack. It could be a brilliant choice for someone who looking for an affordable elk hunting backpack. It has enough room inside and we love that you can unzip it almost all the way down. Some real innovations you will find here with all the different pockets, mesh and zips.
This tactical hunting backpack is very comfortable and lightweight. However, it is very robust and durable. The padded strap and shoulder strap are adjustable for different bodies and sizes. The pocket pulls out in the bottom. It is also super quiet. Although the fabric makes a slight noise, it is thoroughly acceptable.
Mossy Oak tactical hunting pack is very well crafted with soft fabric for most of the bag and a nice ripstop material on the rest. It has a big main compartment, nice mole straps on the sides to attach extra pouches, and two more mole sections to attach pouches on the kidney pads are very nice.
The holding area for the hydration pack inside the main compartment is about 9″ wide and 12″ tall. The hole for the hydration tube is over the left shoulder, not the center or right. You can add in a water bladder.
However, the best part of this hunting pack is the price. This is by far a better product for less money than what the big name brands are selling. It will deliver exceptional results without compromising on quality.
PROS
Made of top-grade materials
Waterproof against humidity and rain
Great choice for the price
Comes with plenty of space
It's compact and lightweight
CONS
Doesn't have a lot of small storage for small items
Doesn't come with a quiver
---
3. ALPS OutdoorZ Camo Pattern Falcon Backpack
Specs:
Material: 100% Other Fi Textile and Synthetic
Capacity: 2500 cubic inches
Hydration compatible: Yes
Weight: 4.7 lbs.
The third place in our ranking of the best elk hunting backpacks in 2023 is the ALPS OutdoorZ Falcon. This pack is built with Camo Pattern design to hide from the target. It goes a lot further than its price range. As the name suggests, this is a very strong Hunting Pack, made of Brushed Tricot fabric. It offers you a vented back design that allows for maximum airflow to your back and helps to carry all necessary gear.
The side compression straps help pull the weight of the pack towards your own body, which means heavy loads are easier to carry. This can also be paired with padded and waist straps.
ALPS OutdoorZ Falcon hunting backpack comes with two main compartments: one pocket keeps everything right where you want it and the other is a large main compartment that has a sleeve and port for a hydration bladder. The package also includes a Blaze orange rain cover and webbing straps.
It has 2500 cubic inches of storage and a dual directional frame to help support heavy loads, which means long trip elk hunters should prefer this model.
The large front pocket for accessories is intended to allow quick access to essential equipment. The padded waist belt has two zippered pockets, so you can easily access your range finder, finder, GPS, or extra digital devices. This unit also has a weapon pocket that helps you to carry your bow or rifle securely.
Although the price is around 50 dollars, the ALPS OutdoorZ hunting backpack nonetheless provides a host of cool features, designed to simplify your search experience. However, the pack isn't completely waterproof or rain-resistant, so you need to use the cover if it is raining.
PROS
Large organization pocket
Comfortable allows maximum airflow
Blaze orange rain cover is included
Build with dual-directional frame
Adjustable and durable
CONS
It does not have a shelf
Inside looks a bit cheap
---
4. Allen Pagosa 1800 Hunting Daypack
Specs:
Material: 240g Tricot
Capacity: 1800 cubic inches
Hydration compatible: Yes
Weight: 3.0 lbs.
Compared to the biggest game hunting day packs we have reviewed above, the Allen Pagosa 1800 has all the same features but just feels way more comfortable. For example, the back support panels are designed to keep you comfortable even when your bag is filled to the max gear. And the padded panels are lined with cool mesh to keep you comfortable on those long treks.
The size, material, and craftsmanship are also great. It's made of good heavyweight material and well-stitched. It will accommodate your water bladder, and other items while out on a hunt.
It has lots of zipper storage and all zips have an easy-to-see red pull. The zippers feel strong and the padding on the pack feels really comfortable on your back. All the adjustable straps make it easy to adjust at any time; weight is added or removed. So, the Allen Pagosa is an undoubtedly nice day pack for elk hunting.
The main compartment is large enough to hold a few nights of gear. The compression straps mean you can cut the amount of the diet until you are ready to haul meat. Allen Pagosa 1800 hunting pack is specially designed for multi-day backcountry research. Thanks to its vibrant lining and zipper pulls, locating your gear in this bag is a breeze, even in low-light settings.
However, this unit is not as soft and quiet as a regular backpack, which is the main use intended. The material is quiet while walking in the woods or hunting. Also, the hip belt isn't removable but has pockets on the sides. And there is no option to carry a rifle or bow.
PROS
Well made with lots of storage pockets
Price and quality are excellent
Good size for gear (perfectly fits for day hunt)
Built with back Support Panels
Comfortable shoulder straps
CONS
Design is not sophisticated
Pocket configuration could be better
---
5. Badlands Superday Elk Hunting Backpack
Specs:
Material: Waterproof KXO-50
Capacity: 1950 cubic inches
Hydration compatible: Yes
Weight: 4.0 lbs.
Badlands Superday backpack has all the features that you need for a day hunt and then some. The number one characteristic that makes Badlands's pack such a great buy is the comfortable design. It has convenient pocket placement, so you can focus without distraction. It also has a maximum weight level so that you can easily determine how much you can carry on.
Badlands Superday hunting backpack comes with a 1950 cubic inch capacity, & internal and external pockets and organizers, which help you able to bring everything you need to carry and stay organized. Loops on the front allow you to attach other accessories to the outside of the pack as well.
It is a superb choice for big game hunters. It is built with rifle boots, two side pistol holders, and 5 compression straps that give you loads of options for gear attachment. Also, this hunting pack is compatible with 2-liter hydration systems. The included load lifter straps transfer weight from your shoulders to your hips.
Badlands Superday hunting bag is designed for the Midwest or Eastern hunter, as well as late-season Western hunters. Because its dark woods camo adapts to your surroundings and the current lighting. This model comes with a lifetime warranty. Any damage, they will replace it for free.
Keep in mind, the waistband is not removable. It is permanently attached but very comfortable and has great support on the back.
PROS
Gives you all the room you need
It is compatible with a crossbow
Very comfortable to carry on
Comes with a lifetime warranty
Completely waterproof
CONS
Doesn't come with rain cover
Waist band is not removable
Not good for long trip hunting
Expensive
---
6. ALPS OutdoorZ Extreme Pursuit X Hunting Pack
Specs:
Material: 1680D Nylon Ballistic fabric
Capacity: 2700 cubic inches
Hydration compatible: Yes
Weight: 4.0 lbs.
You already know that ALPS OutdoorZ is always famous for its innovative hunting backpack, and the Extreme Pursuit X is part of their extreme line that is built with stronger fabric materials, Lycra-covered suspension, and molded foam panels for superior durability and comfort. It is the perfect solution for the elk hunter who looking for a single pack for multiple uses. There are many features to keep you interested, as well.
It was designed by a team of Midwestern deer hunters who understand what is needed for big hunting, and more importantly, what doesn't. It carries all the features that make it different from the rest of the market. This hunting pack meets the most demanding hunters who have no budget issues.
Extreme Pursuit X hunting backpack comes with D-ring at the top of the pack to hang from while in a stand, and a front organizational pocket so that users can keep the gear that is needed most readily available. You can attach the quiver on either side using a quiet bungee and cord lock.
It is made of 1680D Nylon Ballistic fabric, that is used for unmatched strength. It is also large enough to carry more gear than it takes, including over a week's worth of food while still being light enough.
Overall, the ALPS OutdoorZ Extreme Pursuit X hunting bag could be a good choice for elk hunting because of the combination of an internal frame meat hauling pack with a detachable 4000 cubic inches capacity. You are able to pack gear and haul out meat when the task is complete.
PROS
Comfortable to carry
Durable construction
Equipped with top D-ring clip
Large carrying capacity
Commander Freighter Frame
Molded Foam Suspension
CONS
Waist belt is too large for small people
Doesn't have an internal frame
---
7. Mossy Oak Knuckleboom Technical Hunting Pack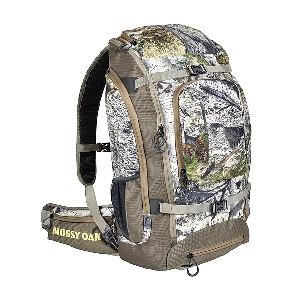 Specs:
Material: 100% Other Fibers
Capacity: 2450 cubic inches
Hydration compatible: Yes
Weight: 3.0 lbs.
We go up a little in range and in price with the Mossy Oak Knuckleboom bag. It is a versatile outdoor bag, that offers absolute comfort during carrying. It is profoundly functional and reasonably well-made pack for the elk hunter on a budget. And if you do 15-20 outings a season, this will serve you well.
The pocket locations are convenient with panel opening as well as have top and side pockets so that you can operate remarkably easily. The side pockets are large enough and the hip harness is strong.
The main compartment of 40 liters is enough to carry a tripod, folding stool, multiple bottles of water, etc. Other extra pockets allow you to organize other things like a range finder, gloves and other equipment to be carried separately. It also looks truly beautiful and provides you with a long time of service.
The material is water-resistant and sturdy. The interior fabric is noiseless, and the construction is high-end. It has a length of 30″, which will allow you to secure your firearms quickly and easily with an internal strap system. The Sling Retention System ensures that slung firearms stay securely positioned on the shoulder and prevent any unwanted sliding off.
The Mossy Oak Knuckleboom is a very good pack in the forest when going off the trails to observe animals. Unfortunately, it doesn't have a separate pocket for a bladder and MOLLE webbing for attachments.
PROS
Hydration compatible
High-quality construction
Provide you long time service
Affordable but well made
A lot of storage pockets and space
CONS
Strap lock for the rifle sling
---
8. INSIGHTS Realtree EDGE Hunting Pack
Specs:
Material: Tricot Fabric
Capacity: Weapon Carrying Capacity
Hydration compatible: Yes
Weight: 5.0 lbs.
INSIGHTS Realtree EDGE hunting backpack has a carrier that carries your hunting crossbow or rifle easily. Although it looks pretty small, the total capacity is 2000 cubic inches. This volume is enough to carry a big game or elk. There are also two long vertical zipper pockets on each side, which makes it more convenient than regular hunting packs.
INSIGHTS Realtree hunting pack was made of quality material and the Fastex clips are heavy duty. The inner frame can help disperse the load besides reducing shoulder fatigue. It is designed very nicely, which makes it extremely comfortable to carry.
It is also one of the best bow-compatible backpacks on the market. The pocket that holds the crossbow stock is just barely big enough for different-sized crossbows. The channel crossbow fits in the inner shell very well, while somewhat shallowly, and is kept by 3 straps, the bottom one cradles the pistol grip. These straps keep the crossbow surprisingly well. The top straps through the crossbow's limbs.
INSIGHTS Realtree hunting pack features the best strength-to-weight ratio of almost any research setting. It can be paired with a specially designed fabric that is resistant to blood, dirt and moisture.
PROS
Very secure design
Completely removable bag
Perfectly support your back
Better optics shield design
Improved anchoring system
Lightweight and well made
CONS
Only 2000 cubic storage space
No rain cover
---
9. Badlands Diablo Dos Seven-Pocket Elk Hunting Bag
Specs:
Material: KXO-32 Fabric
Capacity: 2100 cubic inches
Hydration compatible: Yes
Weight: 4.0 lbs.
If you are struggling to find the best soft big game daypack with several additional pockets, we highly recommend the Badlands Diablo Dos. It has Rifle/Bow, Boot, and batwing straps on the back so that you can securely carry your rifle or bow. We highly appreciate Badlands's customer service.
Badlands Diablo Dos hunting backpack comes with Hypervent suspension which pulls your pack away from your back for a constant flow of cooling air. When your backside comes in contact with the pack, its ventilated foam and mesh fabric help to continue the airflow and keep you cool and dry.
This unit is built with Badlands' KXO-32 fabric which is tough, waterproof, incredibly quiet, and at the same time lightweight. This pack allows you to stay cool and dry in even the most extreme environments and stay at those peak performance levels longer.
This model comes with easy-access hip-belt pouches and multiple rear compression straps. The seamless shoulder straps provide long-haul comfort and fit a 3L hydration reservoir. The neutral color palette also allows the Approach pattern to adapt to your surroundings and the current lighting conditions.
However, it is a big/bulky pack, but it could be great for carrying a lot but oversized. Also, the price is a little high because of the outstanding construction.
PROS
It has the sidearm slot
Simple to carry Rifle or Bow
Huge load capacity
Lots of extra pockets
Ventilated for comfort
CONS
Does not have the optics pocket
A little bit expensive
---
10. ALPS OutdoorZ Nylon Ripstop Commander Backpack
Specs:
Material: Nylon ripstop fabric
Capacity: 5250 cubic inches
Hydration compatible: Yes
Weight: 2.3 lbs.
We now bring our roundup to a close: the ALPS OutdoorZ Commander is an excellent big game hunting pack for the price with commendable quality from the ALPS OutdoorZ brand. The color pattern has been designed to blend in with a wide assortment of natural habitats. However, the material of the backpack is nylon ripstop fabric.
The meat haul perfectly fits any ALPS OutdoorZ backpack because the entire meat hauler is made to be customized easily. You can also customize the entire pack as you wish. For example, you can easily take it off the shelf and attach it to the upper half or lower half of the frame.
It is big enough, and definitely, one of the lightest elk hunting packs out there for the size. This model has several straps and a capacity of 5250 cubic inches. It also has two small flaps that run down both sides. The load-balancing system allows for comfortable transport, whether you want to use this bag for hunting, hiking, or just as an everyday backpack.
However, it is the pack only, with no frame, making it difficult to carry for bad back guys. ALPS OutdoorZ Commander hunting backpack is designed to be attached to an external frame (sold separately). The frame has its own weight but they are very light. When assembled with the frame, it will be more than 2 lbs.
It has Drop-Down Rifle Holder and spotting scope pocket for long distance hunts. Keep in mind that you need to remove the load-carrying straps from the frame to attach the bag and then carry the straps in a pocket.
PROS
Very good pack for the money
Lightweight and plenty of room
Lots of options for carrying
Great frame and looks good
Perfect for multiple usages
CONS
Water bladder isn't included
It doesn't line up exactly with the Clevis pins
---
Buyer's Guide: Best Elk Hunting Backpack
Regardless of the brand or manufacturer, there are certain elements and features that the best elk hunting backpacks will have integrated into their designs. And before choosing a suitable model for your needs, you must evaluate these features carefully.
Materials: silent and washable
When choosing an elk hunting backpack, it is especially important to pay attention to the material from which it is made. The material should be water-repellent, resistant, both to tears and to atmospheric agents, and above all silent. It is annoying to buy a hunting pack that makes noise.
The rigidity of the frame is also an important parameter when choosing an elk hunting pack. And make sure that your chosen backpack is waterproof or hydration compatible.
Always consider how easily it can be washed. Hunting backpacks will inevitably get dirty, especially if you use them frequently and pick to carry raw items. Therefore, it is better to prefer backpacks that have a removable inner bag and that dry quickly!
Color is also important
Elk hunting backpack must be chosen in a "hunting" approach". The color should be similar to its surroundings to avoid being too visible. It makes no sense to choose a hunting backpack in orange or other bright colors typical of trekking backpacks. Each activity has its own.
Space: the pockets
Many pockets mean you can better organize the space and have everything quickly at hand when needed. For example, some small pockets help you to carry hunting knife, sharpener, rangefinder, or other accessories. We expect that hunting can make the difference between catching the prey or seeing it escape for a short time.
Keep in mind that when the volume increases, size and weight too altogether. A good compromise is the backpacks with variable volumes that allow you to increase space if necessary.
Comfort and extras
Another aspect not to be underestimated is comfort. The shoulder straps must have good padding to avoid shoulder pain when you are fully loaded and must be widely adjustable to suit your body shape. Lumbar support is also useful, which allows for better weight distribution and reduces fatigue over long distances.
Many elk hunting backpacks also have additional gadgets, such as seats, rests and rifle pockets, which characterize them specifically. These must be evaluated and chosen according to your needs.
FAQs:
How much to spend on a good elk hunting backpack?
A good elk hunting backpack doesn't have to be very expensive. With a cost of between 100 and 200 dollars, you can already find an excellent product. Going up with the budget you can certainly afford superior quality backpacks with specific characteristics. However, always weigh your choice on the basis of your actual needs and your economic possibility.
We always recommend you avoid low-cost hunting backpacks. Because they have poor quality and do not last long. If you choose a very poor type of pack, you will find yourself changing them often.
What size pack should I prefer for elk hunting?
It depends on how long you are going to hunt, and also how much you will be hunting while you are away. Remember that you will need to leave some space for the meat. And with the majority of backpacks, you can tie the meat between the back and the frame. As a general rule of thumb, budget around 1,000 cubic inches of space each day that you research.
What is the importance of a meat shelf in an elk hunting backpack?
A meat shelf allows hunters to separate and carry harvested game without compromising the integrity of the backpack's contents. This feature is valuable when hauling out large, heavy loads.
Can I require a waist strap on a hunting backpack?
It is certainly recommended to choose an elk hunting pack with a waist strap. The burden of a hunting backpack is made to be primarily distributed over your hip, not your shoulders. Replace a backpack without a waist strap and plan to comfortably pull the meat. When choosing a hunting backpack, make sure that the waist strap fits your waist perfectly, with enough space to tighten and loosen as well.
Are elk hunting backpacks suitable for rifles and bows?
Yes, even some hunting backpacks are specially designed for use in both rifles and bows. It is a fantastic idea to choose a backpack that is designed to store the weapon of your choice, as storage systems may differ.
Conclusion
A big game hunting backpack is necessary to organize the hunting gear properly. Here we have reviewed a selection of the elk hunting backpacks that are very popular on the market. Often hunters underestimate the usefulness of a good pack, especially if they don't have been used previously. In some situations and in certain types of hunting, it can become an essential component.
As we mentioned above, an elk hunting backpack should have many essential characteristics. If you are a bowhunter, also make sure that the pack is bow compatible.
Good hunting – and good luck!