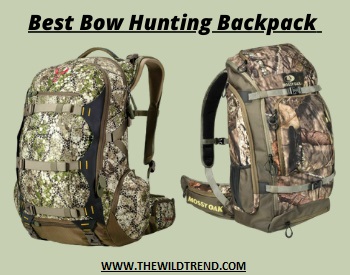 There are many things you need to consider for your next bow hunting trip, including location, speed, group size, and transportation. But one thing every serious hunter knows; is the importance of the right bow backpack. It is undoubtedly a fundamental element for bow hunting that must be chosen carefully.
With the best bow hunting backpack, you can make yourself always well-equipped for all upcoming tasks in the new area.
But, what is the best bow hunting backpack on the market today?
A good quality bow hunting backpack should have a very discreet design – no matter how large it is. The color should be military, brown, dark green, or gray so that it is not visible and doesn't give in to the eye in the middle of the green of the bush.
The best bow hunting backpack must be quite capacious so that it can comfortably contain all the tools and accessories that are necessary for bow hunting, including knives, binoculars, water bottles, ammunition, and more.
Best Bow Hunting Backpacks for 2023
Whether you are looking for an expedition bow hunting bag for multi-day hunts, a light backpack for very active hunts in the woods, or a waterproof backpack for hunting in rainy weather – we have what you need.
In the list below, you will find the top 10 best bow hunting backpacks for 2023…
1. Badlands Bow & Rifle Compatible Hunting backpack
Technical Specs:
Volume: 1500 cubic in.
Hydration Compatible: Yes
Total Pocket: Five
Weight: 2.0 lbs.
Badlands Pursuit hunting pack sold at a cheap price and can hold almost any bow. It is compatible with several gun models. This is a tactical hunting bag that is sturdy with thick zippers.
The durable construction is reliable for both short and long trips. It is designed with a deceptive amount of space. You will be able to keep everything you need and still have room for food and water.
Its weight is only under 2 pounds which won't slow down whether you carry a rifle or bow. A variety of compression straps provide lots of options for gear attachment. Badlands Pursuit hunting backpack is compatible with 3-liter hydration reservoirs.
It is made of KXO-32 fabric which is strong, quiet and resistant. The buckles are silent when opening and closing. However, you have to weave it into the straps at the bottom; hangs properly on your back and does not pull you backward.
The two horizontal compression straps measure about 12″ wide at their maximum adjustment and they're about 7″ apart from top to bottom. You can easily judge whether your particular bow will fit within those general parameters by measuring the length of bow limbs.
Badlands Pursuit bow hunting pack offers absolute comfort with 20.5 liters of large capacity for storage and serves well for all your needs. Additionally, the backrest is equipped with a padded ventilated area for increased comfort and breathability, as well as to reduce annoying perspiration areas.
PROS
Easy access to gear
Well made with a lot of pockets
Small, lightweight and very usable
Comes with lifetime warranty
Great choice for the price
CONS
It's not super big
Fabric is water-resistant, but not waterproof
---
2. Timber Hawk Big Basin Bow Hunting Backpack
Timber Hawk Big Basin bow hunting backpack is made of noise-reducing fibers and quiet cloth. It lets you make ultra-quiet pack adjustments and helps you to reduce audio signature in the field.
It has a roomy main compartment with four accessory pockets. This bow-compatible hunting backpack has an internal front organized compartment with two accessory pockets and a key fob. There are also several small pockets inside the pack; the zippers are of outstanding quality.
The Timber Hawk Big Basin is one of the cheapest bow hunting backpacks on the market that features a Hawkeye Bino Strap System. The straps can be used independently or connected to shoulder straps for ultimate stability while glassing. However, this is a day pack with high-density breathable foam padded back and shoulder straps.
It has a ton of pockets with 1677 cubic inches of main component capacity to fit all types of bows (crossbow, compound bow, Recurve bow). You can carry just about everything you need.
Timber Hawk Big Basin bow hunting pack has multiple webbed accessory loops. The extra strap around the waist definitely makes everything feel a lot lighter while you carry the backpack. Overall, it brings most of its functionality and has condensed it into this lightweight and unique pack which is ideal for a day in trees.
You need to wash it in cold water with a mild detergent; you won't able to put it in the drying machine.
Technical Specs:
Volume: 1677 cubic in.
Hydration Compatible: Yes
Total Pocket: Five
Weight: 1.5 lbs.
PROS
Solid construction
Huge pockets and organized
Plenty of space inside the pack
Features Hawkeye Bingo strap system
Extra webbing for attachment points
Made with noise-reducing cloth
Side compression straps
CONS
Not good for a long trip
Water-resistant but not waterproof
Zippers require 2 hands to close
---
3. ALPS OutdoorZ Pursuit Bow Hunting Pack
Technical Specs:
Volume: 2700 cubic in.
Hydration Compatible: Yes
Total Pocket: Eight
Weight: 4.1 lbs.
The ALPS OutdoorZ Realtree Edge is one of the best large bow hunting backpacks on the market although it first appears on the market over 6 years. However, with its outstanding quality and durability, it is still the best choice for advanced bowhunters.
It has nubs for hanging a water bladder in the back compartment. It's a big pocket that runs the length and width of the bag on the inside of the main part of the pack. The first compartment folds down with support straps like a shelf. You can use 3L and there's plenty of extra room.
This Realtree Edge bow hunting pack carries almost all bows, including parallel limb bows. It has a rifle holder, which is very effective for professional hunters, who sometimes use rifles. It just puts the weight where you are not used to it but once you are adjusted to that, it is most helpful.
The pack is 4 lbs. 1 oz. And the dimensions are 20x14x4. With 2700 cubic inches of space, you can carry everything you need for a long or short bow hunting trip. There's also a ring at the top to hang it on a hook. It is waterproof and has a cover option to put over the backpack in extreme weather.
It has tons of places to organize differently. 2-inch to 10-inch hidden spot on the bottom to store cover and strap about 6-inch space.
The smaller storage pocket has several internal smaller elastic mesh pockets. You can individually store your small items like hunting gloves, knives, knife sharpeners, and other stuff.
However, it does not have an internal frame, but it has a removable support rod. Also, this pack doesn't have a 'raised' vented back. However, the padded backing with breathable mesh will provide airflow.
PROS
Easily hangs from the tree with D-ring clip
It has quiver holder on each side
Padded waist belt with two pockets
Blaze orange rain cover included
Built with the center Aluminum stay
Large front and main pocket
Bow, Rifle and Handgun compatible
CONS
It may be a little big for short-trip hunters
The gun strap is a little wimpy
---
4. Tenzing Choice TNZBP1001 Bow Hunting Daypack
Technical Specs:
Volume: 1500 cubic in.
Hydration Compatible: No
Total Pocket: Six
Weight: 3.0 lbs.
This quality-proven hunting backpack from Tenzing is a great option at an affordable price while offering exceptional results without compromising quality. It is equipped with several practical accessories.
The 1500 cubic inches space is enough to carry all hunting gear, including more than a week of food. The organization on the outside pocket is excellent – perfect for your knives, first aid, etc.
The size is large enough for a day hike/hunt but small enough to manage easily. It has some pretty good side pockets for tree stand archery hunters. In the outside pocket, you can fit 16oz insulated water bottle per side.
The aluminum frame helps to keep the rigidity of the pack when walking and when it hanging in the tree. The internal frame offers nice back support because they are all vertical. It shouldn't be that hard to figure out some lashing points.
The Tenzing TNZBP1001 is a great backpack for both bow and rifle hunting. If you are an average-weight person, you will consider this model the best bowhunting backpack you have ever worn.
Tenzing bow hunting backpack comes with good straps and waist belt, and a lot of straps to get it fitted to your body. We had tried this backpack, and it felt amazing on our shoulders.
We found that there are two Bungie cord things near the top. Not sure what they are for (maybe a quiver). But out of the box, they are knocking up against the main zipper pull making a very audible noise. The rain cover is a little weird because it leaves the area around the pouch where it comes out of exposure to the rain. However, the fabric is water-resistant.
PROS
Slim hip straps
Built in gun holding system
It has nice organizational packets
Sturdy and feels well built
Very comfortable and quiet
CONS
Doesn't come with a hydration bladder
Waist belt is not removable
---
5. Badlands 2200 Built-in Meat Hauler Hunting Pack
Technical Specs:
Volume: 2750 cubic in.
Hydration Compatible: Yes
Total Pocket: Eight
Weight: 5lb, 15oz.
Badlands 2200 Bow Hunting Backpack has three cross straps that secure the "bat-wing" flaps. There is a large internal pocket on the bottom that holds a sling for buttstock or cam.
The ultralight & durable internal frame is made from aircraft-grade aluminum that ensures long service life. This model is equipped with an integrated rifle boot and a holster for a hip belt pistol as well as a Badlands Bow Boot.
The silent KXO-32 fabric fits easily and stealthily in any environment and can be used for overnight hunts. It is breathable on the back and comfortable for wearing during a long trip.
Badlands 2200 bow hunting bag comes with enough space to remove the layers when the weather gets too hot while being light enough not to interfere with your hikes. The main compartment volume is 1980 CI and the total bag volume is 2250 CI.
The meat shelf is capable of transporting a deboned deer. This bow hunting bag is primarily designed to carry meat, but it can also be compressed to serve as a practical backpack if necessary. All hunting utensils can be easily stowed away, and bottles find their place on the sides.
To ensure quality, Badlands 2200 bow hunting bag comes with a lifetime warranty; they will repair it if the pack is damaged normally (continue to repair it). So it is a lifetime investment for your hunting career. For different guys, there are also three different sizes available.
However, the material itself is typically waterproof, but the zippers are not and the seams are not taped, so technically it is not. The rain cover (sold separately) can keep your gear dry.
PROS
Bow boot, pistol & rifle compatible
Compatible with 2-liter hydration systems
Unconditional lifetime warranty
T-6 Aircraft Aluminum Frame
Blaze Orange Meat Shelf
CONS
It is a little bit heavy but ok for men
Holster is quite short
Medium size
---
6. ALPS OutdoorZ Willow Creek Hunting Backpack
Technical Specs:
Volume: 1075 cubic in.
Hydration Compatible: Yes
Total Pocket: Six
Weight: 1lb, 12oz.
ALPS OutdoorZ Willow Creek pack itself is pretty quiet. The straps are typical nylon and fairly noisy when they brush on branches and stuff. But they don't make all the "diaper" noises as you walk like some of the other hunting packs on the market.
The Willow Creek is the ultimate hydration pack for bow hunting. It comes with a 3-liter reservoir that includes an insulated hose to keep you hydrated throughout the day. It has one big main pocket and 2 front pockets to give you 1075 cubic inches of space. The main compartment is 16 1/2″ tall.
The zippers are top quality out of the box; you can put everything you need for the day, including a decoy, bugle, rain jacket and light jacket, gut hook, skinning knives, food and water. However, the compartments are smaller than anticipated, but it's still a great bow hunting backpack for the money.
The additional compartments are detachable according to user needs. These extra compartments allow you to be better prepared because you never know what can happen in the wild. They are sturdy enough but very lightweight. The total weight is only 1lb.
This is a professional-grade bow hunting backpack with multiple compartments. But it is not good for a long trip because the capacity is pretty much low. However, it is versatile enough for different uses. ALPS OutdoorZ Willow Creek hunting pack is also waterproof and camouflaged as well.
PROS
Padded shoulder straps with sternum strap
Lightweight and comfortable to carry
Three-liter hydration reservoir
Two front attachment points
One key clip features
CONS
It is very tiny
Water-resistant but not waterproof
Small storage capacity
---
7. INSIGHTS All-Weather Realtree EDGE Hunting Bag
Technical Specs:
Volume: 1831 cubic in.
Hydration Compatible: No
Total Pocket: Eight
Weight: 2.5 lbs.
The INSIGHTS Realtree EDGE is a highly functional Insights bow hunting backpack that can allow you to carry your essentials clothes and gear in an organized and accessible manner. It has 1845 cubic inches of space which is enough to carry enough food for a long trip. This unit is built in the new tree stand shelf and basket system, allowing you to store everything you need.
INSIGHTS Realtree EDGE hunting backpack has more compartments and included features than you could ever need. The size and layout are adequately good for bow hunting. It has sturdy construction with lots of pockets for storage.
One of its most pleasing features is removable, which means that this backpack demonstrates unprecedented convenience and versatility compared to other products. It is one of the best internal frame bow hunting backpacks on this list. It boasts side mesh pockets so that you can have everything you require at hand.
However, this model may cost more than the others on our list, but with such a variety of practical and useful functions, you won't have to worry about it. Thanks to the almost noiseless material and the toggle closures, it can be loaded and unloaded almost noiselessly.
However, the only issue is the page to protect it from the rain won't stay on when going through the thick brush. Also note that the side pocket is a little bit short.
PROS
Comes with lifetime warranty
Hideaway, tethered rain and dust fly
Built-in New TS3 gear access system
Includes several internal storage pockets
It is a great choice for bow hunting
---
8. Timber Hawk Killshot Large Hunting Backpack
Technical Specs:
Volume: 3429 cubic in.
Hydration Compatible: Yes
Total Pocket: Ten
Weight: 7.6 lbs.
Timber Hawk Killshot large-size bow hunting backpack is an impressive addition to your hunting expeditions because it is both durable and comfortable to ensure the best experience possible. It is large enough to hold multiple days of food and all the other necessities you may need for hunting.
The pack is of quality construction to the point it's actually a little heavy. Because it's designed in regard to carrying your spotting scope in a specifically designed protective compartment that is very accessible. The straps can be easily adjusted when removing items. It is an ideal companion when stalking.
This model k is designed to carry crossbows. However, it can carry a rifle on it, ideal for Field, 3D competitions, and many other outdoor activities. You can remove the pouch or attach it to the opposite side.
It has 3429 cubic inches of space; the storage space of the backpack can be expanded a little. The weapon carry pouch can be moved to either side of the pack to make it more comfortable. You can strap down the bow and quiver without using a weapon carry pouch.
Timber Hawk Killshot hunting pack is designed with quiet materials to ensure you stay hidden throughout your hunt. It has large zippered pockets on each side of the waist. And inside each pocket is a set of ammo loops. It also has lashing points on the bottom of the pack to tie down the meat you have in a leak-proof bag.
On the bottom of the backpack, there are 4 strap loops that we guess you could put two buckled straps through and hold a sleeping bag to the bottom. At the bottom outside of the pack, there is a hunter-orange rainfly that covers the whole pack. It comes with a water bladder and looks really gorgeous.
PROS
Multi-day backcountry pack
Water bladder included
Adjustable shoulder strap system
Large main compartment
Plenty of pockets inside
Comes with a rain cover
CONS
It is a fairly heavy pack
The pocket for the spotting scope is too small
---
9. Eberlestock Team Elk Pack Hunting Backpack
Technical Specs:
Volume: 3100 cubic in.
Hydration Compatible: Yes
Total Pocket: Eleven
Weight: 3.44 lbs.
The Eberlestock M5 is one of the greatest big-capacity best bow hunting backpacks on the market today. And this is a backpack specially designed for elk hunting, which offers a lot of space for meat hauling. It included a fold-away rifle scabbard and built-in bow carrier.
This heavy-duty hunting backpack features zip-and-flip covers to the scabbard and bow carrier so that when you're not carrying a gun or bow, they serve as fully enclosed pockets.
It hits the sweet spot in the hunting pack with a 3100 cubic capacity. It built-in hook for hanging your hydration pack without spillage. The material is water-repellent and quiet. It is very adjustable to fit taller people. You can attach just about anything you want.
The bottom half of the gun scabbard is the same size as a normal soft rifle case. At the top, it opens up to the full width of the backpack. You should be able to fit that spotting scope in one of the side compartments as they measure 18″ long. The material used is extremely durable that is easy to clean in the machine.
However, the small downside is it that it is not a very long pack. And if you have a longer torso, this pack is a little on the small side. If you are planning on doing a 5-7 day backpacking/camping type of hunt with this pack, you will probably find yourself short on space as it isn't overly spacious.
PROS
Dual full-depth spotting scope
Quiet, comfortable, and convenient
Durable and solid construction
Built to appeal to all hunters
Convenient bottom-shelf design
CONS
It is not a very long pack
Not good for taller people
Pretty much heavy
---
10. Badlands Sprint Camouflage Bowhunting Backpack
Technical Specs:
Volume: 1940 cubic in.
Hydration Compatible: Yes
Total Pocket: Six
Weight: 2.0 lbs.
And last but not least is the Badlands Sprint Camouflage; if you are looking for a small and compact best bow-compatible hunting pack, the Badlands Sprint is definitely worth a closer look. This is an ideal pack for one day hunt. It is solid, robust, and comfortable to carry.
This hunting pack has an excellent design from zippers to additional pockets. It has two side pockets for your water bottles and it is compatible with a hydration system of up to 3 liters. And it has all the features you'll need to get to your shooting range and more.
Although this unit is slightly larger for a daypack, it just means that you don't have to worry about sorting out the extra equipment without overloading the pack. Badlands bow hunting pack designed with ambidextrous holsters for rifles, and KXO-32 camo fabric well suited for all types of bows.
The total capacity of this pack is 1940 cubic inches. It has a main compartment of 1260 cubic inches. There is a total of 6 pockets.
The belt pockets are easily accessible and the perfect size for a rangefinder but being awkward to open means you might lose valuable time if you're fighting the zipper.
With the adjustable shoulder strap, the outer material is fairly soft and quiet. It has an excellent frame and padding to make it super comfortable to wear. It will deliver lifetime service if you supervise properly. It's not waterproof, but the package includes a rain cover.
However, one thing we don't like is that the pockets on the waist strap are nice but the way the zippers are positioned against the shoulder straps makes them hard to open when the pack is being worn.
PROS
Water bottle pockets on both sides
You can carry heavy loads with comfort
Well made perfect to take bow hunting
Very lightweight and compact design
Made of ultra Quiet KXO-32 ™ fabric
CONS
Expensive
It is not waterproof
---
Buying Guide: Best Bow Hunting Backpack
It can be incredibly difficult to decide which hunting backpack is the perfect choice for bow hunting if you have never bought it before or have any practical user experience.
There are so many options to choose from that you feel lost in a maze of buckles, zippers, and straps that can all get a little confusing.
To help you choose the best bow hunting backpack without breaking the bank, we have done all the predetermined work and research. Regardless of the brand or manufacturer, these elements and features must be integrated into the backpack designs.
Quality and brand
Quality is paramount when it comes to choosing the best bow hunting backpacks. You need something that will stand the test of time, and that will survive even the most extreme environments such as rain storm, fog, and more. And the bag should be robust and secure enough to carry all of your necessary equipment.
The best brands have a reputation, so it's not too difficult to discern which brand of the backpack is best for bow hunting.
There are a lot of best backpack brands including Tenzing, ALPS OutdoorZ, and Badlands as well as other brands that are just as interesting to consider. They are the leaders in backpack design and should be your first port of call when looking for a new bow hunting backpack.
Essential features
Many bow hunting backpacks have similar features, but that doesn't mean that none of them will do the trick. When considering buying your next bow hunting backpack, you need to think about what you need to make sure you get the most suitable product for your next hunting trip.
The price
The price of the best bow hunting backpacks can be a tricky thing for first-time buyers. You don't want to spend too much on an inflated luxury brand but you also don't want to pay a ridiculous price and end up with a ruined backpack 2 miles away in your hunt.
To avoid this, we looked at value for money and combined it with existing reviews to determine which model is the most advantageous price.
Many people can't afford to invest more than $100 in a pack, so we wanted to strike a balance between value for money and functionality.
We've reviewed models that range from 50 to 200 dollars so that everyone can find their desired model. Because a good hunting backpack doesn't have to be expensive. Cheap models can be a noble companion for bow hunting.
However, with a higher budget, you get better workmanship, more sophisticated extras, or higher quality materials. Sometimes, even options under $50 are ideal for shorter hunts.
Fit and adjustability
The fit and adjustability of the bow hunting backpack are essential to ensure a pleasant and successful hunting trip. If you have not prepared the pack, enough to suit your body, you will suffer from aches and pains and have a very unhappy time while hunting.
The shoulder straps must have good padding to avoid serious shoulder pain when you are fully loaded. Before you even venture into the wilderness, train yourself with a full backpack and see how it fits on your shoulders. If there are any problems, make sure to adjust accordingly until you will be satisfied.
Comfort of use
Another factor to take into account is the comfort level of your bag that will provide. The longer you hunt, the more you will need to carry on. If the pack is uncomfortable from the first day, your hunting trip can be ruined, it is unlikely to improve much.
When you hunt, you want to be as comfortable as possible to focus on your target, so having a backpack that doesn't put too much pressure on your back and shoulders that will help you enjoy your trip a lot.
As we said before, finding the best bow hunting backpack that provides enough support to the back and shoulder as well as back ventilation is crucial for a successful bow hunting experience.
Weight & Capacity
There are two types of weights to consider. The weight of the package is the empty weight and the full weight. The lighter backpack provides extra comfort. So looking for a backpack that is light enough, not to cause shoulder or back problems.
If you are hunting big game such as elk or deer, we recommend having a solid and reliable meat shelf to help you carry whatever you manage to kill.
These meat shelves are generally only shipped with larger backpacks and the bag should be strong enough to support both the weight of your equipment and what you get.
Material & durability
A good bow hunting pack is characterized by its robustness and durability. No one wants to buy a new hunting backpack every year, so it's important to choose a pack that will last for years of hunting.
To do this, look for the best materials backpacks and compare them to get an informed idea.
When choosing the right hunting backpack material, pay attention to its properties. These include, for example, noise levels or weather resistance.
You should look for only the best fabrics such as nylon, canvas and polyester, which are waterproof along with tear and puncture resistance.
Frequently Asked Questions
Why do I need a bow hunting backpack?
Regular backpacks are all welcome if you are just going to your classes, office or travel, but when it comes to carrying your bow and bowhunting gear, and the potential dangers and unpredictability of the wilderness, a bow hunting backpack makes your experience a hundred times more enjoyable.
When hunting, you need the right equipment that provides functionality, purpose and comfort as you might run into a plethora of problems you never anticipated. It can be unexpected rain, injuries, and a need for enough food and water to last longer than expected.
There is nothing like being too prepared. Ordinary backpacks won't do the trick in this case, so investing in a sturdy, comfortable, and functional hunting backpack will save you a lot of pain and panic.
What distinguishes a good bow hunting backpack?
A backpack for bow hunting should be compact and light because you need to carry a lot of accessories. Just think about the different backpacks for different purposes and weather. Also, the durability of the materials is the baseline for a quality backpack that can withstand harsh environments.
What size hunting backpack should I get?
There is no limit to the hunt. So the length of your hunting expedition will directly affect the size of your backpack. If you're a short-time hunter, a simple one-day bag with a capacity of 30 to 40 liters (1831 – 2441 cubic inches) should be fine for up to three days.
On long hunting trips, it is essential that you buy a backpack that can hold up to several days of clothing – about 1 week normally in order to have something fresh to change you every day.
Which frame to choose?
There are two types of frames you can choose when considering bow hunting backpack. These are the inner frame and the outer frame. The difference lies in the position of the frames on the packaging.
Internal design provides better support with pre-curved aluminum posts that stay in place. Some models have aluminum and alloy sheets that provide support, which is especially useful for long trips. This form-fitting design reduces the risk of snagging against branches, rocks, or other similar environmental obstacles.
These outdoor frames are perfect for hikes on worn trails with little obstruction from Mother Nature, unlike the hunts that take you into the densest forests. But depending on the size, they could prove useful as an option less expensive for long hunting trips because of their carrying capacity.
Why do some backpacks have a belt at the waist?
Because it offers additional support and can help carry up to 90% of the weight of your bag. And a belt at the waist is also saved your life when you carry heavy loads of equipment. But it's not only the support function that makes them useful, many of these waist belts have zippers, pockets, and buckles so you can store anything: water, snacks quick for a boost of energy, or a pistol that can be easily accessed.
How much to spend on a good bow hunting backpack?
We have already mentioned that a good bow hunting backpack doesn't have to be very expensive. With a cost of between 100 and 150 dollars, you can already find an excellent pack. However, you should avoid low-cost models as they have poor quality and won't last long.
Going up with the budget you can certainly afford superior quality backpacks with specific characteristics. And always weigh your choice on the basis of actual needs and economic possibility.
Are there any backpacks specifically designed for bow hunting women?
Yes, there are backpacks designed specifically for women bow hunters. Many companies recognize the need for backpacks that accommodate the female physique. Some brands offer backpacks with adjustable harness systems to fit women comfortably, as well as smaller frame sizes. Examples include the ALPS OutdoorZ Pursuit, which has a women's-specific version, and the SITKA Women's Mountain Hauler 4000.
Can I use a regular backpack for bow hunting?
While it's possible to use a regular backpack for bow hunting, it may not have the specific features necessary for convenience and efficiency in the field. Regular backpacks often lack bow-carrying options, specialized compartments for hunting gear, or noise-reducing features. Dedicated bow hunting backpacks are designed with these considerations in mind, making them more suitable for the specific needs of bow hunters.
Conclusion
Bowhunting is a great outdoor activity still in modern days, to walk in the trees or along the trails, and discover the wonders of the world while going back to our prehistoric roots. A good hunting backpack is very useful for carrying a variety of items for hunting trips.
However, there are now universal backpacks for bow hunting, which can meet the minimum requirements. We have put in tons of hours analyzing the characteristics and opinions of each product we have reviewed.
Do you have any questions? Or do you have another one to recommend to hunters? Leave a comment below!
If you liked this article, check out our recent article on the best elk hunting packs.