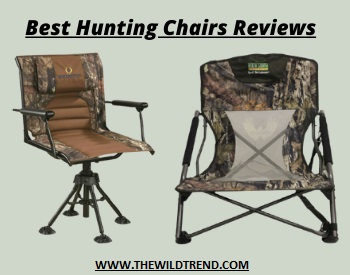 Hunting chair is a fundamental gear for waiting for the game, especially at night when hunters need to spend many hours.
However, choosing the best hunting chair means you pick a model that is foldable, lightweight, comfortable, and offers excellent flexibility to use.
We always recommend you choose a hunting chair conveniently. For example, if the chair is padded with foam or back seat, you don't need to move the sitting position frequently. You should also pay attention to the silent swivel to avoid alerting the wild animals of your presence with the slightest movement.
After testing more than 30 hunting chairs from different brands, we have finally selected 10 models to seat adequately in the hunting blinds or near the games.
All hunting chairs come from well-known brands. They are different in their design, swiveling capabilities, armrests, and other features.
Best Hunting Chairs Reviews 2023
Let's see the comparative analysis of the top 10 best hunting chairs in 2023…
1. TIDEWE 360-Degree Swivel Hunting Chair with Cover
TIDEWE 360-degree swivel hunting chair is very convenient and doesn't make any noise when you rotate, making it a great choice for ground blinds. To ensure optimal support, the TIDEWE swivel hunting chair is made of a sturdy metal frame that is wrapped with durable fabric material.
The fabric is made of breathable TechMesh material and widened backrest that will keep you cool and relaxed while sitting a long time to locate the games. The legs are independently adjustable which allows it to remain stable and prevent sinking into soft ground. It has large swivel feet.
You can adjust the seat height from 17.5 to 22.2 inches. The swivel design is fairly silent to allow you to turn in any direction quietly inside of your blind. It is the best affordable hunting chair that comes with a free high-quality seat cover to protect it from rain and keeps your chair always warm.
TIDEWE hunting chair also includes an adjustable shoulder strap and compression strap that will help you transport it conveniently. The screw-in design support you to quickly and easily assemble even in the blind. It works perfectly as a camp chair, fishing chair, or any other type of portable seat.
The maximum weight limit is 300 pounds, which is enough for both men and women, even big guys can use it. However, this model is a little bit heavy (20 pounds), compared to other foldable hunting chairs. If that is not a big deal for you, the TIDEWE 360-Degree Swivel is the best option for you.
PROS
Stable and durable construction
Made of breathable fabric
Very comfortable to use
Included high-quality seat cover
Great choice for the price
CONS
A little bit heavy
Size is big for women
---
2. Browning Woodland Folding Hunting Chair
Woodland hunting chair from Browning comes with a practical design that enables you to use it on a long hunting trip. It is a great portable hunting chair offered at an attractive price (costs around 60 dollars). This model is available in Mossy Oak Break-Up Country and Realtree Edge.
A huge advantage of the Browning Woodland is that it's very moderate and weighs just less than 6 pounds. You will be satisfied with the lightweight design, praise for the uncomplicated handling, and the appropriate seating position of this folding hunting chair.
The maximum load capacity is up to a solid 300 pounds. And with a seat height of only 21 inches, this model is a little lower, which normally increases your seating comfort. It has front and back organizational pockets so that you can put your personal items, even you can carry your hunting knife easily.
Browning Woodland hunting chair is made of high-quality polyester (very comfy), which allows you to stretch your legs out or prop them. The frame is made of durable steel and the legs are able to support all the way across the bottom. It also offers plenty of back support.
To ensure a long time service life, the package includes a carrying strap for convenience. The strap extends nicely so you can easily carry it on your shoulder. This unit is simple to fold up flat and store.
It is quiet when opening, which is effective if you're in a spot where you need to set up. Overall, if you're looking for a low-profile hunting chair, the Browning Woodland could be a pleasant choice for you.
PROS
Super comfortable to use
Very sturdy and durable
Compact and lightweight
Excellent back support
Reasonable price
CONS
Carrying strap is cheaply made
Very low to the ground
---
3. Guide Gear Big Boy Swivel Hunting Blind Chair
Guide Gear Big Boy hunting chair is a bigger and better choice for long-distance hunting because it is designed with adjustable armrests. It has a large & wide seat and backrest compared to other models on our list. It is also sturdy enough because the frame is made of durable and high-resistance steel.
The Dura Mesh seat is extremely comfortable and supportive, and won't flat out. It is completely silent, and with its 360-degree swivel action, you can quickly and easily view in any direction without scaring off wildlife.
The armrests not only provide a comfortable feeling but also give fatigue-fighting support, and wide duck feet prevent the chair from sinking into soft ground. Despite its extra-brawny strength, the total weight is only 20 lbs. It is a perfect swivel hunting chair for large people who don't cut into legs like most fold up.
Guide Gear Big Boy's oversized hunting chair provides you the extra room and helps you to make a better choice for the blind. With a foldable design that can be stored in minimal space, it can support up to 500 lbs. To ensure ease of carrying, the order includes a shoulder strap.
However, the armrest only folds down when you fold the backrest down and they cannot be detached. Also, it is not adjustable for height and slightly higher than the average chair.
PROS
Silently swivels 360 degrees
Durable and large load capacity
Comfortable and breathable
Comes with a nice carrying strap
Heavy-duty steel frame
CONS
Height is not adjustable
A little bit heavy
---
4. Bolderton 360 Swivel Camo Foldable Hunting Chair
Bolderton 360 Comfort Swivel Camo Foldable Hunting Chair is very popular among the hunting community and impressed by consumers because of its stable construction and portable design. The high-quality fabric can withstand up to 300 pounds of user weight without sacrificing comfort.
Bolderton's seat features thick padding on the back and seat which ensures extra pleasure. The 360-degree swivel is completely silent thanks to maintenance-free nylon bushings, which allow you to look and shoot in any direction without standing up.
This is a very sturdy and well-made swivel hunting chair on the market. It is built with oversized feet that add reliable stability and are able to prevent sinking from soft ground. You can fold it down and disassembles easily and conveniently store it when you are traveling.
Bolderton hunting chair is designed for use in the hunting blind. The seat measures around 19″w. x 18″d and is therefore of average size. Give your blind a comfortable upgrade touch with this hunting chair. However, the seat height is not adjustable for different people's use.
It is a long-lasting hunting chair designed for the hunter posted on a large game drive. Although the manufacturer specified that the maximum weight capacity is 300 lbs, we recommend a more robust model for people who weigh more than 250 lbs.
PROS
Silently swivels a complete 360°
Seat with extra padding
Powder-coated frame
Fold-flat design
Easy to open and close
CONS
Does not have armrests
Seat height is not adjustable
---
5. ALPS OutdoorZ Stealth Blind Hunting Chair
ALPS OutdoorZ hunting chair is made of sturdy powder-coated steel frame which provides ultimate support on your back. The wide backrest and 360° swivel seat give you maximum comfort while waiting for your aim. The seat is adjustable in different heights. And it has adjustable/removable armrests.
The base is very sturdy and well-constructed and the fabric is strong and of high quality. The swivel is pretty smooth and silent compared to other models from ALPS OutdoorZ. The seating position is also excellent for group hunting. You can easily detach the base and secure it via riveted heavy-duty Velcro straps.
ALPS OutdoorZ hunting chair comes with a removable shoulder strap for ease of carrying. Each leg is independently adjustable and you can adjust the seat height from 17.5 inches to 23 inches.
The total load capacity is 275 lbs and weighs only 16 lbs. It includes a compression strap and can be folded with the arms attached. If you are going to hunt out of the same blind for several days, this model will be much more functional because you can easily adjust to any sloped area and height.
The Stealth Blind hunting chair is portable. The armrest is removable to carry it, with some basic tools. However, to transport it properly, you need to disassemble it first. You can make the screw tighten and loosen it by hand. Although it is a little pricey, you get what you pay for.
PROS
Large swivel feed
Widely adjustable legs
Quick and easy adjustability
Swivels completely silently
Very stable and durable frame
CONS
Pretty darn comfortable
A bit expensive
---
6. Millennium Treestands G200 Shooting Chair
Millennium Treestands G200 hunting chair gives you the best pleasing sitting experience and maximum comfort for different outdoor activities. Because it is one of the most comfortable and quiet hunting chairs on the market. However, this model is best suited for flat surfaces.
The base is constructed of high-quality steel and the frame is very durable. The fabric that uses this model is only suitable for the steel frame, which can enormously reduce the risk of tearing, wear, bending even cracking. It will not only increase the life of the chair but also prevent it from falling.
Millennium's ergonomic hunting chair has a collar that fits around the post of the seat. It is movable up and down between the holes. The strap has a buckle and you can tighten or loosen it to raise and recline.
It swivels a full 360° and you can adjust the height from 18 to 23 inches. And with a recline folding seat, the feet are independently adjustable up to 2 inches.
The total weighs only 17 pounds and is able to carry up to 400 lbs. Millennium Treestands G200 hunting chair is sturdy and compact so that users can take it wherever they need it. It provides a long time service.
It is designed to be quick and easy to set up so you can build and pack the chair less than in a minute. And to ensure quality, this model comes with 1-year warranty. The package also includes simple instructions.
PROS
Durable and lightweight design
Very quiet movement
Great adjustability
Easy to assemble
Absolutely comfortable to seat on
Design for different outdoor activities
CONS
Price is a little bit high
Doesn't have any armrests
---
7. Tangkula 360° Swivel Multi-Position Hunting Chair
Tangkula hunting chair is quiet and easy to swivel at 360 degrees on both sides which lets you focus on your target precisely. This is a multi-functional hunting chair at an affordable price; you can convert different height positions in a second. You can fold in a few seconds without any tools, which makes it an ideal choice for both small and big game hunters.
It is made of wear-resistant fabric that is widely applicable for different outdoor use. The backrest and thick seat are moisture-wicking which provides long-lasting service life even in bad weather. The smooth armrests and neck support rails offer you a comfortable arm and neck placement.
Tangkula blind hunting chair's swivel feet with adjustable legs can accommodate uneven terrain and able to prevent sinking. The dark color cover is also suitable for hiding in the wild and helping the wealthy waiting for prey. You can sit on it at any position with highly comfortable positioning.
This multi-position hunting chair is designed with powder-coated steel frame that ensures superior stability and high load capacity. With a stable base and tough steel construction, it can bear weight up to 330 lbs.
The package includes fixing strips and carrying strips, so transport won't be a problem. With a compact folded size, it weighs only 14.5 lbs. You can put it on the back and carry it to any spot whatever you want. This unit can be a superb choice for camping, car traveling and fishing.
PROS
Made of puncture-resistant fabric
Great choice for multiple uses
Tough steel construction
Big no-sink footpad
Lightweight design
CONS
Package doesn't include a carrying bag
---
8. ALPS OutdoorZ Wetland Slim Hunting Seat
ALPS OutdoorZ wetland seat consists of a durable tech mesh fabric that allows water easily drain and helps the seat dry quickly. This model looks solid and offers you a high level of seating comfort. It is one of the best small size and lightweight hunting chairs despite a comparatively high price.
The Wetland Deluxe comes with 360-degree swivel to help see every direction using less movement. It also has a removable backrest that helps you long days stay in the hunt field.
The armrests and seat are made of robust fabric that is water-repellent and easy to care for. The frame is made of durable aluminum tubes which prevent the chair from rusting and keep it always clean. The practical plate feet ensure a stable stand even on uneven terrain.
There are three side feet that keep the chair from sinking when stuck into the ground. The seat is adjustable from 24 to 34 inches. And the folding dimensions are 49″ x 8″ x 8″. It stands out from the crowd in terms of appearance and could be a perfect choice for duck hunting.
ALPS OutdoorZ folding hunting seat can easily withstand a weight of 300 pounds thanks to the relatively strong seat. It is compact and lightweight; only 6 lbs. The package includes a carrying bag with a tech mesh bottom to allow the chair to dry in storage.
PROS
Made of quick-drying fabric
Lightweight and durable frame
Includes removable backrest
Decently comfortable
Easy to assemble
CONS
Seat has little to no padding
Lack of armrests
---
9. Barronett Well-Constructed Blind Ground Chair
The Barronett is one of the best ground blind hunting chairs on our list. Therefore, it has a straight and relatively short backrest. The model could be of particular relevance for users with back problems.
Another special feature of the Barronett chair is its curve sitting position and high load capacity of up to 300 lbs, which make it an excellent preference for both small and big guys.
It is very stable and comfortable with a right-angle seat. However, the key thing about this model is its multi-colored look and ergonomically designed back padding. The fabric is camo; the logo is black with green, and the legs are black. It is very easy to carry with a pack.
This model is a bit small but oddly comfortable. It is a little bit heavy. However, the weight makes it much more sturdy compared to light hunting chairs. The high back provides practical support not only for your back but also for the head.
Barronett folding chair scores with a modern look and some comfort features. The seat is just about 18″ wide and stands by itself. It has the perfect height for bow hunting in a blind and is a superb choice for the price.
However, the included carry case strap could be a bit larger for shoulder carry but not too bad. Also, the customer opinions on the product are rather mixed.
PROS
Easy to pack and setup
Comes with a travel bag
Perfect for tree stands
Very nice and small
Budget-friendly
CONS
Not fit in a carry-on bag
Too high for small people
---
10. Hawk Stealth Spin Silent Hunting Chair
And last but not least is the Hawk Stealth Spin, the feedback on this all-around successful model is overall enthusiastic because Hawk Stealthy spin chair offers you maximum mobile comfort. This model itself is comfortable to sit in and supports the lower back nicely.
It has an integrated footrest that can be opened in a few simple steps and without getting up. You can effortlessly rotate 360 degrees with zero noise and fold and transport easily with the included sling. It offers you a lot of practical comfort features.
The folding armchair comes in elegant black and invites you to relax. You have several supports in order to increase your seating comfort. The manufacturer sews breathable mesh fabric into the padded backrest in some places. The fabric is durable and the frame is made of powder-coated heavy-duty steel.
The feet are nice and wide, which prevents them from digging into the ground and adds more stability. The package comes with a handy strap as well for easy carry to the ground blind.
The maximum load capacity is 300 lbs. However, we don't recommend this model for long walks because it is pretty heavy. But it would be much more comfortable if the seat back could adjust back a little.
PROS
Effortless rotate features
Easy Transport folds flat
Highly secure and stable
Supports pretty good
Durable construction
CONS
Sitting position could be more convenient
---
Best Hunting Chairs Buying Guide
When it comes to hunting chairs, many things come to mind: uncomfortable, narrow, bulky, and difficult to carry around. Do you have any doubts about the resistance of the materials used in hunting chairs? Here we provide you with thorough information that will help you find the right hunting chair for your need.
The following guide enables you to get closer to your suitable model:
Purpose of use
Depending on the hunting location where you are going to wait, make sure to choose the most appropriate hunting chair for your needs.
For example, if the landfill is very wide you can choose a rotating hunting chair so that you can observe as unnoticed as possible. On the other hand, if the floor is uneven, choose a high chair with adjustable feet.
However, if you need to walk a lot, it is convenient to buy a lightweight folding chair or even a hunting chair with a built-in backpack. On the other hand, if the position is close or if you always leave the chair in it, you can opt for a heavier comfortable chair with a comfortable backrest.
Material
On the market, there are hunting chairs made of different materials, which means that their strength, durability, lightness, and comfort are different. For example, some models are made with an aluminum structure and a textile fabric that will guarantee good durability, lightness and greater comfort.
Others have a steel frame and an Oxford fabric seat, which offers greater strength, durability, and weight, and at the same time provides waterproofness and breathability.
The design
The choice of a hunting chair depends on the design. As we previously mentioned, if you like to sit up straight and have no difficulty staying in this position for long periods of time, then a simple hunting chair is the right option for you.
On the other hand, if you always want to lean back and change your sitting position, an adjustable backrest model would be the right choice.
Load Capacity
The maximum load capacity of the hunting chairs is very different. The range is between 250 and 500 pounds. If your weight is beyond the 250 pounds limit, we recommend paying close attention to this aspect. For people with the format, it is worth taking a look at the size of the seat.
Also make sure that the frame is steel or aluminum to withstand the pressure.
Seat position
You need to consider the height of the hunting chair to take a shot in the best position. Also, your seating position and comfort largely depend on seat height. If the distance between the ground and the seat is 45 to 50 centimeters, you sit in a hunting chair in much the same way as in a conventional chair.
However, if the seat height is lower, the hunting chair has a so-called deep entry. You can sit more relaxed, but people with back problems and limited mobility can find a lowered hunting chair uncomfortable. If the seat height is over 55 centimeters, we called it a higher hunting chair.
Adjustable backrest
The adjustable backrest increases the flexibility of a hunting chair because you can change your sitting position depending on your mood. Usually, the backrest can be adjusted in several stages so that the chair can transform into a desirable position.
The weight
Here, the pack size and the weight of the products are important for any outdoor activity. However, the lightweights among the folding chairs weigh between 6 and 10 pounds. On the other hand, a normal hunting chair can weigh up to 15 pounds.
Keep in mind that folding chairs are particularly space-saving and easy to carry. If you have to travel long distances when hunting, then a lightweight and foldable chair will be more convenient.
FAQs
Which hunting chair is best for backpacking?
In our review, the best hunting chairs for backpacking are those that are both ultra-compact and ultralight. But a folding chair is ideal for hunting.
Therefore, if you are considering taking a hunting chair for easy carrying, we recommend you choose your favorite one from our list. Because most of them are compact, light and foldable.
Is steel or aluminum the best material for hunting chairs?
Choosing a hunting chair made of steel or aluminum is logically acceptable. However, make sure that the design is durable and legs and supports work well.
There are many factors that indicate how much steel and aluminum can guarantee strength and durability while using a chair. Aluminum and steel hunting chairs are equivalent in terms of their ability to support particular weights. However, aluminum is lighter than one made of steel.
What is the cost of a good hunting chair?
Hunting chairs are available in the market in a variety of price ranges. However, the cost largely depends on which materials they have used. You have to spend at least $50 to get an average-quality hunting chair.
But if you have a budget of around $100, you can get a high-end model that will last longer (two or more hunting seasons).
Conclusion
Hunters appreciate a good, comfortable chair or seat when they are seated for long periods. By considering every aspect we have mentioned above, you can find your suitable hunting chair on our list. They guaranteed high stability and compassion because we pick them according to the hunter's demands.
However, we always recommend our readers carry out a little homework before making a purchase. Hope you can find the right hunting chair for your use.
Do not hesitate to contact us if you have any questions about the information we have provided. Or if you find something missing or misleading; we are ready to help and guide you at all times.