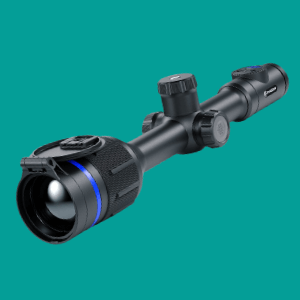 Hunters and wildlife & nature lovers welcome to this page dedicated entirely to your passion. Using thermal scopes nowadays is not only reserved for technical fields, it is also suitable for wildlife observation, hiking, hunting, and more. Thermal scope offers several options including video recording, a range of several hundred meters, various types of thermal mapping and much more.
If you're looking for the best thermal scopes for the money, we invite you to discover the best models with the latest technology in the rest of this article.
However, the thermal scope is an expensive device. In fact, finding a night vision device that has great features isn't easy at all. The best thermal scope device must have infrared vision, the ability to see with the light of the moon, the light of the stars or in the complete absence of light.
Best Thermal Scopes Reviews 2022
ATN Thor LT – Best Overall
Pulsar Thermion XM30
AGM Rattler TS25-384
ATN Thor-4
Pulsar Core RXQ30V
TheOpticGuru ATN Thor 4
TheOpticGuru Thor LT
Pulsar Trail XQ38
Trijicon Teo IRMS-35
ATN ThOR-HD TIWSTH382A
1. ATN Thor LT Thermal Rifle Scope with 10+hrs Battery
Sensor: 320×240 px @ 12 μm 60 Hz | Magnification: 3x-10x | Micro display: 1280×720 HD Display | Eye relief: 90 mm | IP rating: Weather resistant | Night vision: Yes | Reticles: Multiple Patterns | Battery life: 10+ hours | Material: Aluminum-Alloy | Weight: 1.4 lbs.

If you've thought before about purchasing a thermal scope, you probably listen to the ATN brand, it is the leading US brand to produce high-performance tactical Night Vision and Thermal Imaging optics. They released the ThOR LT series to consider different people's budgets and needs. This is an affordable thermal scope that allows you to focus on what really matters with minimum effort.
This is also one of the best thermal scope around thousand dollars price tag with high-quality construction. It detects animal body heat through crops or fog and doesn't require any visible light to produce a sharp and quality image. The operation is not influenced by the quality of the lighting.
The considered distance is long enough so that you can observe in good condition even a very distant subject. ATN Thor LT thermal scope allows you to see at night and it offers a digital zoom of 3x to 10x. You will be able to pierce the darkness effectively. And with the operating temperature of 20°F to +120°F / -28°C to 48°C, it will deliver maximum performance with minimum power consumption.
These night vision options play their role over a long range. You can observe subjects over more than a hundred meters. However, the proposed zoom is only digital. The ATN Thor LT is also lighter than the same category thermal scopes on the market, so it will make you feel more agile and your rifle balanced.
PROS
Affordable price for the quality
Advanced heat detection sensors
One-Shot Zero function
Lightweight thermal scope
Low power consumption
Easy to mount
CONS
Batteries are inside and not easily replaceable
There is no integrated range adjustment
---
2. Pulsar Thermion XM30 Thermal Scope – Editor's Choice
Sensor: 320×240 px @ 12 μm 60 Hz | Magnification: 3.5x-14x | Micro display: 1280×768 HD Display | Eye relief: 90 mm | IP rating: IPX7 waterproof-rated | Night vision: No | Reticles: Multiple Patterns | Battery life: 5+ hours | Material: Aluminum-Alloy | Weight: 26.5 oz.
We inserted the Pulsar Thermion XM30 to show the level of quality that can be achieved in the night vision field. With a 320 × 240 OLED high-resolution display, 60hz refresh rate and up to 14X Zoom, the Thermion XM30 thermal scope will allow you to detect clearly any moving object up to 1400 yards.
It withstands a recoil of up to 6000 joules and is completely waterproof. And with variable digital zoom, you will be able to view images in warm white or black without tiring your eyes. For the price, it is not quite as Low-Entry level. Nonetheless, it is a magnificent piece of technology.
The Thermion Series Riflescope is featured in flagship 640×480 micro-bolometer sensor resolution, ensuring to cover different enthusiasts' needs. It features IPX7 waterproof-rated, which protects the device from heavy rainfall, snow or other precipitation, even after submersion in up to 3 feet of water for up to 30 minutes.
You can also connect it to your smart device for use as a second display or remote control. Thanks to revolutionary electronics, you can be started almost instantly to save energy.
With the onboard 16-GB internal memory, it is integrated with video and still image recording, which makes sharing the thermal action quick and easy. Overall, this innovative thermal scope could be an ideal choice for professional hunters who value traditions and seek technological superiority.
PROS
Video and still-photo recording
B-Pack mini combined power system
IPX7 waterproof rated
Variable digital zoom options
Zeroing profiles management
Customizable reticle options
Full-color HD Amoled Display
CONS
Battery life could be better
Poor instruction manual
---
3. AGM Global Vision Rattler TS25-384 Thermal Scope
Sensor: 384×288 px @ 12 μm 50 Hz | Magnification: 1.5x-8x | Micro display: 1280×768 HD Display | Eye relief: 45 mm | IP rating: Weather resistant | Night vision: No | Reticles: Multiple Patterns | Battery life: 4.5+ hours | Material: Polycarbonate | Weight: 1 lb.
Based in Springerville, Arizona, USA, AGM is a global company to designs, develops, and distributes a wide range of professional-grade night vision and thermal rifle scopes on the planet. They also produce high-quality spotting scopes, binoculars, monoculars, goggles, multispectral lasers, infrared illumination devices, and more. Although AGM products are very expensive, the quality is uncompromised.
The AGM Global Vision Rattler TS25-384 is a compact thermal imaging scope, you can any weather and environmental conditions. It has two 25 objective lens options that allow you to choose a perfect unit for your needs, short to medium-range shooting. The 384×288 thermal detector and 1024×768 OLED monitor provide unrestricted view under harsh darkness, fog, smoke, dust, rain, snow, wood, camouflage, etc.
It is powered with two CR123 batteries to deliver up to 4.5 hours of continuous operation time. However, the battery life is half of the ATN Thor LT Thermal Rifle Scope but you can use an external 5V power bank via a USB connector to increase operating time.
Also, the onboard Wi-Fi module for live video streaming and video/image recording via application is available on this device. You can use it as a thermal rifle scope or handheld monocular.
In order to help you use it comfortably even in this condition, AGM TS25-384 thermal scope can be mounted on a tripod. So you can have your hands free and carry out continuous observation for a long time without getting tired. You will be free to take notes or manipulate other devices as you enjoy this material. We highly recommend it if you are looking for a thermal scope for patrolling, hunting, etc.
PROS
Built in different image processing technology
Adjustable color palettes
Wi-Fi data transmission
External power supply capability
Waterproof and shockproof
Limited 3-year warranty
CONS
Only 4.5 hours battery life
800m detection range is pretty much low
---
4. ATN Thor-4 Thermal Scope with HD Video Recording
Sensor: 384×288 px @ 12 μm 50 Hz | Magnification: 2x-8x | Micro display: 1280×720 HD Display | Eye relief: 90 mm | IP rating: Weather resistant | Night vision: No | Reticles: Multiple Patterns & Color Options | Battery life: 18+ hours | Material: Aluminum | Weight: 5 oz.
ATN surprise their consumers with the Thor-4 model. With a compact design and small size, you will have no trouble carrying it everywhere on the go. It includes a polymer structure lined with a protective layer to protect all possible impacts. The case also has an index rated at IP67, which guarantees it optimum resistance to humidity. It even supports immersion in water at a depth of 1 meter.
This can produce a graphics resolution of 384 x 288 pixels. If for some, these data may seem rather modest, this model nevertheless fulfills its role in many situations. This format is then processed to provide a 1280 x 720 media image on the screen. This specimen has 2-8x zoom, it can give you an accurate view of people, animals or other heat sources within a radius of up to 1000 meters.
Its ultra-Sensitive Next Gen Sensor detects animals' heat signatures with a 60Hz refresh to ensure long-range performance. You only have to modify the color palettes according to the color palettes offered by the equipment which are: Black Hot, White Hot and various color palettes for various environments.
ATN Thor-4 thermal rifle scope is able to record video at 60 FPS. You can connect the device Dual-Stream via Wi-Fi. The built-in ATN ABL Laser Range Finder helps you to determine longer distance targets to send via Bluetooth to make all POI adjustments for your reticle. You can easily mount it on virtually any platform with 30 mm standard mount rings.
This model also features ATN X-Trac Tactical Remote Access Control System which provides control over various features of your device such as Ballistic Calculator, Rangefinder, etc. The Ballistics Calculator also allows you to set up 6 profiles. Overall, it could be a great scope for HD video recording.
PROS
Ultra-Sensitive Latest Gen Sensor
Built-in Ballistics Calculator
Classic ergonomic design
User-friendly interface
Outstanding battery life
A wide field of view
CONS
Iron hot and other rainbow settings are average
There is a bit of a learning curve
---
5. Pulsar Core RXQ30V 1.6-6.4×22 Thermal Riflescope
Sensor: 384×288 px @ 17 μm 50 Hz | Magnification: 1.6x-6.4x | Micro display: 640×480 HD Display | Eye relief: 50mm | IP rating: IPX7 waterproof | Night vision: No | Reticles: Multiple Patterns & Color Options | Battery life: 4+ hours | Material: Nylon | Weight: 11.3 oz.
If you are a fan of unique optic devices, then the Pulsar Core RXQ30V could be the best option for you. It will produce heat signatures in a green sapphire tint. With a 384×288 sensor with 50Hz refresh rate, it will deliver thermal images to a 640×480 AMOLED display. And at a high refresh rate of 50Hz, this device provides comfortable viewing throughout the dynamic, rapid motion.
The Core RXQ30V includes a variable magnification range from 1.6x to 6.4x, which are truly optimum for customized fields of view. This model also uses digital infrared technology which optimally amplifies the residual light available. This scope can be used during daylight depending on conditions.
The green sapphire display is easier on the eyes and allows you to scan for longer without eye fatigue. You might also be pleasantly surprised by the compactness of this device. Their dimensions are indeed only 9.4 x 2.6 x 2.4 inches. It can therefore accompany you during your night outings without greatly encumbering you. This model could even fit in a pocket. Also, it is very light.
The package includes a Carrying case, Torque screwdriver, Wireless remote control, Hand strap, User manual, Cleaning cloth and 2xCR123A batteries, so you don't have to invest a single penny to operate this device.
However, the battery life is not sophisticated (only 4 hours), but you can significantly increase the operation time with the external power supplies.
PROS
High image frequency
Variable magnification
Wide range of observation temperatures
Lightweight and compact design
Convenient external power Supply
Simple to operate
CONS
Only 4 hours battery life
Micro display resolution 640×480
---
6. TheOpticGuru ATN Thor 4 Thermal Scope with Video Record
Sensor: 384×288 px @ 12 μm 60 Hz | Magnification: 1.25x-5x | Micro display: 1280×720 HD Display | Eye relief: 90mm | IP rating: Weather Resistant | Night vision: No | Reticles: Multiple Patterns & Color Options | Battery life: 16+ hours | Material: Aluminum | Weight: 1.94 lbs.
With TheOpticGuru ATN Thor 4 thermal scope, you will be able to see clearly in the middle of the night up to a maximum distance of 1000 meters. You can therefore adapt this device according to the visibility and ambient light conditions. If you are in total darkness, the higher level will allow you to observe your surroundings clearly. You can even use this scope in broad daylight as they are not sensitive to sunlight.
This model is capable of recording videos and capturing photos thanks to the high-sensitivity CMOS sensor. The sharp images you get will be stored in a Micro SD card (not included with the product). You can then read them on your computer, and share them on social networks for example.
TheOpticGuru ATN Thor 4 thermal scope features Obsidian IV Dual Core Processor with Gen 4 Thermal Sensor, which is an ideal combination to convince your hunting needs. You can choose between black-and-white or bright color palettes in HD resolution. It has a sensor resolution of 384 x 288 pixels. In recording mode, the resolution will be fully HD at 1280 x 720 pixels.
You can range your target in just 2 clicks to get the precise distance measurement in the blink of your eye. You don't require any extra gadgets to operate this device. Overall, the TheOpticGuru ATN Thor 4 would be a good option for people looking for high performance and cheaper thermal scope.
PROS
Ultra-low power consumption
Up to 16 hours battery life
Dual stream video recording
Very good scope for the price
Clarity is exceptional even at lower magnification
CONS
A bit complicated to use for beginners
---
7. TheOpticGuru Thor LT Ultra-Smooth Thermal Scope
Sensor: 160×120 px @ 17 μm 60 Hz | Magnification: 3x-6x | Micro display: 1280×720 HD Display | Eye relief: 90mm | IP rating: Weather Resistant | Night vision: Yes | Reticles: Multiple Patterns & Color Options | Battery life: 10+ hours | Material: Aluminum | Weight: 2.2 lbs.
If you're looking for a high-quality, and affordable thermal scope for ultra-smooth observation, the TheOpticGuru Thor LT would be the best option for you. You can easily realize why this scope is signed the position in our ranking. The ThOR LT was designed specifically with the latest thermal technology to solve any problem very quickly.
It allows you to focus on what really matters with minimum effort. And because of the revolutionary technologies used in this model, it breaks the price barrier of thermal vision. It detects animal body heat through crops or fog and you don't require any visible light to produce a sharp and clear image.
The aluminum tube is 30mm, which is recoil resistant and makes it a higher caliber weapon. The advanced heat detection sensors also allow you to see in total darkness, through dense fog, smoke and heavy vegetation. The simplicity of use is good for beginners compared to the higher-end Thor 4 model. You can quickly and easily adjust contrast and brightness.
TheOpticGuru Thor LT is also lighter than an average thermal scope, so it will make you feel more agile and your rifle balanced. With up to 10 hours of battery life, it will deliver maximum performance with minimum power consumption. This model also has an internal rechargeable battery for long time use.
PROS
Affordable price for a quality
Advanced heat detection sensors
Latest technology with traditional design
Compact and lightweight design
Easy to use
CONS
Magnification range 3x to 6x
Doesn't come with mounting hardware
---
8. Pulsar Trail XQ38 Fully Waterproof Thermal Riflescope
Sensor: 384×288 px @ 12 μm 50 Hz | Magnification: 2.1x-8.4x | Micro display: 640×480 HD Display | Eye relief: 50mm | IP rating: IPX7 Waterproof | Night vision: Yes | Reticles: Not specified | Battery life: 8+ hours | Material: Other | Weight: 18.3 oz.
The new model Trail XQ38 Thermal Riflescope provides you the accurate results and great performance with advanced technologies. It is designed to use on hunting rifles, which help you to hunt at both the night and daytime on the field. This unit also allows you to identify the hidden targets through the environmental obstacles at any weather conditions.
The magnification range is 2.1x-8.4x and its objective lens measures 32mm. It allows you to have good visibility of the observed element even at night. Thanks to these characteristics, you can have the impression that you are seeing at actual size every element observed even if it is far away.
Pulsar Trail XQ38 thermal riflescope has a range of 1700 meters, so you can observe a spacious area without any worries. It can be mounted on a tripod if you want your hands free during use. In order to optimize your visual comfort, the Trail XQ38 lets you choose between 5 different digital configurations: Hunting, Climbing, Airsoft, Tactical & Military.
The optical sensor provides human-size heat detection up to 1475 yards. The IPX7 rating also ensures waterproof, fogproof and dustproof to perform flawlessly in temperatures ranging from -13° to 122°F and boasts an ultra-easy user interface with ergonomic button locations.
The included case is robust and waterproof in order to ensure long-lasting use in good conditions and in any climatic condition. You can also link the device via Wi-Fi with Android and iOS based on the free mobile application Stream Vision.
PROS
Multi-functional remote control
Stream vision app connectivity
High recoil resistance rating
Variable magnification
Detection distance up to 1800 m
Complete thermal scope package
CONS
Battery power could be more efficient
---
9. Trijicon Teo IRMS-35 Reap-IR Mini Therma
Sensor: 384×288 px @ 12 μm 60 Hz | Magnification: 2.5x-20x | Micro display: 640×480 HD Display | Eye relief: Not specified | IP rating: Waterproof to 1 meter | Night vision: Yes | Reticles: Multiple Patterns | Battery life: 4+ hours | Material: Aluminum | Weight: 20.8 oz.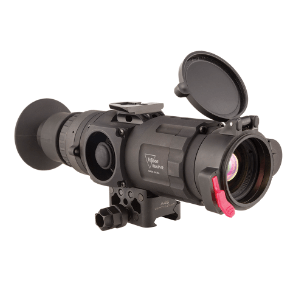 The Trijicon REAP-IR is a compact, handheld and powerful thermal scope that lets you locate targets in any light. This device is made from 6061 Aircraft-grade aluminum, that can be used as a stadiametric rangefinder for precise accuracy.
Trijicon Electro REAP-IR thermal scope has 2.5-20x variable magnification range, which delivers excellent speed and target accuracy that will please even the most demanding shooters and hunters. This thermal scope also sees through the fog. However, the fog density determines resolution quality.
The small size is just right for night operations, as light gear, can move swifter more surely & with less noise. It builds quality is top-notch to deliver active service life more than 10 years without needing a refurb. Compared to Pulsar and ATN, the REAP-IR has a significant advantage in that it is noticeably smaller and more lightweight.
The user menu also has different options for adjusting the image to the preferences of different enthusiasts need. However, you won't able to change the color palette, it's all black n white all the time. But you will get clear target definition with black n white.
One thing to be noted, this model does not have a focusing ring, so you won't be able to get a sharp picture of anything closer than 5 meters away. So it is not recommended for you if you just want to play with thermal imaging around your backyard without putting it on a gun.
PROS
Great for any outdoor enthusiast
Made in the USA
Very easy to Use
Excellent design
Simple to operate
CONS
Cannot be used as a clip-on with a day scope
---
10. ATN ThOR-HD TIWSTH382A Thermal Rifle Scope
Sensor: 384×288 px @ 12 μm 60 Hz | Magnification: 5x-20x | Micro display: 1080×720 HD Display | Eye relief: 50mm | IP rating: Weather Resistant | Night vision: Yes | Reticles: Multiple Patterns | Battery life: 22+ hours | Material: Other | Weight: 2 lbs.
ATN ThOR-HD TIWSTH382A Thermal Scope allows excellent night vision up to about 1500 meters, with a zoom that allows you to extend slightly its visual "range". And with excellent image performance by 384×288 Sensor, it is the ideal thermal scope that detects heat energy to see clearly in complete darkness.
It is a very good thermal scope with night vision for hunting of this kind of products, thanks to its resistance and its ease of use. This will force you to have to adjust the fire with each new use. This device will accurately measure the distance to your target, within +/- 1 yard or less.
However, the most remarkable feature of this ThOR thermal rifle is the existence of a ballistic calculator; you can confidently create a successful photo in your initial effort. The calculator also allows you to determine the trajectory of this bullet so that you can reach the goal by increasing the placement of your shot and correcting your point of effect correctly.
It is possible to improve your target shooting with the built-in smart range finder, which also goes a long way in improving your shooting experience. If you are an adventure lover like me, the SD card allows you to record your adventures without any additional USB cables.
The 22 hours of battery life also allows you to use all features without changing batteries.
PROS
Excellent image performance
Build-in smart rangefinder
Ballistic Calculator with smooth zoom
Easy to set up and use
Great thermal for the price
CONS
It's not military-grade thermal scope but solid
---
Thermal scope or night vision, what are the differences and what to choose?
Do not confuse a thermal scope and a night vision device, such as a monocular, they are two strictly different devices! First of all, night vision scope is a device that amplifies light in the low infrared spectrum. It uses this residual light to restore, using a light amplifier tube, an image that is often colored because of the technology itself (the phosphor is generally green or bluish depending on the model).
A thermal scope on the other hand works differently. Its sensor captures the infrared emitted by the objects around us and then electronically recreates an image from this data. The cartography transcribed into the image can then be interpreted in various ways and in various colors depending on the purpose of your use. Therefore, thermal imaging can be used for various purposes.
The night vision is used to see at night, a thermal scope will be used to detect and interpret what is happening there … But as well … to see what is happening in total darkness. Because there is no 'let's not forget, everything around us emits infrared in different wavelengths. This type of device is therefore ideal for identifying a target, following it or simply observing its smallest facts and gestures in the most complete night and without any visibility.
Recommendations for choosing the ideal thermal scope for hunting & observation.
We are in 2022 on the market, there are a large number of thermal scopes models and they are different from each other. So, it is really difficult to find oneself as the offer is important. However, only a few models from well-known brands manage to do well and for several reasons such as the quality and resolution of their thermal sensor, the maximum possible range, the recording and image capture functions, battery life, etc.
To choose the ideal model, start by defining your budget. The more important the budget, the more possibilities will be and the efficient models, it's that simple. The ideal average budget is 1000-2000 dollars. Then, the most practical and comfortable format for observing nature and hunting games remains the monocular.
Other models offer you a whole different experience that one could compare to those offered by thermal scopes for smartphones. If the price is one of your concerns, this type of format will be preferred.
How to choose the best thermal scope?
If you want to purchase a high-quality thermal scope, certain characteristics must be taken into consideration before placing the order, such as its ability to capture infrared radiation and amplify light: the more structured this function, the higher the image quality, even in the dark. Therefore, based on these technical characteristics, it will be possible to purchase the best thermal viewer model on the market that is able to satisfy different types of uses.
Magnification
The thermal scope currently on the market is equipped with 3x to 30x magnifications that can easily satisfy the needs for the most common uses. The magnification is connected to the observation distance which is measured in meters or feet and represents the maximum distance that you will be able to see with your viewer.
The product specifications will show two values ​​(3 × 30mm). The second refers to the objective diameter of the scope lens. Low magnification is useful for viewing a larger area rather than a single target. A thermal scope with low optical power produces a very large field of view, but with a smaller image zoom.
Higher magnification has a smaller field of view but has noticeable detail in an image. Higher magnification level thermal scope is suitable for picking up a single target from a distance.
Lens coating
Different brands of thermal scope have different lens coatings. This includes the coated lens for the multilayer lens, which is downright expensive. The brightness and clarity of the image captured by the monocular are very important attributes, which are significantly influenced by the type of lens coating.
There are four categories of thermal scope coating for lenses, including the aforementioned: coated, fully coated, multilayer and fully multilayer. Fully multi-coated lenses reduce glare and improve brightness and clarity compared to plain coated lens. If you are looking for quality (better brightness and clarity), the fully multi-coated lens is the best choice even if it is expensive.
However, you can choose the coated lens to save money; it will still capture an image but with some hitches.
Optical quality
This is the most important feature to consider when deciding to purchase a thermal scope. Almost all the thermal scopes on the market are first-generation, but this does not mean that they cannot offer images of decent quality.
Dimensions and weight
The dimensions of the thermal scope are important factors depending on the use made of it. The size and weight of these devices vary according to the model but hardly exceed the kilo. The best scopes currently on the market are lighter and more compact but usually have a higher price.
However, it should be noted that a smaller and more compact design does not offer excellent performance. For example, a 10 × 25 model is compact and inexpensive but doesn't offer the ideal image detail. To avoid the poor display, choose something larger.
Battery life
Almost all thermal scopes on the market work with high-quality batteries which offer 5 to 24 hours of service. However, it is important to check the battery life of the headset you wish to purchase. Some models allow charging via a mini USB port and this allows significant savings on the cost of batteries.
Scanning viewers
On the market, there are several models of thermal scopes that are displayed to represent the aura of heat emanating from the body or object.
There are also thermal scanning visors, more precise than the model described above: the information captured is transferred to the infrared ray detector through two mirrors that are able to analyze, little by little, small surfaces but which, moving with a very precise, they slowly cover the whole view.
The thermal signal is converted into electrical and therefore the scene is projected on a screen, just like a television image.
Conclusion
We have carried out this selection of the best thermal scopes in 2022 with honesty and without making the slightest concession. These models are the assurance for you to offer one of the best models of thermal scopes for hunting and other outdoor activities. If you cannot make up your mind, please do not hesitate to contact us and we will answer you with great pleasure. Good reading.
---
Also Read: