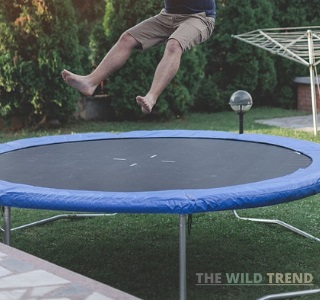 Although it is mostly known as fun in playpens for children, trampoline also delights adults. Kids love trampolines for letting off steam and having fun while adults love them for keeping fit and making fun with their children.
Whether you're a fitness enthusiast, a thrill-seeker, or someone looking to add an element of amusement to your routine, trampolining offers an enticing solution.
However, you need to choose a convenient size trampoline that allows you to bounce freely. To choose from the many existing trampolines for adults available on the market, you must consider several criteria such as size, technical elements, safety and accessories. We also recommend you read customer reviews and ratings before placing the order.
To make easy all the tasks mentioned, we have reviewed the top 7 best trampolines for adults. So this article going to help you find the best trampoline for adults of 2023 without breaking the bank. They serve many purposes: to lose weight, build muscle, and/or simply have a good time.
Why do Adults Use A Trampoline?
Activities performed on an adult trampoline are beneficial for our bodies in several ways: For example, it is a completely healthy sport.
Jumping for 10 minutes on a trampoline is equivalent to 30 minutes of running. 20 minutes of the trampoline is as effective against cellulite as 1 hour 30 minutes of massage. Trampolining is a moment of escape offering you a feeling of well-being and freedom with each jump.
There are also other benefits:
Act on your lymphatic system
Remove toxins from your body
Improved coordination and balance
Coordination of your movements
Top 7 Best Trampolines for Adults – At a Glance
Let's see today's ranking of the best trampolines for adults immediately…
1. FITPULSE Mini Fitness Trampoline for Adults
Max Load: 300 LBS | Foldable: Yes | Adjustable Height: 29.5″-39″ | Frame: Steel | Weight: 26.7 LBS | Diameter: 40" | Quiet: Not Really | Assemble: Easy | Warranty: N/A
Fitpulse mini trampoline boosts your fitness in a fun way. In less than 10 minutes of using this adult trampoline, you can burn as many calories as 30 minutes of jogging. At the same time, it will improve your core strength and coordination.
Fitpulse mini trampoline guarantees your perfect balance and allows you to diversify your exercises. It is ultra-durable and solid built that supports up to 300 pounds. The handle is a good security for balance issues for old people.
It has 31 reinforced springs, 6 stainless steel legs, and a resilient rubber mat that won't lose its shape with everyday use. This small trampoline can be used for muscle rehabilitation. Forget about cumbersome sports equipment, the foldable design is easily useable and you can store it anywhere in your house or patio.
With a lot of accessories included in the package, the quality of the construction guaranteed safety. Thanks to the solidity of their frame and the flexibility of their jumping mat, you can do small jumps repeatedly.
The handle and poles are easily removable, so you can use this trampoline without the bar. It is extremely qualitative for the price and comes with a super quality storage bag, just fold up and store it safely.
Fitpulse adult mini trampoline can be used indoors or outdoors. You will therefore have continuous protection against atmospheric agents, such as rain, making the trampoline last for years.
However, this unit measures around 8 inches from the ground to the base of the jump mat and the handlebar is 45″ off the ground. It makes some noise but depends on many factors like the type of floor, weight of the user, etc. That's why we would recommend using it in the basement.
PROS
Adjustable handle
Foldable design
Convenient to use
Ultra-durable construction
Comes with a high-quality storage bag
Great for weight loss & lean muscle
Perfect choice for the price
CONS
Not quiet enough for apartment living
You have to unscrew the legs every time for storage
---
2. FirstE 48″ Fitness Trampoline for Kids and Adults
Max Load: 440 LBS | Foldable: Yes | Adjustable Height: 29.5″-39″ | Frame: Alloy Steel | Weight: 30.2 LBS | Diameter: 48" | Quiet: Yes | Assemble: Simple | Warranty: 12-month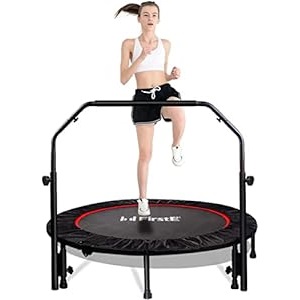 FirstE adult trampoline is made of commercial high-quality steel material and resistant PP material which supports up to 440 pounds. It has 48 inches surface which is enough to tolerate 2-3 kids or 2 adults to play simultaneously and they will have fun together. It is one of the best round shape exercise trampolines for adults in 2023. The price is suitable for everyone's budget.
This durable mini trampoline is built with eight legs (covered with an anti-slid post cap) which keep the rebounder wear-resistant and strong when playing. The steel leg tube not only makes this model safe but also you can jump quietly. The unique design also allows you to fold it twice while wearing the safety pad, and it will save you a lot of storage space.
FirstE trampoline in fact includes everything you need. Highly recommend this model if you have small children and are more interested to make fun with them.
There are four different levels of handrail height available to adjust for adults and kids, so it is an ideal choice for your whole family. It is easy to carry. It is also very sturdy, not too small or not too big.
It is very comfortable to use and prevents accidentally falling down. The mat is waterproof, so don't need to worry about dirty after use. You can store it conveniently under the bed, in the closet, or in your car trunk when you have an outdoor journey with your family or friends.
To ensure quality, FirstE offers a standard of quality and workmanship with 12 months warranty from the date of purchase. You can replace any non-artificial defective parts in this period. Overall, Fitpulse's small rounded adult trampoline could be a great way to maintain your exercise routine.
PROS
Anti-slid and waterproof
Great for both kids and adults
Durable and 440 lbs load capacity
Adjustable and comfortable handle
Foldable, portable and easy to carry
Easy to assemble and store
CONS
Assembly instruction needs to improve
Rods themselves are not marked
Legs are a little bit long
---
3. Tatub 16FT Trampoline for Kids and Adults
Max Load: 375 LBS | Foldable: No | Adjustable Height: 29.5″-39″ | Frame: Resistant Steel | Weight: 13.0 LBS | Diameter: 16feet" | Quiet: No | Assemble: A Bit Hard | Warranty: N/A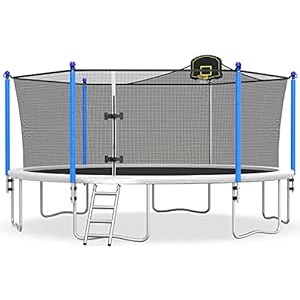 Tatub trampolines are always famous for their quality construction, safety and durability. This is a large, high-end adult trampoline from Tatub. It has lots of features and customizations. It is constructed with safety enclosure and heavy gauge galvanized rust-resistant steel.
It has a total of 6 U-shaped legs that stand evenly to ensure more stability. The high elasticity heavy jumping pad will provide a very strong elasticity for the exercise trampoline. The 108 galvanized springs securely attach the jumping mat and frame together.
Tatub adult trampoline is wear-resistant and comes with an anti-UV spring cover pad. Good quality, complete package, and ease of assembly are some of the main reasons people choose this model. The mat is of outstanding quality and the spring tool is also included with this mat.
This large trampoline is ideal for both children and adults. There are in fact numerous reviews and opinions of users who attest to the fun and training guaranteed even for the older ones. Although it is a very expensive option for budget people, it could be an excellent choice for physical training or entertainment for the whole family.
It is a 16ft trampoline and the maximum load capacity is 375 lbs. The package also comes with a lot of accessories, such as a basketball hoop, a foot mat, a ladder, an accessory kit, and more. The basketball hoop brings more fun for jumping, shooting, and dunking.
However, it's not robust enough compare to FirstE 48″. The safety netting is up, so it takes a little more work to get everything on, but overall is pretty quick. The height of the safety net is 70.7 inches.
PROS
Excellent quality and look
Heavy-duty galvanized steel ladder
Bold Strong Springs & safety net
Excellent quality and flexibility
UV-proof enclosures
CONS
A bit rough and poor quality on the back side
A little tight to get on
---
4. Newan 48″ Silent & Adjustable Trampoline
Max Load: 330 LBS | Foldable: No | Adjustable Height: 5 Different Levels| Frame: Stainless Steel | Weight: Light| Diameter: 48" | Quiet: Yes | Assemble: Need Strength| Warranty: N/A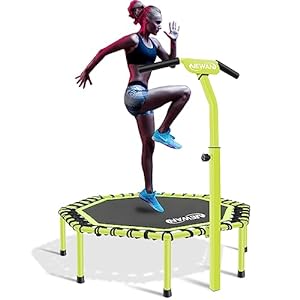 Whether you follow user reviews or comparative test feedback, you will often see the brand name Newan, a true benchmark in this field. And we highly recommend this 48-inch adult trampoline as an alternative to treadmill or exercise bike if you want slowly get back into your grove.
Newan Adult Fitness trampoline is made of strong PP mesh, anti-wear, and tear-resistant materials. And the durable 8 legs support users up to 330 pounds. The 40-thickened bungee rope also provides joint-friendly suspension, that reduces noise to the maximum extent and gives you a great jumping experience.
The foam material's comfortable handlebar prevents you from flying off onto the floor. You can adjust the height of the handlebar to 5 different levels which can meet the demand of different people. You can easily handle it without losing comfort. The bouncing is highly safe.
The Newan 48″ is one of the most robust and higher quality mini rebounders on the market for both men and women. It works well for cardio and core training.
Its small design and stability are repeatedly highlighted, but its qualities do not stop there. Children and adolescents can then use this model safely because it is extremely stable. There is no way for the little ones to slip from underneath.
However, to assemble it, you have to use a considerable amount of strength. But two people do it simply. It's part of why it can withstand big people. Its elastic part is strong and tight.
PROS
Stable Oval Tube Design
Safer, quieter but soft
Ideal for weight loss
Adjustable T-shaped handle
Nice large surface to jump
Very solid frame, thick metal
CONS
Doesn't fold up for storage
It's a bit hard to assemble
Handle moves a little
---
5. Plazenzon Rebounder Foldable Mini Trampoline
Max Load: 350 LBS | Foldable: Yes | Adjustable Height: 32″-42″ | Frame: Commercial Steel | Weight: 40 LBS| Diameter: 40" | Quiet: Yes | Assemble: Very Easy| Warranty: N/A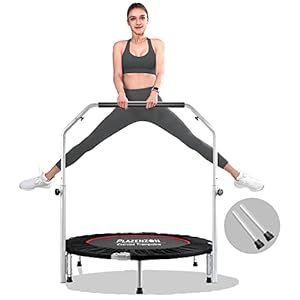 With 350 lbs of load capacity, the Plazenzon is one of the heaviest exercise trampolines on our list at this price point. However, this unit combines business with pleasure, all in maximum fun outdoors. And perfect for doing cardio exercises right at home.
Let's talk about quality…
Plazenzon adult mini trampoline made of heavy-duty steel with thick springs and PP Mat that can support 1-2 adults or 2-3 kids to enjoy jumping indoors or garden. The band attaches to the mat to ensure more user safety.
It has 4 different levels of handle height (ranging from 32″ to 42″) that can be adjusted to fit all ages of people. The handles are also covered by foam material, which is much more comfortable for the user to grip.
It doesn't take up too much space in the living room. Compare to regular or opened size, the folded size is only 1/4. And Plazenzon trampoline can stand up on its side when not being used. The unique design allows you to fold it twice safely and helps you store it conveniently under the furniture or the closet.
If you wish, you can make the Plazenzon variety of trampolines a fitness accessory to install in your gym. In that case, you can acquire this mini sports trampoline, which will be specially adapted for adults for specific exercises. This is also the model that you will find in specialized courses.
However, Plazenzon mini trampoline doesn't come with complete assembly, you need to set it up by yourself. But it could be very simple because the instructions are user friendly.
PROS
Durable and high load capacity
Anti-slip rubber bottom with silence
Four level adjustable handle
Convenient and foldable
No squeaks from the springs
High safety design
CONS
You need to put together
Legs screwed on easily
---
6. SereneLife SLSPT438 Indoor Trampoline for Adults
Max Load: 220 LBS | Foldable: Yes | Adjustable Height: 35″-46″ | Frame: Sturdy Steel | Weight: Heavy| Diameter: 30" | Quiet: Yes | Assemble: Simple| Warranty: N/A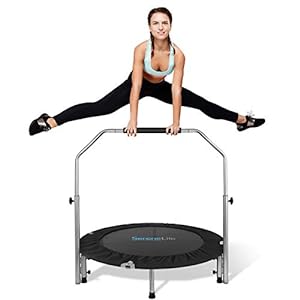 Here is another model that does not appear in the many online review tests because it is designed for intensive use. If you haven't found the best one among all the trampolines available, here it is. It could be a great workout trainer to increase your strength and stamina.
SereneLife SLSPT438 adult trampoline has a decidedly competitive price and is considerably lower than the other larger ones. The jump mat is made of durable polypropylene which ensures sustainable bouncing and coil spring for high elasticity. It is designed like a sports trampoline, intended for training addicts!
The assembly size at 40" x 35-46'' from the ground to the top. Serenelife adult trampoline is high quality, bouncy and very secure on the base. You can't beat the price. The canvas is at ground level, just like indoor gymnasts. It is aesthetic, practical and original.
The padded handlebar is adjustable from 35'' to 46'' high so that users can fit easily it according to their height. And with the handlebar, user can easily control their bouncing. The frame has strong welded joints so it won't bend/break. It's built to last and has a good look as well.
This adult trampoline is portable and foldable. You can simply store it in a small space in the gym or at home. The convenient size also helps you to carry it from one place to another without any hassle. It can support up to 220 lbs. It is easy to assemble. A complete instruction manual also is included in the package.
PROS
Perfect size for a complete exercise
Foldable and space-saving design
High-quality mat and stylish
Unique design
Durable
Cheap price
CONS
Logo clearly visible
It is a bit noisy
---
7. Newan 40″ Silent Indoor Mini Trampoline for Adults
Max Load: 330 LBS | Foldable: No | Adjustable Height: No | Frame: Sturdy Steel | Weight: Light | Diameter: 40" | Quiet: Yes | Assemble: Difficult | Warranty: N/A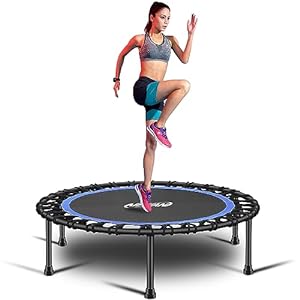 Last but definitely not least, this China-based reputed company is specialized in fitness accessories, especially outdoor trampolines. It will give you effortless and comfortable exercise in your home. Your feet won't fall through the bungees.
The Newan 40″ model is also very strong enough for a full-figured person and features a rather simple and inexpensive design. No excess noise, and it doesn't slide out of place.
It adapts to your whole family. With your children, you will quickly become addicted to it and stop using the designer rower you bought for a little while. It does not interfere in the garden and fully complies with USA and EU standards.
You can easily remove the legs after use. It's very bouncy and the quality and functionality are great. Newan 40″ adult trampoline could be a very good pick for cardio exercise if you're not able to make it out of the house or don't have a lot of time. However, it is specially designed for indoor use.
The thickened anti-slip rubber pads protect your floor and reduce noise. It has appropriate dimensions and can still support up to 330 pounds. Newan 48″ trampoline is suitable for those over the age of 14.
However, the assembly is a little bit hard, but everything comes with the package that you will need in order to put it together. It takes 2 people to put it together. We ranked 3 out of 7 if the assembly wasn't so challenging for me.
PROS
It's quiet and sturdy
Premium built quality
It's perfect for indoors
Lightweight but durable frame
Anti-slip, safe and comfortable
Many springs at the perfect length
CONS
Instructions are less helpful
It does not squeak
---
Best trampolines for Adults – Buyer's Guide
As we mentioned at the beginning of the post, there are currently different varieties of adult trampolines, so making sure to choose a model that most closely matches your situation is a bit tricky. To choose the best trampoline for adults, we have compiled this guide that helps you collect the features you actually need.
Let's see what are the most important elements to consider without further delay.
The size of the trampoline
Size is the most obvious criterion of the adult trampoline. The size must be chosen according to the profile of the "jumper" and the place where the trampoline will be installed. For adults, the most suitable models have a minimum diameter of 350 cm. Athletes will prefer models with a diameter greater than 400 cm.
For solo use: An average trampoline is not enough. You need at least a 370cm diameter model. These are adult trampolines with a load capacity of 150kg.
For 2 to 3 adults: Very large adult trampolines are essential. They are generally 470cm in diameter. Some rare models of large round trampolines reach 490cm. They will be extremely expensive. Their generous jumping surface makes them adult trampolines with a maximum load of 200kg.
For 4 adults and more: You need a giant adult trampoline. This variety of inflatable types can accommodate up to 5 people, especially for the larger models. If you need an adult trampoline that supports 300 kg or more load capacity, then this is the ideal choice.
Keep in mind that the installation rules for the safety of users impose a clear space of 2 m around the trampoline and a height of 8 m free of obstacles above. You must therefore find the right compromise between available space and your need.
The rebounds
Here you will focus on the springs, favoring those with sufficient length. The average spring length is between 115mm and 135mm. You can find springs over 200mm. The large spring avoids a centering effect and increases durability. Also, make sure to check the number of springs coincides with the size of the trampoline.
The safety of trampolines
We know that safety is a very important criterion for any activity. Trampoline safety is ensured by a number of technical elements including the frame, springs, jumping mat, safety cushion, and protective net.
The steel tube reinforcement must be of good quality, corrosion-resistant, and easy to install (prefer reinforcements that interlock rather than screw).
The springs play an important role in the flexibility of the jumping mat. You should choose long springs with a minimum length of 180 mm. Springs should also be electro-galvanized or hot-dip galvanized.
The jumping mat must be in reinforced PVC to avoid any risk of tearing, and to resist UV rays.
The cushion, which covers the springs and protects in the event of a fall outside the canvas, must be sufficiently wide (minimum 36 mm) and thick (minimum 25 mm).
And the net, the centerpiece of safety, must be resistant.
The shape of trampolines
The shape of the trampoline you choose is very important. Because each shape is adapted to a particular activity. However, round shape trampoline is designed for families to bring more fun. And most of the trampolines available on the market are round.
Octagonal trampolines are well-known shapes, as they offer increased strength compared to garden trampolines. They are packaged for intensive use and recommended for clubs and amusement parks. For personal use, octagonal trampolines remain high-end models.
There are rectangular trampolines. These are models designed for professional athletes who already have a certain mastery and want to improve their figures and skills. It is moreover this form which is generally retained for the competitions of high level. Nevertheless, thrill-seeking users (adults of course) might enjoy them as well.
The accessories
Protective skirts prevent pets or young children from accessing the underside of the trampoline while it is in use. The ladder allows better access to the trampoline.
Finally, the protective cover is essential to protect your trampoline from bad weather.
However, it must be able to withstand many shocks and twists under the weight of the users, without presenting the slightest weakness.
The price of the best trampolines for adults
What's your budget?
How much do you plan to spend?
Because buying an adult trampoline that is too expensive could be a waste if your goal is just to have fun during your free time. There are a number of fantastic low-priced adult trampolines available that will allow you to have fun equally.
The price of adult models varies enormously depending on the type, size and brand. Expensive trampolines are larger or have different functions and benefits. We therefore recommend that you take your time to compare and find a cheap adult trampoline.
FAQs
Is trampoline a sport or leisure activity?
You can use it on all occasions! However, you are not looking for the same model according to your expectations. For family use, favor a trampoline with a large diameter and maximum weight. For athletes, make sure to focus on the quality of the rebound and the strength of the materials.
Can a group of people jump on a garden trampoline?
It all depends on its total size and the maximum load it can support. It is remarkably variable from one model to another. The trampoline must be able to withstand hours of play without moving.
Is trampolining the same as working out?
Many studies have been carried out in this direction, and the answer is yes! A trampoline session is as effective as any other sport. It can help with weight loss, cardio workouts, and muscle building.
Do I need to maintain a trampoline?
As with any other installation in your garden, you will need to keep your trampoline in good health. We recommend you check the condition of the canvas regularly, especially the elastics and obviously the screws.
Most of the trampoline is designed to withstand unexpected weather. Also, some models still provide suitable protective covers.
Can an adult use a child model?
No, unless you are below the 50 kg mark. This is usually the maximum load the child trampoline can support. Child trampoline supports up to 50 kg and adult models generally accept a maximum load of 100 kg.
What size trampoline should I get for adults?
For adults, a trampoline with a diameter of at least 10 feet is recommended to provide enough space for comfortable bouncing. However, larger sizes, such as 12 or 14 feet, can offer a more enjoyable experience.
Conclusion
Before purchasing your new exercise or fun trampoline, it is important to ask yourself how much space you want to devote to it. It is also essential to determine the use of your equipment, for sport or fun. Because this point of view will determine the appropriate diameter and shape.
Don't neglect safety because it is indispensable even if the trampoline is designed for specific users. Always choose a model with a protective net or buy separately to rebound without the risk of a bad fall. However, you can follow our comparison analysis, which will help you better understand your needs and make your choice by having all the important data at your fingertips.
Tetherball game is a brilliant way to stay fit and healthy. Don't miss our tetherball set buyer's guide. You can also read our Best Free Standing Pull Up Bars Buyer's Guide, which actually works well besides the trampoline, for good fitness.