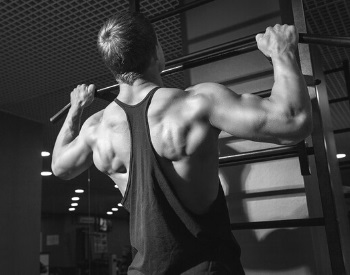 Many people feel comfortable exercising at home. The problem is very few people can allocate space in their homes to install a large collection of gym equipment. Free standing pull-up bar is a versatile piece of gym equipment and exceptional for a variety of exercises without taking up too much space. You can consider it a real micro-gym.
The best free standing pull-up bars are stable and resistant compared to other fitness equipment. Also, you can save some money to avoid purchasing unnecessary items. In this way, you can keep fit without leaving the house.
However, before making a purchase decision, it is necessary to consider different criteria such as the type of training that one wishes to follow or in relation to its morphology. In this article, we're going to review the top 7 best free standing pull-up bars of 2023.
Best Free Standing Pull-Up Bar in 2023
If you are looking for the best free-standing pull-up bar for your whole family, which convinces with a very good value for the money and can be folded up in seconds, then the Fitness equipment C-Black is the best option for you. With high load capacity and the option to store & carry easily with a bag, your training will be flexible. In addition, the long durable construction gives you the security of purchasing.
Top 7 Best Free Standing Pull-Up Bars – At a Glance
From compact designs that are ideal for smaller spaces to more elaborate setups that offer additional workout features, here are the top 7 choices to suit your preferences and needs.
The best free-standing pull-up bar models on the market are described below.
1. Fitness equipment C-Black Free Standing Pull-up Bars
Material: Steel | Max weight capacity: 990 lbs | Height adjustment: Multi-level | Weight: 44.1 pounds | Suitable for: Both adult and children | Warranty: N/A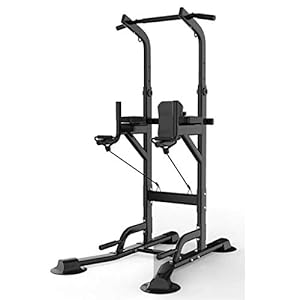 Fitness equipment C-Black free standing pull-up bar made of heavy-duty steel frame. It allows you to exercise a wide variety of muscle groups for a complete upper-body workout. This is a smart home bodybuilding solution for your abs, chest, back, shoulders, and arms. It is also very useful for both upper limb and lower limb muscles.
The handle is comfortable and non-slip to ensure joyful exercise. The Fitness equipment pull-up bar can withstand over one hundred thousand counts of usage with 990 LBS of load capacity.
The non-slip and large rubber mats highlight safety to avoid any wobble and the base does not adhere to the floor. The height can be adjustable in multi-level, so kids, men, and women used this model comfortably. It is a great piece of fitness equipment for children's growing workouts.
Its ergonomic design provides extra comfort while giving you systemic and scientific exercise. The chin stretch and lift stations are padded for exceptional comfort during training. You can burn calories fast & cellulite reduction, building a good body shape with this training apparatus. You can use your own weight and gravity to get the best workout possible.
However, you need to assemble the product and tighten the lock screws carefully. Also, make sure to read the instruction carefully. Assembly instructions are simple and well-written. This model comes with a tool to assemble them but we recommend using the best ones if you have.
Why Choose Fitness Equipment C-Black Pull-up Bars:
Durable construction for long lifetime use
Multi-function design gives you full-body exercise
It features multi-level height adjustments
Non-slip and comfortable handles
Includes stable large rubber mats
PROS
Different height adjustments option
Strong and durable construction
Very stable base
Functional and practical
High load capacity
---
2. Health Gear CFT2.0 Pull Up bar & Weight Bench
Material: Aluminium | Max weight capacity: 300lbs | Functions: Workout bench & Pull up bar | Height: 7 feet | Height Adjustment: Multi-level | Weight: 103lbs | Warranty: N/A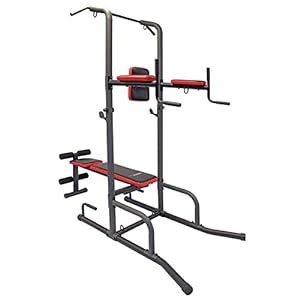 You can work your upper body muscles with the Health Gear CFT2.0 free-standing pull-up bar. It is made of high-quality materials, especially strong aluminum, and designed by professionals in the sector.
Health Gear CFT2.0 Multi-station functional fitness tower features a workout bench, which ensures comfortable workout experience. It provides up to 13 comprehensive home gym workouts. For example, you can use this self-supporting bar for pull-up, chin-up, dip, vertical knee raise, push-up, rear dip, sit-up, and more.
The sturdy metal construction ensures great stability. So even as you tune in with a variety of stations and positions, you can work on sculpting those summer-ready muscles.
This model is pretty strong that easily holds up to 300 lbs. The exercise will be easier and more comfortable, thanks to the padded handles and the padded supports for the back and the arms.
Health Gear CFT2.0 multi-gym power tower has everything you need to tone those muscles like never before. It comes with details instructions that are very easy to follow. The weight bench part can be installed either way.
However, two things we don't like: it doesn't have an exercise for leg extensions and leg curls. The handles are a bit small in circumference which could be better in order to make the hands more comfortable. But Health Gear CFT2.0 free-standing pull-up bar is a great way to start.
Why Choose Health Gear CFT2.0 Pull-up Bars:
Includes everything you need
Multi-station and functional
13 comprehensive home gym workouts
Solid frame with non-slip end caps
Perfect home gym equipment for beginner
PROS
Good choice for the price
Sturdy and well made
Strong and duty construction
Easy to carry and move
Comes with complete assembly instructions
CONS
Doesn't include barbell
Can't support Olympic bar
---
3. GoBeast Portable Free Standing Pull-Up Bar for Home
Material: Steel | Max weight capacity: 300lbs/150kg | Length: 6'3" | Width: 47-inch | Height adjustment: 2-level | No. of workout: Over 35 exercises | Weight: 49.95lbs | Warranty: N/A

If you are looking to do pull-ups and other similar exercises in your backyard or on the go, then the GoBeast would be a brilliant choice for you! GoBeast free standing pull-up bar allows you to develop powerful defined arms and core muscles while working out at your own leisure with over 35 exercises.
It dismantles into smaller tubular lengths, so you can easily store it at home or car. It is a very solid and versatile power tower under $150. This equipment is about 40 lbs in weight, so you can easily move short distances. It is also very simple to take apart and put back together.
It has a max weight capacity of up to 150kg. Also, GoBeast portable pull-up bar is sturdy enough for a lot of swinging motion. The bars have a fairly large diameter, much larger than what is standard at most gyms. The materials seem to be of heavy-duty quality with a durable powder-coated finish.
The unit itself is about 6'3″ tall which is perfect for people with heights up to 6 feet. You can switch between the lower bar and upper bar positions in less than a minute. However, you'll need a pair of gloves for a comfortable workout. Otherwise, your hands may bother you. Simple gloves will be just fine.
GoBeast pull-up and dip station comes with a high-quality carrying bag and shoulder straps so that users can easily take it anywhere they like. It is not only able to meet the ASTM standards, but it also exceeds them as well. Overall, it is a perfect choice for beginners or seasoned hobbyists.
Why Choose GoBeast Free Standing Pull-up Bars:
Designed for slow controlled movements
User can be used on a hard solid surface
35 gym workouts with downloadable manual
Included a large storage bag & shoulder strap
PROS
It is portable
Stable and sturdy
It will last a long time
Easy to take apart and store
Cheap price
CONS
Only 2 height adjustments
Not good for CrossFit
It's a little wobbly
---
4. KT KHANH TRINH Foldable Free Standing Pull Up Bar
Material: Steel | Max weight capacity: 485lbs | Handlebar width: 39.37-inch | Height adjustment: 76.7 to 100.4 inches | Weight: 63.9lbs | Suitable for: Less than 6.56 ft | Warranty: 5-year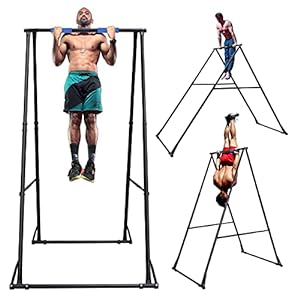 KT KHANH TRINH free-standing pull-up bar was designed by Mr. Khanh Trinh who has 15 years of Pro pull-up experience, so we can be confirmed that KT Pull-Up Bar Station gives you the most secure and comfortable pull-up/chin-up workouts at home. It features toes that don't touch the ground and a full-body swing.
You can adjust the height of the KT KHANH TRINH power tower easily on many levels without a spanner, making it suitable for all users less than 6.56ft.
This unit is wider than the GoBeast, so your shin or knee will never hit on the frame as you drop back down from pull-ups. The construction quality is remarkable, and the well-designed frame and outstanding structure help to have good Force-bearing capacity and stability.
The sturdy means 93% wobble is removed, not 100% stable. However, it is enough to make you satisfied. The welds and painting are also represented truly carefully, that won't scratch for decades.
KT Foldable heavy-duty pull-up rack can withstand up to 770 lbs and enables the user to do the strongest exercises without being collapsed or bent. You won't feel cramped in it even if you're a big or tall person. The adjustable handlebar allows you to hold it wide or narrow for your fitness goal.
It can be folded up within 8 seconds, which allows users to free up space after exercise. You can use KT KHANH TRINH free-standing pull-up bar anywhere as per your training regime.
Why Choose KT KHANH TRINH Free Standing Pull-up Bars:
Toes don't touch the ground
Good forces-bearing capacity
High-quality pull-up and chin-up bar at this price range
Safe for all your family members
You can adjust the height very easily
PROS
Safe and reliable construction
Easily foldable
Versatile design
No limit your movements
Sturdy and durable
CONS
Directions require an insignificant figure out
It is a little heavy
---
5. Fitness Reality X-Class Multi-Function Power Tower
Material: Steel | Dimensions: 63.4 L x 49 W x 83 H inches | Max weight capacity: 400lbs | Step support: Yes | Handlebars: 2-adjustment | Weight: 150lbs | Warranty: 10 years frame & 3 years parts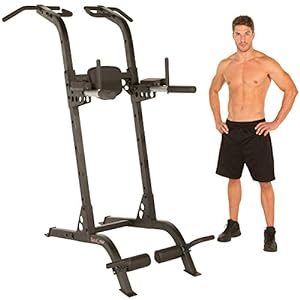 By installing the Fitness Reality X-Class power tower in your home, you have invested in health and fitness yourself for a long time. This is a multi-functional freestanding exercise station that is suitable for all fitness levels and muscle-building workouts.
Fitness Reality X-Class pull up bar is built with 2 adjustable handlebars with foam rollers so that you can achieve multiple exercises with 7 mounting positions.
It is made of high-quality attachments with welded steel. The heavy-duty powder-coated steel tube frame withstands up to 400 lbs of load capacity. It works great in your abs and masters your leg raises. This unit also provides up to 20 different exercises to train your different muscle groups.
The multiple grip pull-up/chin-up station helps you strengthen and sculpt your back, lats and biceps, triceps, and chest through different hand positions. The ergonomic designed 3″ thick angled backrest ensures legitimate support and comfort. And the 2.25″ thick angled forearm cushions ensure comfortable forearms.
With the Fitness Reality X-Class pull-up bar, you will get the same intense gym-quality workout at home. Its 3-position adjustable stability beam added extra safety and stability.
If you put it together properly and secure all the bolts, it will not wobble. The package also includes wrenches to tighten the nuts and bolts. You can also disassemble most of the key pieces.
The vertical handles have two positions to choose from. The height of the dip bars/elbow pads is fixed, and not adjustable. This is not a problem if you are less than 7 feet. However, it is not good if you want to put this bar in the corner of a room.
Why Choose Fitness Reality X-Class Free Standing Pull-up Bars:
Designed and built to be safe
Durable and reliable pull-up bar for all ages
2 Adjustable Handle Bars with Foam Rollers
Multiple Grip Pull-up/Chin-up Station
Angled Forearm Cushion and Backrest
Adjustable Stability Beam
PROS
Heavy-duty construction
Very well built
Strong and sturdy
Perfect for home gym
Excellent step support
CONS
Some assembly required
Hard to move around
---
6. Fitness Equipment Free Standing Pull-up Bar
Material: Steel | Dimensions: 48.82 x 13.78 x 4.72 inches | Max weight capacity: 550lbs | Height adjustment: Six level | Weight: 33.1lbs | Suitable for: All family members | Warranty: N/A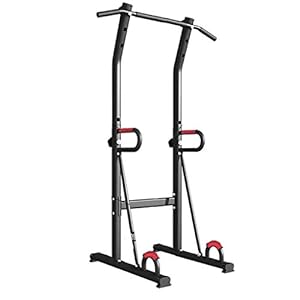 Fitness Equipment Ultralight pull-up bar made of high-quality steel. It is a sturdy free-standing pull-up bar under $400, that can be used in many different ways. There is even a large rubber mat at the bottom for superior stability and locknuts to hold everything in place in case of vibration.
It has 6 levels of height adjustment for both small and large family members. And with safe and strong support, Fitness Equipment's free-standing pull-up bar is able to support a weight of up to 500 pounds. This model will ensure excellent workouts for the health-conscious family.
When you use this Dip Station chin-up bar, you will quickly become a fitness junkie. Because Fitness Equipment's multi-functional exercise rack allows you to create a workout routine that will target all upper body muscles and a few others, like your abs.
A pretty nice Dip Station and backrest are easily removable that can be extended out for longer arms. The adjustment points also have large knobs, which are very easy to turn. The assembly process is easy, especially if you are using your own wrenches, which provide more leverage.
With non-slip and comfortable handles, it will give you a systemic and scientific exercise. However, it doesn't have an adjustable back pad.
Why Choose Fitness Equipment Free Standing Pull-up Bars:
Stable rubber mats for superior stability
Designed for comfort with padded handles
Multifunctional exercise station
Made of high-quality steel
PROS
Reasonable cost
Multi-function
Well designed
Comfortable handles
CONS
Steel body parts are pretty thin
---
7. Able Fitness Dip Station Chin Up Bar Power Tower
Frame: Steel | Max weight capacity: 330lbs | Height adjustment: Six levels | Height range: 59-88.6 inches | Weight: 33.1lbs | Warranty: N/A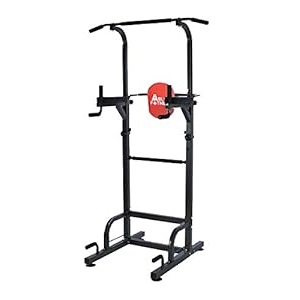 We conclude our list of the best free standing pull-up bars of 2023 with Able Fitness fixed pull-up bar. The best thing about the AbleFitness chin-up bar stand is that it is completely portable, so you can move your home without much more difficulty.
AbleFitness Free-Standing Pull-Up Bar disassembles into small tubular pieces that you can store in the bag to take it anywhere. So you can take it to the park or consider becoming a door-to-door personal trainer. The assembly process is pretty much easy (it won't take more than 20 minutes) and the price is very reasonable.
This is a multi-functional model and is designed for full-body workouts such as arms support, vertical knee raise, abdominal muscles, arm, back, chest, shoulders, leg muscles, and more. And with the six levels of height adjustment, it can be used comfortably by any adult in the household.
It is sturdy but requires quite a bit of force to lock in. Obviously, the metal isn't as thick or as heavy as the equipment you'd see in a commercial gym. However, this will be perfect for what most people are buying it for. This is also an excellent free standing chin-up bar for the money.
The unit is quite stable on the hard surface. It can support a maximum weight of 330 pounds. It is also designed for slow, and well-controlled movements. The grips and pressure points are ergonomic and allow you to work for a long time without too much effort.
It will help you to develop strong, well-defined arms and core muscles that will turn your abs into something fabulous. However, the armrests are fixed at 53″ and the base is a little bit narrow.
Why Choose AbleFitness Pull-up Bars:
Designed for slow, controlled movements
Tough steel frame for solid support
Ergonomic design for extra comfort
Big & thick forearm cushions and backrest
PROS
Good assembly instructions
Budget-friendly
Easy to assemble
Versatile
CONS
A bit difficult to remove the armrest
Made of thin metal
---
How to Choose the Best Free-Standing Pull-Up Bars
Buying a self-supporting structure for traction is a step that can be very useful for your body. But it must be well considered for a whole series of factors that we are going to explain below.
Free space
The free-standing pull-up bar, unlike the one for the door, is exercise equipment that needs a special space where it can be stationed as it is not easily removable. And in any case, having a structure that supports the two weights (structural and of the user).
It is always better to avoid carrying out the disassembly/assembly operations too often so as not to damage the pins and therefore compromise the stability of the structure.
Height
Many self-supporting traction bars have a vertical structure that can be varied in height and that can even reach over 230 cm. However, one of the most common mistakes is to rely on this maximum parameter and relate it to the height of your ceiling, without calculating the space necessary for performing some traction exercises.
Variety of grips
The variety of grips is another important aspect when choosing the best free-standing pull-up bars. In fact, these not only affect the quantity and variety of exercises that can be performed but also the duration over time of the pull-up bar.
In addition to causing discomfort during training, sockets not of quality have greater wear and consequently also a shorter duration of the device itself.
FAQs
What are the benefits of training with free standing pull-up bars?
There are many benefits to workout with a freestanding pull-up bar. Including the fact that if you have a set at home, you can exercise whenever you want. The other benefit is that you don't have to worry about looking cheesy in your local gym if you haven't mastered the exercise yet.
When you exercise with chin-up bars while standing, you can effectively isolate each muscle group in your upper body. Take the time to find out which different groups of exercises you can target and you will be able to sculpt the perfect body for you.
Combine weight lifting bars with additional equipment such as resistance bands or free weights, you will have a complete workout system in the comfort of your home or office. However, you probably find that you don't need it, as your body weight is the only resistance you will need.
However, the most important thing to remember when training with free-standing bars in a standing position is to check your technique. As with any workout, the right technique can be the difference between a good and a bad workout.
Worse yet, poor technique can also lead to injury. Follow the directions for each different exercise, and if you're still unsure, ask your favorite fitness instructor for advice.
Does a free standing pull-up bar require any maintenance?
If you buy good quality pull-up bars, their maintenance will rarely be a problem. However, due to frequent vibration during exercise, some screws and bolts may start to loosen and eventually fall off.
So before starting your regular exercise program, give your self-supporting pull-up bar a bit of a shake and test its stability. If it seems to be shaking more than usual, check all nuts, bolts, and screws, then tighten any that have come loose.
Are free-standing pull-up bars safe to use?
Caution is always advised when using any type of exercise equipment and this applies to freestanding pull-up bars. Most of them have an H-shaped base which is quite stable and the rest are designed for stability as well as security.
As long as, if you follow the directions and exercise responsibly, you should be able to do it safely. Just make sure that the base of your freestanding pull-up bars is placed on a flat, even surface.
It is generally not advisable to lay your equipment on a carpeted floor. If you've installed it on the carpet, try various exercises first to make sure your device is stable.
What types of exercises can I do with a free-stand pull-up bar?
With the free-standing pull-up bar, you can do with the chin-up bars while standing are primarily aimed at your upper body. This includes the arms, shoulders, abs, and back muscles. Most weight lifting bars come with instructions and include the types of exercises you can do.
The most common exercises that you can do with the pull bars in the free position are as follows:
Pull-Ups – These are the most obvious, hence the name "pull-up bars". Pull-up bars are great for working back muscles, but they're also great for working core muscles and building arm strength.
Chin-Ups – These primarily target your biceps and lats. Grasp the bar with the palms of your hands facing you and pull upward until the lower part of your chin touches the bar.
Hanging Knee Raise – Hanging knee elevation is a great way to exercise your core muscles. Hold onto the bar with your palms facing you and raise your knees. Sounds easy, doesn't it? It will take time to get there and it is much more difficult than it looks.
The knees elbows – Hold the bar with your palms facing outward, gently pivot your legs back before rotating forward and bring your knees to your chest by touching your elbows.
There are many other exercises you can do with the self-supporting bar. However, some of them depend on the characteristics of the weight lifting bars you use while standing. For example, not all standing weight lifting bars have a triceps lowering device or vertical bar for lifting the knees.
Is it worth buying a self-supporting pull-up bar for home use?
Many would like to do more for their fitness, build up muscles, find a balance in everyday office life and fail when going to the gym. The way to get there, the motivation to even get into the car after work, and also the membership fee are arguments that represent a major obstacle for many.
However, this obstacle no longer exists with a separate pull-up bar for the home. You can start your training flexibly at any time (even before work) and there are always 10 minutes for a training session.
A freestanding pull-up bar for home is cheaper in the long run than membership in the fitness studio. If the first few successes will be achieved, this will boost motivation again anyway!
Also, a training device at home has the advantage that you can train yourself undisturbed. Many shy feel uncomfortable in the gym because of being overweight or simply not being fit. And with your own free-standing pull-up bar, this is no longer an obstacle to doing something for your fitness at home!
How much do I need to invest to buy a good quality free standing pull-up bar?
Freestanding pull-up bar costs between 100 and 500 dollars. Compared to other gym equipment like elliptical trainer, exercise bike or rowing machine, self-supporting pull-up bar is not very cheap at first glance. But you get a long time service life on the pull-up bar and have the advantage of workout in different ways. So the investment is worth it for this reason.
However, only the high quality and particularly stable design freestanding pull-up bar cost a little more. You can choose a model between 100 and 300 for home use.
The verdict
As the test already revealed, the best free-standing pull-up bars are designed for professionals who can keep their bodies calm while training. But even newbies can fall back on the self-supporting pull-up bar if they find very stable constructions in the shop.
However, deciding to buy a free-standing pull-up bar means having a structure available in a confined space that allows a great variety of exercises and many training variables. In fact, it allows the development of various muscle bands of the upper body, and many models give the possibility of using accessories such as elastic bands and rings, for more complete physical preparation.
For an optimal choice, you must always evaluate the personal goal you want to achieve. The best self-supporting pull-up bars of 2023, reviewed in this article, allow you to make the appropriate choice for your needs and possibilities.
Now you are ready to tackle your slack and keep fit. If you think you still have some doubts, you can ask in the comment section below.
You might be interested in: