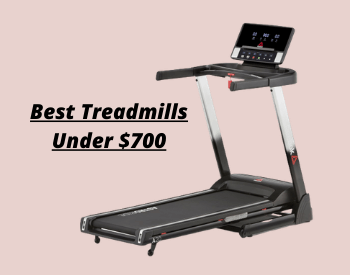 In today's fast-paced world, maintaining a consistent fitness routine has become increasingly essential for overall well-being. For many, having a treadmill at home is a convenient and effective way to stay active and meet their fitness goals. It is an ideal fitness equipment for keeping fit and burning calories fast when the outside is cold or harsh.
The good news is that you can find an innovative and smart treadmill without the thousand-dollar price tag. In fact, we sort the best treadmills under $700, whose functions are just the same as higher-priced models. Thanks to our experts' efforts, you can find some gems without emptying your wallet.
Each treadmill in this guide combines innovation with affordability, and offers a wide range of workout programs, incline options, and tracking capabilities to keep you motivated and engaged. Whether you're a seasoned fitness enthusiast or just starting your fitness journey, Our goal is to provide you with insights into the most reliable and feature-packed treadmills under $700.
Keep reading! We also share with you further information on how to select the best treadmills at this price range that best suits your needs and preferences.
Best Treadmills Under $700 in 2023
Our top pick is the NordicTrack T Series. It comes with 15 preset programs, so you can hop on and begin with little to no setup. The 10% OneTouch incline control is very good and responsive. NordicTrack T Series treadmill also folds up nicely to be stored out of the way.
Let's take a look at the top 7 treadmills under 700 dollars at a glance…
1. NordicTrack T Series 6.5S Treadmill: Best Overall
Running Belt Size: 20 x 55 inches | Display: 5" Backlit iFit | Horsepower: 3.5 HP | Programs: 15 | Speed Range: 0-10 MPH | Heart Rate Monitoring: Yes | Weight Capacity: 300 LBS | Weight: 125.0lbs | Foldable: Yes | Transport Wheels: No | Warranty: 2-year
NordicTrack is a well-established and highly reputable brand in the fitness equipment industry, known for producing high-quality treadmills and other fitness machines. The T Series 6.5S Treadmill is small in stature, and still quite high-tech for its price. So if you are looking for a treadmill for light or moderate cardio workouts, the NordicTrack T Series 6.5S is a good place to start working out at home.
Though the cost is less than 700 dollars, this treadmill is especially beneficial for new runners, as iFit programming will help to keep them motivated. It has a 5" Backlit display, which allows you to easily view the progress of your workout and the results of your personal choice of programs. You can also select a wonderful variety of workouts that will fit your personal goals.
You can isolate your progress based on the standard selections: speed, calories burned, time remaining, elapsed time, incline, distance, pace and heart rate. Two cushion isolators provide extra support and reduce joint impact, while the running surface is designed to give natural outdoor running feeling.
With this model, you can easily adjust your incline and speed, without interrupting your run, walk or jog. You can also monitor your heart rate through handlebars with built-in CardioGrip TM sensors.
NordicTrack T Series indoor treadmill features a space-saving design with EasyLift Assist with hydraulic folding, so you can store it without too much effort. It's good for power walking and jogging but it does not frequent long-distance runs or interval training.
We know that music always makes workouts much more fun. It features a sound system and Bluetooth compatibility, so you can enjoy music, podcasts, or whatever you want to listen to through the dual 2" speakers. After each use, you can easily fold it for storage.
If you prefer quality craftsmanship, durability and reliability, you won't go wrong with this model. However, because of its less powerful motor and smaller rollers, it's not quite as sturdy or durable as other high-end indoor treadmills that are currently available over a thousand dollar price tag.
PROS
Sturdy and doesn't bounce around
Design is good for long time use
Built-in fan and Bluetooth
Very large running belt
25-year motor warranty
Reasonably quiet
Plenty of options to keep track of all kinds of stuff
CONS
Some of the plastic moldings are a bit wonky to snap into place
It has no resume option; if you stop the treadmill for more than a minute, you have to re-start from 0 distance
---
2. Famistar Folding Treadmill: Easiest to Store
Running Belt Size: 17.3 x 48.4 inches | Display: 5 inch LCD | Horsepower: 3.5 HP | Programs: 12 | Speed Range: 1-16km/h | Heart Rate Monitoring: Yes | Weight Capacity: 300 LBS | Weight: 127.8lbs | Foldable: Yes | Transport Wheels: Yes | Warranty: 2-year
The Famistar is one of the best treadmills under $700 for home gym. It was first released in 2020. It is opposed to other home-use treadmills and a pretty standard with a power incline system with several onboard workout programs.
Let's see the construction quality…
The frame is made of top-grade steel but integrates several parts made of thermoplastic material. The motor cover and console dashboard are made of durable plastic. The steel parts are coated with corrosion-resistant paint. The deck features a multi-layered belt with a non-slip rubber layer and integrates several shock absorption elements. It also offers easy deck lubrication function.
Famistar treadmill is easily foldable, and the folding mechanism uses a hydraulic cylinder, which prevents it from damage. The length is approx. 61″ and width 27″. You can easily assemble it in a small space. To improve stability and minimize belt vibration, this treadmill also integrates a small flywheel.
However, it is fairly heavy, so the transport of the machine requires at least two people. But once it is assembled, you can easily be moved without any painful problems. Because the front base frame integrates transport wheels and the rear stabilizers rest on the wheels as well.
The power incline system range of 0% – 15%. This means that you can adjust the incline from the console during your workout. When you are running, you will find heart rate monitoring sensors on both of your sides. It can also be adjusted automatically, depending on the program in use.
The available speed range between 1 km/h and 16 km/h makes it great for both walking and running. There are also gradual speed adjustment buttons on the board integrated into the right grip of the treadmill.
However, the console does not have Bluetooth or WiFi connectivity, and it is not compatible with any fitness apps. But it has 12 pre-set programs and offers fitness goal-setting functions for time, distance, and calories burned. Other notable features are speaker, device holder, and accessory holders.
PROS
Sturdy frame construction
Multiple cushioning elements integrated into the deck
Strong shock absorbing springs
EGK pulse sensors integrated into handlebars
Easy lubrication system
CONS
Doesn't have online connectivity
Console is not telemetric
---
3. WalkingPad A1 Pro: Smart Walk Folding Treadmill
Running Belt Size: 16.4 x 42.2 inches | Display: LED Panel | Horsepower: N/A | Programs: 12 | Speed Range: 0.5-6km/h | Heart Rate Monitoring: No | Weight Capacity: 300 LBS | Weight: 63.0lbs | Foldable: Yes | Transport Wheels: Yes | Warranty: No
The WalkingPad A1 Pro is a great under desk treadmill under $700 for home and office. It comes with compact dimensions and a foldable design. Unlike classic indoor treadmills, the WalkingPad A1 Pro comes in a dual foldable design, which means you can assemble it on the basis of a notebook.
The length is 1.43 meters, and the thickness is about 13 centimeters. The body of the treadmill is made of durable silver-colored plastic. It is designed for people weighing up to 300 lbs. This is the main difference between the WalkingPad A1 Pro and the WalkingPad A1 (max. weight 190 lbs).
Since we're talking about the main differences, we need to mention that this new upgraded A1 Pro model is built with brushless motor with excellent noise reduction technology, which ensures a more stable operation. However, both versions of treadmills have restrictions on speed.
WalkingPad A1 only 3km/h and pro 6km/h. If you plan to run high speed with this series, it is probably not for you. But normal speed is optimal for health. However, it doesn't come with a battery for the remote.
This model built-in LED display that displays technical information, speed, and the number of steps taken. There are also several zones on the track that automatically change the speed of movement.
You can control this machine in three ways, manual, remote and via App. The app connectivity is also useful for viewing statistics for selected time periods for the convenience of moving, it is a pair of wheels.
WalkingPad A1 Pros treadmill is also lightweight than all other options on this list; weighs about 63 lbs. You can store it under the sofa, without taking away the usable area. Also, you don't require additional assembly steps. Because the package comes immediately ready for use and direct use for its intended purpose.
PROS
Great for small spaces
Intelligent speed control system
Multiple safety protection
Smart app connectivity
Solid construction
Easy to move
CONS
Design for walking
No warranty
---
4. Sunny Health & Fitness ASUNA: Space Saving Treadmill
Running Belt Size: 49 x 17.75 inches | Display: LED Panel | Horsepower: 2.5 HP | Programs: 12 | Speed Range: 0.6 – 8.0 MPH | Heart Rate Monitoring: No | Weight Capacity: 220 LBS | Weight: 95.0lbs | Foldable: Yes | Transport Wheels: Yes | Warranty: 3-year
The Sunny Health & Fitness Asuna is a slim, modern folding treadmill under 700, that offers rich functionality and portability. Due to its slim design, you can store it simply in a small space in your office or home.
The total user weight capacity is 220 pounds, however, the construction part is very solid and durable. It has a powerful 2.5 horsepower motor; you can walk, jog or run at up to 8mph speed on it. You can also adjust your speed quickly by using buttons on the LED-backlit console.
Sunny Health & Fitness Asuna treadmill is safe to run and much more comfortable. The low-impact running deck with shock absorption won't hurt your joints or knees. The emergency security clip is also attached to the middle so that you can clip it to your clothes to stop the treadmill in case you drift back.
This premium treadmill has a smart modern LED-backlit touch capacitive display console with 4 windows and quick select touch buttons. The display indicates the current speed, calories burned, total distance, and time exercised. You can compare your exercise progress by using the control panel in real time.
The pedometer tracks each step when you're exercising. There is a convenient tablet holder where you can put your tablet or smartphone and watch videos or listen to music through the built-in treadmill speakers.
Besides the slim, compact and foldable design, the multifunctional transport wheels are attached to this model. So you can move, store or use it wherever you want. And with the included folding key, it can be easily and securely folded flat. However, there is no instruction on how to fold or store it.
The overall dimensions are 40H x 30.5W x 59L inches when assembled and 4.5H x 30.5W x 64L inches when folded. It comes mostly assembled. However, you need someone to carry it into or around the house when you take it out of its box because the wheels are a little small and the treadmill is heavy.
PROS
Powerful motor
Extremely portable and slim
It has a device holder and media port
Heavy-duty construction
Easy to move and store
Easy-to-use display
CONS
It doesn't have adjustable incline levels
Motor only has a 6-month warranty
---
5. Lifepro Pacer Folding Treadmill: Best for Weight loss
Running Belt Size: 49.2 x 16.5 inches | Display: Backlit LCD | Horsepower: 1.75 HP | Programs: 40 | Speed Range: 0.5 – 9.9 MPH | Heart Rate Monitoring: Yes | Weight Capacity: 220 LBS | Weight: 115.0lbs | Foldable: Yes | Transport Wheels: No | Warranty: Lifetime
If you're a heavy person and you may not feel comfortable going to the gym, the best solution is really having the Lifepro Pacer folding treadmill for your home. This folding treadmill is an innovative solution for anybody who wants to lose weight from home but has limited space.
Let's talk about the mechanism part…
Lifepro Pacer treadmill boasts a 1.75 HP motor that reaches speeds up to 9.9 miles per hour. The running surface dimension is 49.2″ x 16.5″. The frame of the machine is steel tubing, and the machine is quite heavy. It is also pretty silent, you won't hear any weird noise even in the high-speed setting. However, it is very solid and durable, and supports up to 220 lbs.
This treadmill is easy to store because it features a hydraulic folding mechanism, which makes it extremely easy to just fold out when you're ready to use and put it back when you're done. Handrail controls provide convenient adjustments for both speed and incline during your running and walking sessions.
You can also connect to your favorite fitness apps via Bluetooth. The sound speaker is decent, loud and clear. If you keep the volume at 70% it will sound as clear and loud as a flagship smartphone. This model also has a convenient device and beverage holder right behind the control bar.
Lifepro Pacer treadmill is built with a heart rate monitor and additional controllers for speed and inclination. The maximum incline level is 12, and the included chest strap is pretty accurate. However, you have to be very careful because this extra-speed controller is very close to the heart rate monitor.
This cardio equipment has all the features that you would expect in a home machine and more. It even has a BMI calculator to track your progress, monitor your pulse, check your heart rate, and more. Although it's not too great to make it much more intensive.
PROS
A healthy choice for weight loss
Compact and easy to store
Smart connectivity
Lifetime warranty
BMI Calculator
CONS
Heavy
Doesn't have transportation wheels
---
6. MaxKare Folding Treadmill: for Serious Runner
Running Belt Size: 52 x 20 inches | Display: Backlit LCD | Horsepower: 3.0 HP | Programs: 15 | Speed Range: 0 – 10 MPH | Heart Rate Monitoring: Yes | Weight Capacity: 300 LBS | Weight: 147.0lbs | Foldable: Yes | Transport Wheels: Yes | Warranty: 1-year

Serious or professional runners always want a treadmill that's effective, easy to use, and ideal for their home. If you running fast and interested in finding a good fit, it's time to consider the MaxKare Electric Folding Treadmill. It delivers a power of 3.0 HP. Thanks to the generous running belt, you can run at a maximum speed of 10 miles per hour, even if you exceed 1.85m in stature.
The 52 x 20 inches running belt has an advanced cushioning system, which makes it more comfortable and safe to use while also making running less noisy. The length of the mat allows for running even for taller people. This treadmill would be ideal if you are living in a small space or shared apartment.
The Blue backlit LCD display is large enough. So you can easily read your workout statistics like measuring distance, calories burned, as well as heart rate. You can also easily toggle through 15 pre-set programs and/or customize your speed settings based on what's required at that moment.
MaxKare treadmill is equipped with 0-15% auto incline which helps you personalize your workout for better results. During running, you will be able to detect the calories consumed with the possibility of changing the electric inclination of the platform.
This soft drop system also makes it easy to fold and unfold. The hydraulic system makes for safe and easy handling while running. The durable transportation wheels are also attached to this model, to make moving the 147-pound treadmill much more easily.
The console has a cup holder, and a tablet holder as well. The cup holder is the perfect place to put your water bottle or coffee mug. MaxKare folding treadmill is built with quality materials that make it one of the best treadmills under $700. It supports a weight of up to 300 lbs.
PROS
Very quiet running treadmill
Easy to assemble
Large monitoring display
Space saver folding design – ideal for a small space
Easy to operate
CONS
Average user manual
Pretty much heavy
---
7. ANCHEER Folding Treadmills for Home: Personal Choice
Running Belt Size: 47.2 x 17 inches | Display: LCD Display | Horsepower: 3.25 HP | Programs: 12 | Speed Range: 0.8 – 14.5 KM/H | Heart Rate Monitoring: Yes | Weight Capacity: 300 LBS | Weight: 102.0lbs | Foldable: Yes | Transport Wheels: Yes | Warranty: N/A
This is a mid-range moving walkway, ideal for both men and women who want to run indoors without spending a fortune. The part construction is excellent because here uses solid materials. It remains firmly on the floor and even allows you to run in socks thanks to its cushioning system.
ANCHEER Fitness treadmill has an electric inclination on 12 different levels, so you are able to make your training more intensive as time passes and perform many different types of runs. You can also automatically adjust the angle of inclination by using the control button on the left handrail.
The running surface measures 47.2 × 17 inches, and it has urethane deck elastomers which allow excellent cushioning. Your ride will be comfortable and spacious because the two 3" side rails allow your feet to stand on top when you feel tired. ANCHEER folding treadmill is suitable for users with a maximum weight of 300 lbs. It won't perform well if you exceed the wait limit.
The LCD display constantly monitors time, distance, speed, calories and pulse. The structure is easily foldable, which makes it one of the best space-saving treadmills under $700 for 2023. At the end of the workout, you can safely fold or transport it, thanks to the comfortable wheels.
It will deliver a power of 3.25 HP. You can run at a maximum speed of 14 km / h. However, it is slightly less stable than the previously reviewed model, although we only noticed this when running at full speed. We highly recommend this model for those who suffering from joint problems.
It has speakers and a holder for the tablet. Furthermore, thanks to Bluetooth technology, you can connect the treadmill to the appropriate Fit App. ANCHEER folding treadmill also has an integrated wireless receiver, to be able to connect the heart rate monitor to be purchased separately.
PROS
Sturdy and solid construction
Built-in Dual Speakers
Bluetooth APP Control
Automatic Adjustment Tilt Function
Easy-Access Handlebar Controls
CONS
It takes some time to assemble
---
Buyer's Guide: Treadmill Under $700
Let's move on to the main factors that you should look into before you purchase a treadmill under $700.
Here they are:
Overall dimensions
Treadmills generally occupy a bigger footprint when compared to other exercise machines such as spin bikes or elliptical trainers because of their wide running surface. Foldable treadmills make storage a breeze, thanks to the fact that you can fold it into half its size, vertically.
However, it takes the same space as a traditional unfoldable treadmill when they're used. Hence, we recommend choosing the location where you plan to position your treadmill. This is important to note down especially true for those who have limited space at home. It is also good to give the treadmill some breathing space around so that you can enjoy your workout training and program.
Adjustability with your height
The length of the treadmill is to be chosen according to the user's height and the speed of running or walking. A smaller dimension in fact is unsafe and can be the cause of falls and injuries.
If you use the treadmill for walking, the minimum size should be sufficient. However, if you are very tall or want to use the treadmill for running, then the running belt must be larger.
Besides space and running surfaces, it is also noteworthy that your treadmill fits the length of your height. Because we all know that each person is unique depending on his natural stride.
We highly recommend testing out your treadmill by yourself, especially the running surface and height and length.
Digital functionality
You should consider the high-tech features that are related to your personal needs and preferences when buying the best treadmill under $700. For example, If you enjoy listening to music while working out the same, then you should definitely look into a treadmill with a Bluetooth speaker. A phone holder is also important for those who watch music videos, and favorite programs or follow workout routines online.
However, if you plan to position your treadmill in the living room, you can save money by skipping these digital features entirely. Because we think all the features, we have explained available your room.
Skill level is also important
It doesn't matter treadmill or other exercise machines, it must be able to adjust to your skill level and, more so, grow with you as you advance. That's why we always recommend choosing a treadmill that offers different speed and inclination settings.
Shock absorbers
It is remarkable that these devices are of good quality to prevent the shock of the stride when walking or running overloading the knee and ankle joints or the back. The more robust the treadmill is and approaches the professional type, the more precise the cushioning systems will be.
Weight and portability
Exercise machine weighs a lot, and the treadmill is no different. So it always helps to have the option of other people carrying your machine home. Another feature that you should take into account is the ability and the transportation wheel, especially if you're only going to take it out when you're exercising.
Maximum weight capacity
That is the maximum weight of the treadmill user, which can vary from just under 100 kg up to over 150 kg. Clearly, a more robust and reliable structure corresponds to a greater weight capacity to be supported.
Ease of assemble
We don't recommend attempting to assemble a treadmill on your own; if you are a beginner because it can baffle even the most adept DIYer. And this is the reason we recommend a model that usually comes with assembly, at least 80%
Warranty
A warranty card is a great relief that you can rely on should something go wrong with your machine in the future. For the best treadmill under 700 dollars, you can opt for a lifetime warranty for the frame and 3 years for the motor. But you should at least aim for a deal to have a full warranty on parts for at least five years and free labor for at least a year.
FAQs
Why would I need to invest in a treadmill?
The benefits of running are vast; it has regulated blood sugar, reduces chronic pain, relieves stress, boosts mood, helps you get better sleep, and can do wonders for your skin. Treadmill also helps you to lose weight quicker and your heart will be beneficial to your health as well.
Is it worth having a treadmill at home?
Yes, because running in the rain and cold is not good for health, so a treadmill is a great solution in these cases. We understand that some of the high-end treadmills can be expensive and a bit hard to afford for home use, but you can buy a cheap treadmill for personal use.
How noisy are treadmills in this price range?
Treadmills under $700 can vary in noise levels. Look for models with quiet motors and good shock absorption to minimize noise and vibration during use.
How much does a decent treadmill cost for home use?
You can buy a good quality treadmill for home gym costs from $200 to $1000. Of course, the more expensive it is the more features you will get. If you're looking to save money, you should invest in an affordable treadmill that can provide you with all the benefits. Just invest time in researching.
Is the brand important?
The brand is important if you've not bought a treadmill before. Our advice is to choose a reliable brand that is already well-known, to make sure your treadmill is adequate and safe. A well-known company is also an advantage for the after-sales service, both for finding spare parts and contacting customer service, if necessary.
Conclusion
Treadmill is one of the most useful and popular home gym equipment. And the price of the treadmills currently on the market varies considerably, from 200 to 2000 dollars. This is the reason finding a treadmill that's affordable and easy to use is challenging.
We hope this article helped you to find your favorite treadmill under $700. Don't hesitate to ask anything in your mind about this article. You can also share it with your friends.
You may also like our other treadmill reviews…