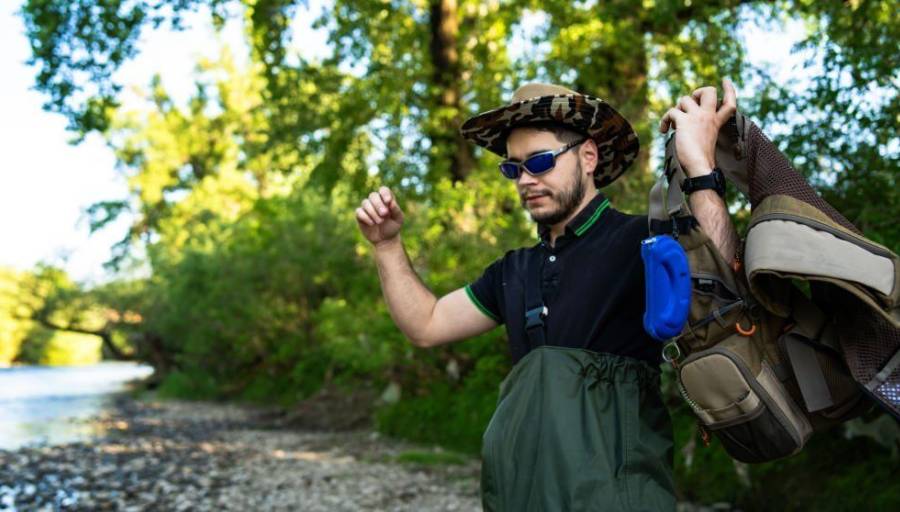 Anyone who loves fishing knows very well how important it is to always have everything you need with you to give your best once you arrive at the chosen spot. And the things to bring with you are not a few.
Think of live bait or artificial baits, ground baits, disgorgers, pliers, sinkers, scales, landing nets, and so on. And all this without forgetting that there will also be all the objects that will be used not so much for fishing as for the fisherman: a hat, a jacket, something to eat and drink, and so on.
For this, it is essential to be able to count on a good fishing bag. Sometimes it may be more useful not to have a bag, but rather a fishing backpack.
Let's think of those who have to walk a bit before reaching their boat or spot to carry a lot of things and want to have their hands free during the journey. Here then the backpack becomes the option to focus on.
But how to choose the best fishing backpack? First, we will list the factors to take into consideration in how to choose the best fishing backpack, and then we will see some of the most interesting questions.
Enjoy the reading!
How to Choose the Best Fishing Backpack
Choosing the best fishing backpack means taking into consideration many different factors. It is not just any backpack to respond to very special needs.
So let's see how to choose the best fishing backpack in our step-by-step guide.
Size and capacity
To learn how to choose the best fishing backpack, this is the first point to consider. There are small fishing backpacks to be used when there are very few things to carry or to be paired with a fishing bag. And there are very large fishing backpacks with a generous capacity, designed for those with very important space requirements.
Let's think of those who plan an entire day of fishing and want to bring everything with them so as never to get caught unprepared. Here is that to choose the best fishing backpack it is good to think about how much this will be loaded during our outings.
The organization of spaces
There are fishing backpacks that look like bags with one or two pockets, and there are others that look like real organizers with compartments originally designed to house specific objects, such as the compartments for spare spools or those already equipped for artificial lures.
Here everything depends on the habits and needs of the fisherman. Those who want to always have everything at hand, without having to search for or empty all the contents of the backpack, will have to opt for the best organized fishing backpacks with a good number of pockets and compartments.
The watertight pocket and general impermeability
There are fishing backpacks that do not have any waterproof surface, others that are instead made to keep the interior dry even on rainy days and in front of the splashes of the waves, and still others that have real watertight pockets for baits.
Resistance and comfort
Some fishing backpacks have a structure very similar to hiking backpacks. They are resistant and comfortable backpacks, which allow them to be used for a long time without creating annoyance and inconveniences, even for long journeys.
The best ones also feature ergonomic and breathable shoulder straps, which certainly don't hurt!
The built-in seat
Some backpacks have a feature that does not go unnoticed, namely the presence of a built-in seat. In a single solution, you will have both a comfortable fishing bag to load on your back and a comfortable seat for your outings.
An intelligent and decidedly comfortable solution!
FAQs
For choosing the right fishing backpack, here are some questions beginner anglers frequently asked…
Why buy a fishing backpack?
One of the main reasons for buying a fishing backpack is the need to carry various accessories and tools useful for fishing. For example, if you do spinning fishing, you certainly need numerous accessories, such as spare spools, dozens of lures, carabiners, boga grips, and other accessories or tools.
Having a fishing backpack to store everything can be very useful and comfortable because you can move easily and without having any encumbrance. With this type of backpack, there is no risk of ruining the clothes and necessary accessories due to salt water and the sun. Because in this way, they are kept safer.
How much does a good fishing backpack cost?
A simple fishing backpack starts at around $40. So you can get one for just 35-40 dollars and buy a cheap fishing backpack. The most expensive fishing backpack can reach up to $100. The other products are between these two prices.
Sometimes manufacturers give a discount and prices are reduced. Perhaps your favorite model is currently available as a reduced offer in the online shop.
How can I set up the fishing backpack correctly?
Make sure your fishing backpack fits your size. The shoulder straps should be adjusted so that the neck is in the middle of the shoulder blades.
How can I close the fishing backpack correctly?
The backpack is closed with zippers or clip fasteners. With the clip lock, you just snap the two plastic parts into place.
How do I clean my fishing backpack?
Do not wash a fishing backpack in the washing machine. Remove light dirt with a damp cloth.
Conclusion
A fishing backpack is a worthwhile investment for any angler. It is much more convenient to carry on the back than fishing tackle boxes. Thanks to the large capacity and many outside pockets, everything can be stored well. The colors of the backpacks are all mute green or camouflage patterns.
Now you just need some patience and some leisure time to indulge in this beautiful hobby.
Additional accessories, such as a folding stool, make fishing easier.
These Guides Might Interest You…