Nikon has consistently upheld an outstanding reputation in the realm of imaging products, and their extensive experience is evident in the development of binoculars. In this sense, we found that the Nikon Aculon A211 10-22×50 is an excellent option for anyone looking for binoculars for a wide range of applications. Whether you're a traveler, hunter, bird watcher, or other outdoor adventurer, this model's specs are sure to interest you.
In this article, we'll take an in-depth look at the features and functionality of the Nikon Aculon A211 10-22×50. Our goal is to provide you with a practical and insightful opinion, moving beyond the enticing details found in promotional material.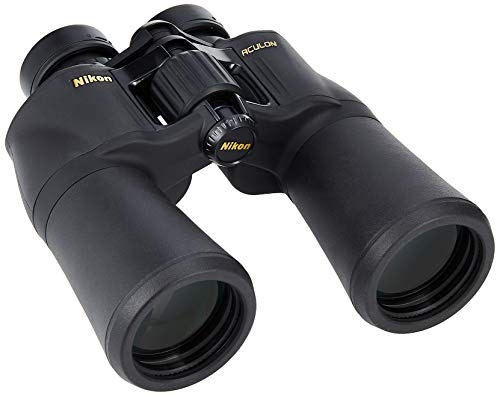 Best price: Check On Amazon
Specifications:
Lens: 50mm diameter and multi-coated glass lenses
Digital/optical zoom: 10x / 10 to 22x
Minimum focusing distance: 15m
Twilight index / light intensity: 4 / 25 lux
Pupil exit diameter: 5 mm
Prism: Porro type
Real/perceived field of view at 1000 m:8° / 66 at 1000m
Dimensions: 8.6 x 4.25 x 4.25 in.
Materials: rubberized coating
Other: adapter tripod included
Weight: 961 g
PROS
High-quality optics for clear and sharp images
Good performance even in low light or at night
Compatible with a wide range of applications
Includes many user-friendly features
Durable construction with a sleek black finish
CONS
Relatively bulky
Limited field of view at higher magnifications
Not fully waterproof or fog-proof
Manufacturing Quality and Ergonomics
The Nikon Aculon A211 features a rubber-armored coating, which provides a comfortable fit in the hand and ensures secure handling. Although it is not the lightest binocular on the market, this model is easy to manage thanks to its ergonomic design and can be worn for an extended period without any problem.
Thanks to the brand, Nikon has thoughtfully included rubber eyecups which ensure the binoculars stay comfortably in place for extended periods of use. As for the handles, they are ergonomically sculpted to offer a very good grip and won't slip even in the wettest conditions.
It's important to highlight that the impact-resistant rubber coating on these binoculars makes them suitable for use in various weather conditions. However, the Aculon A211 10-22×50 offers only average weather resistance, so be careful when using them in specific environments.
Moreover, we appreciate the judicious positioning of their lever (next to the right eyepiece), which makes it easy to find it with the thumb without having to remove the binoculars from your eyes. You have precise control over the optical zoom range (10 to 22x) right at your fingertips.
Another useful feature of the Aculon A211 is the ability to clip the lens caps onto the neck strap, which prevents you from losing them when using the binoculars. Likewise, the large non-slip central focus wheel is easy to handle even with wearing gloves.
Additionally, these binoculars include a tripod adapter that allows them to easily mount to a stand system for hands-free use without vibration, shaking and arm fatigue. This feature proves incredibly helpful, particularly because large lenses and a powerful zoom range can pose a challenge in maintaining stability during prolonged use.
Optical Performance and Possible Uses
Given their price point, the Nikon Aculon A211 binoculars are anticipated to deliver strong performance, even in low-light conditions or at night. Fortunately, they live up to these expectations. Nikon, leveraging its globally acclaimed expertise, has made astute component choices that further justify their reputation. Indeed, the Aculon A211 is equipped with expansive 50mm lenses, designed to capture ample light and guarantee vivid and clear views in challenging lighting conditions like dawn or dusk.
Additionally, the impressive performance of these binoculars is attributed to their anti-reflective multi-coated aspherical lenses, which complete the light path of the BAK4 Porro prism. The outcome is high-contrast images with precise color fidelity and an augmented depth of field, all achieved without distortion.
As noted in the specifications, the Aculon A211 10-22×50 features a comfortable 5-millimeter exit pupil with 10x magnification. This will cover the majority of needs and ensure a full view in low-light conditions.
The Verdict
Ultimately, the Aculon A211 10-22×50 left us with very good impressions at the end of this test. These binoculars offer excellent performance with comfortable use. With premium performance, stability, good magnification and cheap price, it could be a good choice. However, this model is quite heavy for prolonged use. Considering various factors, we assign it an overall rating of 4.5 out of 5.
It's an option we recommend with eyes closed if you're a nature lover looking to have the power of a telescope in a portable and durable mount. With its versatile 10x to 22x magnification, this flexible binocular elevates versatility to new heights, making it suitable for a wide range of applications.
We Also Reviewed…