Did you have an irrepressible desire to observe the sky during the long summer evenings? Are you planning to spend your holidays in the mountains?
If you are thinking about buying your first binoculars or spotting scope, it will not be easy to juggle the various technical features to find the one that best meets your needs. And then, the main question arises: better binoculars or spotting scopes? What are the differences between these two types of optics?
In this article, I'm going to cover everything about spotting scope vs binoculars precisely so that you can find the suitable model that will match your expectation. However, the choices depend on the budget, which is a big criterion you should consider before making the purchase decision.
Spotting Scope vs Binoculars – Step by Step
Let's see spotting scope vs binoculars and which one to choose in our step-by-step guide…
Where to Use Binoculars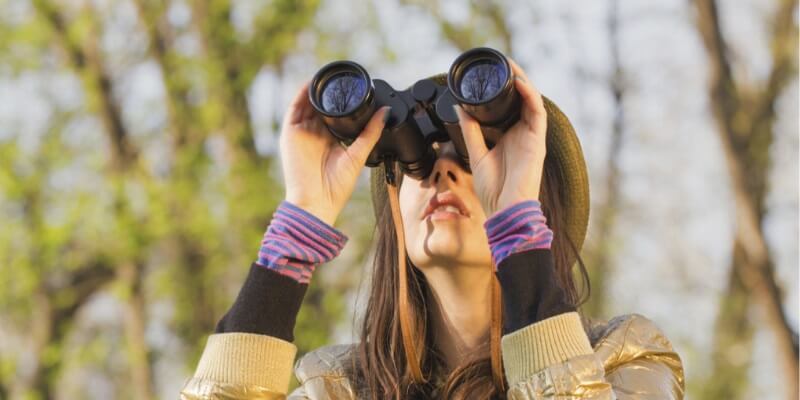 Binoculars can have different types of uses. Let's see what are the most common occasions to use it:
For excursions or on all occasions when you are outdoors, therefore for general use;
Bird watching, and observation of birds;
By boat, or in water sports;
At concerts, at the theater, and during sports performances;
To look at the sky, the moon, and the stars;
There is an ideal model for each of these uses. So before proceeding with the purchase, you should know well the use that you will have to make, or at least, the main purpose.
In other words, there is no better product than another in an absolute sense. But there is certainly a model more suited to your needs. It would be completely useless for example to buy a professional model if you plan to use it sporadically and for hiking.
Where to Use Spotting Scopes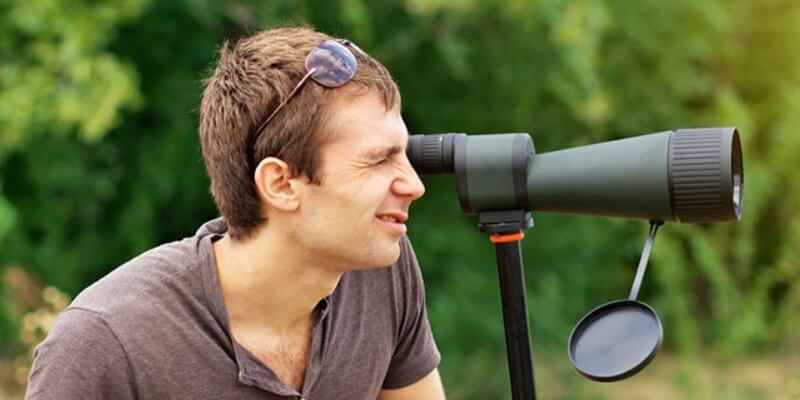 A spotting scope is a refracting telescope that uses the optical scheme invented by Galileo. Compared to binoculars, it is larger and heavier and with the disadvantage of a small exit pupil. The yield however is incredibly higher. There are several models:
Spotting scope with straightening lens, that is a straight, a third lens (or a group of lenses) is added that inverts the image and makes it straight. This is why it is the ideal instrument for terrestrial observations. The disadvantage of this solution is the greater length of the tube.
Prismatic spotting scopes make it possible to get telescopes of shorter lengths and give sharper images than using the straightening lens.
Terrestrial spotting scope, designed by the Venetian optician Leonardo Semitecolo in the 18th century;
Angled spotting scopes allow you an enlarged view of the surrounding landscape. They are mostly positioned in panoramic points, in the city or elsewhere. This type of spotting scope has excellent brightness characteristics and does not require focusing and focusing.
Spotting scope is also widely used to target shooting practice.
Spotting is mainly used for astronomical observation because no binoculars will ever be able to give the same image quality as a spotting scope.
Evaluation criteria: Spotting Scopes & Binoculars
What are the parameters that you will have to evaluate when choosing a binocular or spotting scope? Besides the technical characteristics, it is advisable to keep in mind a number of other important factors when choosing binoculars or spotting scopes. Let's see what they are:
Special ED, HD or APO glasses
During backlit observations with a standard instrument, I can observe a blue and red fringe, around a dark silhouette on a light background: this is chromatic aberration.
To correct this defect, manufacturers use special glass (APO, ED, Prominar ED, LO, HD, etc.). The difference between a standard lens and a high-definition lens is hardly visible at low magnifications from 15 to 30x. On the other hand, the contrast becomes much clear with high magnifications (40 x, ​​50 x or 60 x).
These high-definition spotting scopes or binoculars are useful in difficult weather conditions, for color recognition (ornithology) and photography.
The Size and Weight
It is useless to have a perfect instrument if it is excessively bulky or heavy. At the same time, it is useless to opt for a model that needs a tripod if you then think that the tripod will be in your way. However, for more stability, spotting scope with tripod is sometimes recommended.
The Minimum Focusing Distance
What you want to see is not always too far from you. Indeed, sometimes it is very close, but you may find yourself in the position of not being able to get close, for example in the case of observation of animals. Therefore, it is also necessary to evaluate the minimum distance you can focus.
Waterproofing
Waterproofness is an important feature in some circumstances, and fundamental in others. This is probably a more important feature for binoculars than a spotting scope. Because it assumes that binoculars are easier and more practical to carry, while the spotting scope can be larger and heavier.
Binoculars with roof prisms are more resistant than those with Porro prisms.
The Pupillary Extraction Value (The So-Called Eye's Relief)
This is a fundamental parameter if you wear prescription glasses. Because it indicates the distance that must exist between the eye in order to observe the entire field of vision.
The best thing is, before buying binoculars or spotting scopes, to try the instruments firsthand. Nothing, like observing with your own eyes through the lenses, can guarantee you the quality of an instrument.
Binoculars or Spotting Scope?
Better binoculars or spotting scopes? And, above all, what are the differences between the two? There are not a few people who ask themselves this question at the time of purchase. As I mentioned beginning, to answer this question, you need to evaluate the use you will make of it and the relative technical qualities of both versions.
If I talk about magnification capacity, there is no story, spotting scope wins hands down. In fact, this optics device amplifies the magnifications in an extraordinary way. While a good binocular can go up to 10x, a spotting scope of modest quality starts from 20x up to 60x.
Obviously, the rendered image is of a quality not comparable to that that binoculars can offer. There is no doubt that if you use the spotting scope, you can see objects that are invisible with binoculars. However, the price of spotting scopes exceeds that of binoculars.
Not only that, the dimensions and above all the weight of a spotting scope are higher than binoculars. In short, it will be difficult to put it safely in your backpack, bag, or even in your pocket!
The weight of a spotting scope and its dimensions, and the indispensability of the tripod are just a few defects that make the spotting scope impossible to carry for traditional excursions. But everything changes if I'm lucky enough to have a place to place the telescope or spotting scope in a stable way. Otherwise, you risk investing money unnecessarily in an object destined to remain in the attic!
Conclusion
In summary, I can say that there is no single answer to whether binoculars or spotting scopes are better. It all depends on the budget and the space available. And above all, where you will want to make of use it. If you intend to scan the sky, a spotting scope will probably be more suitable, while if you want to use your observation tool for hiking, then binoculars will be better.
I hope now you have a good idea about binoculars or spotting scope and which one is best suited for you. If you have any particular questions, leave a comment in the section below and I will answer them.