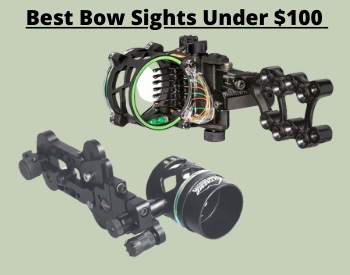 Bow sight is a practical optic instrument that can tremendously enhance your shooting skills. These are designed to help hunters and target shooters gain more control of where they aim their arrow, see the target more clearly, and therefore get more accurate shots.
However, choosing the best bow sights under $100 is sometimes a real headache. You must consider your bow, experience level, and of course the purpose of use.
If you are looking for the best bow sight under $100, you are in the right place. With advancements in technology and design, you don't have to break the bank to find a high-quality bow sight that suits your needs. This article helps you to compare different bow sights and their characteristics.
We'll highlight their features, benefits, and any potential drawbacks to help you choose the perfect sight for your archery pursuits. We also provide additional information on how to choose the best quality bow sight Under $100. So, you're going to pick something that will save your hard-earn money and valuable time.
Best Bow Sights Under $100 – At a Glance
Let's see the comparative analysis of the top 10 best bow sights under $100…
1. Trophy Ridge Black Pursuit Vertical Pin Bow Sight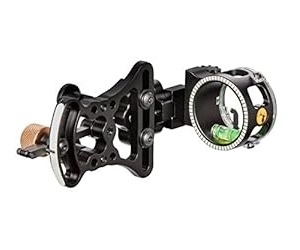 Trophy Ridge bow sight is built with a high-performance vertical pin, which allows ultra-precise adjustment for accurate shots. It is a great versatile bow sight under $100 that provides ultimate visibility with an ultra-bright .019" medium vertical fiber optic pin.
You can easily adjust the brightness to suit any visibility condition with the rheostat light. The inside diameter is approximately 1-3/4, and the outside is approximately 2″. If you take a little time on the range to set your yardage up, it will be extremely accurate.
Trophy Ridge bow sight is available in two styles: left- and right-handed. Both styles have battery-powered lights. The super-quality Delrin bushings create smooth and quiet movement without metal-to-metal contact. This model is much more affordable than many other single-pin adjustable bow sights available on the market and it will fit all standard riser mounting holes.
This vertical bow sight is magnificent if you know your yardage or have a rangefinder. You get a view of all your site pins thru your peep sight. You only see one pin, there's no confusion, and it moves up and down without effort for that quick shot if needed once you get all your yardages marked out.
However, because of the shape and design, standard yardage tapes will not work with this sight.
PROS
Provides ultimate accuracy
Smooth and silent
Ultra-bright fiber optic pin
Adjustable brightness
Durable construction
CONS
No written or visual instructions
Doesn't come with range tape
Designed with lack of pre-marked tape options
---
2. Rocky Mountain RM56100 Direct Mount 5-Pin Bow Sight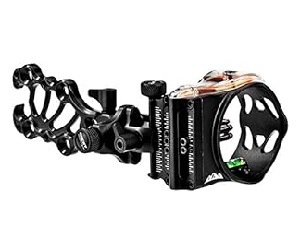 Rocky Mountain 5-Pin Bow Sight is built with durable all-aluminum construction to deliver accurate aim for all hunters. To capture your target more clearly, this device is constructed with exacting high-quality specifications that'll provide hyper-accuracy and durability for hunting.
However, it is not a high-end model but worth every penny. It is designed for tool-free windage and elevation adjustments, which allows you quickly adjust the sight in the wild.
Rocky Mountain RM56100 bow sight comes with Laser-etched marking features, which provide a clear indication of windage and elevation settings and added ease of adjustment. To ensure proper aim and stable attachment, this 5-pin archery sight bolts directly to the bow. You can also use a light on this unit. But it is super bright without light and the IQ sight light will fit it perfectly.
The attachment pins are perfect for simple shootings and most hunting scenarios because they are actually versatile. They are easy to use after properly set up. Overall, this is a well-built bow sight under 100 dollars if you're looking for a direct mount 5-pin bow sight. It is easy to adjust and immensely sturdy compare to Trophy Ridge Pursuit.
PROS
Premium stability
Rack solid durability
Ultimate adjustability
Built-In Light Adapter
Easy adjustments
CONS
Right-Hand mode only
The pins not lining up perfectly
Doesn't come with a light
---
3. TRUGLO Carbon Hybrid 5-Pin Archery Sight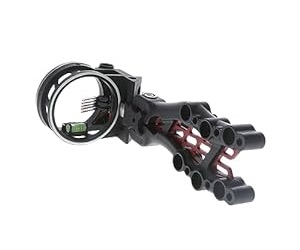 If you are looking for the best 5-Pin bow sight with carbon fiber under $100, then the TRUGLO Archery Sight is the best option for you. You will be surprised by the excellent quality of the frame materials that are rarely found at this price point (almost half of the hundred dollars price tag).
It is built with remarkably bright fiber optics and small pins. And all the hardware works great. This archery sight includes a Micro Push-Button LED light with 1.9″ diameter circular field of view which ensures optimal viewing. This model is also lighter than Rocky Mountain RM56100 because carbon composite and aluminum construction provide an excellent strength/weight ratio.
TRUGLO 5-Pin bow sight designed with hybrid features that transfer less vibration. It is designed with a unique PRO-BRITE pin, which provides exceptional durability and brightness. The light has three settings.
This model is adjustable for both right and left-handed shooters. It has a total of 6 holes, 3 for forward/backward adjustment attaching to the bow itself and 3 for placement of the quiver forward/backward adjustment. So, you can set different mounting positions and move forward or backward depending on your need.
Although the TRUGLO bow sight does not have tool-less micro-adjustments, the pins and brackets hold up extremely well once sighted in.
PROS
Extra-long fibers
Standard adjustment
PRO-BRITE Pin Design
Strength-to-weight ratio
Solid construction
Very cheap price
CONS
Doesn't have toolless micro-adjust
It has no micro-adjust knobs
---
4. Southland Archery Supply 7 pins Bow Sight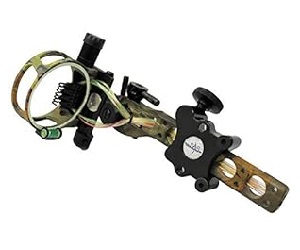 All hunters dream of the perfect shot but rarely get those opportunities. With the new Southland Archery Supply 7-pin bow sight with slim pin, you can block less of your target for achieving more accurate aiming. You can make adjustments anytime during shooting because it has tool-free design.
Southland Archery Supply bow sight has two areas where you can install LED lights. It has different brightness levels. And the pins move individually or you could move the whole sight housing.
All parts are made of aluminum with stainless Steel Pin Tubing design for better durability. It has a detachable and reversible bracket for considerable vertical adjustability. All pins are solid and the fiber optics make this unit stand out great even without the light hooked up.
It has 2″ diameter housing for an enlarged field of view. This unit can be used for both right and left-handed hunters. You just need to adjust whichever side you need to use. For the price, this 7-pin bow sight is fantastic. You can be removed the whole sight by a turn of a nob or adjusted it forward.
The adjustment knobs are pretty smooth compared to our top pick Trophy Ridge Pursuit. However, we wouldn't recommend this model if you are a professional hunter or 3D shooter who likes to shoot so far. Because this is not a high-end 7-pin bow sight.
PROS
Well-built and great sight
Strong and super brightness
Innovative tool-less design
Blue LED light included
Right or left-hand use
CONS
There is no retaining ring
Not an appropriate choice for the professional hunter
---
5. Trophy Ridge Peak 5-Pin Bow Sight for Hunting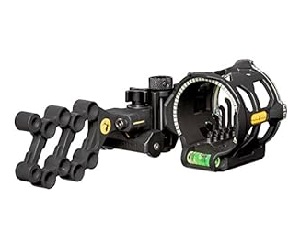 Whether you're looking for the best crossbow scope or bow sight, you will find the Trophy Ridge name frequently. It is possible because trophy Ridge Peak serves high-quality bow sight from the beginning of their journey. This 5-pin bow sight provides a clear and unobstructed view of your target with In-Line Pin Technology.
This device is built with advanced tool-less micro-click windage and elevation adjustments system. It significantly reduces vibration and maintains lightweight strength. It will provide ultimate visibility with five ultra-bright medium fiber optic pins, no matter what your bow draw weight is for any sight to fit a bow.
Trophy Ridge Peak 5-pin bow sight is light compared to its large frame size to be completely unnoticeable out at the end of the bow. The Peak is a total of 8 inches long and has both 2nd and 3rd axis adjustments. No matter how you move around your pins, your site picture never loses its efficiency.
It is very durable, and the pins are not flimsy at all. You can remove some pins but might damage fiber optic cables. You can also remove the light. Just like the Trophy Ridge Pursuit, this unit comes with good lighting features. It can also be used with a hind sight.
And finally, this model is very accurate. So if you like perfecting your shots no further.
PROS
Built in Ballistix CoPolymer System
Ultra-bright fiber optic pins
Easy to adjust and smooth knobs
Plenty of site mounting options
Ultimate Accuracy
Super easy setup
CONS
Rheostat light is not good
Size is a bit big
---
6. CBE Durable and Cheap Tactic Bow Sight for Shooting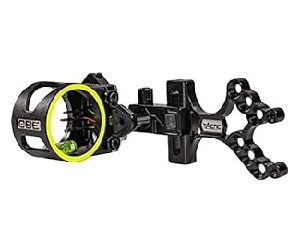 CBE Tactic bow sight features a universal fit, bubble level and visual light, making it the best option for target shooting. Also, CBE optic kit includes a 3-pin viewfinder with light and level mount. This device has elevation gang adjustments with laser-engraved markings. It is widely adjustable, accurate, and holds your pins well.
The mathematical precision of React Technology automatically adjusts all three pins to the optimum position. It comes with smart-mount multi-positioning mounting holes. The ring of the light shooter aligns with the front sight. It is an exceptional bow sight under $100, with micro adjust and second axis as well.
The pins are bright, easy to see, and so far very durable. The mounting bracket is made of high-quality metal, which can withstand inclement weather. It will be convenient for archery, aiming, and improving accuracy.
CBE Tactic bow sight constructed with fiber management system for even brighter pins and better protection with 12″ of fiber. The natural light isn't dull and won't snap easily. And the ambidextrous design allows housing easily flipped for both right and left-handed archers.
PROS
Two-handed design
Smart mounting system
Comes with blade-style pins
Lightweight and easy to set up
Simple instructions
---
7. IQ Pro Archery Bow Sight with Single Pin Adjust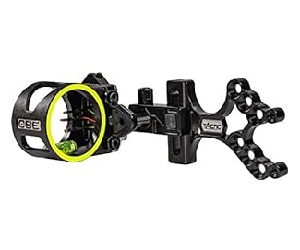 With IQ Pro Archery sight, you can quickly move your pin with the rapid thread adjustment. It is built with tool-free locking knobs, so you can lock windage and elevation positions in place without using any tools. There is both Left hand and Right-hand model available. It is an outstanding quality bow sight under 100 dollars.
IQ Pro Archery bow sight built-in fully enclosed .019 fiber optic pin. It is all aluminum and has micro-click adjustments. The special aluminum frame gives it more strength but weighs up to 20% less. It is also effective when looking for durability and trying to keep your setup as light as possible.
You don't need battery to use this sight because this model uses natural light that illuminates pretty well. However, we recommend buying the additional sight light for indoors or darker shooting because the pin is hard to see. Because there's not much fiber optic to pick up a significant amount of light, the outdoors see is perfect.
You do not need a peep with this sight. But keep in mind that you are not allowed to attach more pins with IQ Pro because there is no other place to mount fixed pins.
PROS
Single moveable pin
Tool-free locking knobs
Two distance marking tapes
Built-in sight level
Extremely accurate
---
8. TRUGLO Carbon Hybrid Bow Sight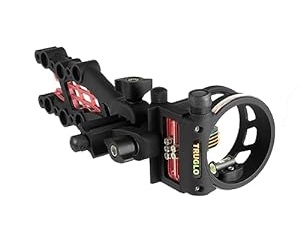 TRUGLO hybrid bow sight is built with Trufusion Technology, and it was the first bow sight constructed with the optimum combination of carbon composites and aluminum, which provide an excellent user experience. This Carbon Hybrid bow sight has extra durability. It is solidly built and provides long time service.
This model is combined with soft-touch coating that is convenient for ultra-lightweight, multi-pin archery sights. The pins look nice and stuff isn't rattling around when you shoot because of the coating.
TRUGLO hybrid bow sight transfers less vibration and a unique metal pin design for increased brightness. It is built with extra-long fibers to ensure maximum durability and the extra-long bracket increases sight radius. The light is surprisingly bright, even when you not using the battery power.
It has a large hunting-style ring for high target visibility and comes with a light and necessary mounting bolts, so you will save up a little money. The whole sight box moves left and right on the rail. For less than $60, you can't go wrong, and won't find a better 5-pin bow sight.
PROS
Lightweight construction
PRO-BRITE pin design
Reversible bracket
Very easy to adjust
Reasonable price
CONS
Country of origin is China
---
9. CBE TCH-1-19-Black Tactic Hybrid 1-Pin Bow Sight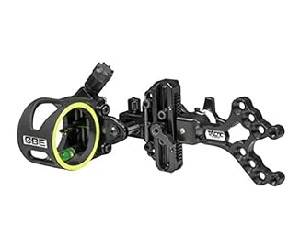 The next model of the best bow sights under $100 is from CBE. It comes with smart-mount multi-positioning mounting holes and Hybrid drive elevation system to adjust with rapid stop. They allow you to easily resize the viewfinder housing to your peep for precise alignment, and increasing downrange accuracy.
CBE TCH-1-19-Black bow sight features elevation gang adjustment with laser engraved markings. This device is built with fiber management system for even brighter pins. You are able to set a floating pin with a rapid stop.
This device features tool-less adjustments that allow you to pack lighter. It also offers excellent performance in low-light conditions. The laser-engraved markings provide instant feedback that will identify even the slightest torque or anchor point change.
CBE TCH-1-19-Black bow sight is more accurate and easy to install. It also has extra slots for additional pins. This model is available with a 1-Pin or 3-Pin housing with .019″ blade pins. However, the negative thing is the wobble in the sight head.
PROS
Beautiful design
Laser marked hashes
Solid and well built
Bright and lightweight
Accurate and easy to install
Great choice for the price
CONS
Not good for long-distance shooting
---
10. Trophy Ridge AS325R Hotwire 3-Pin Bow Sight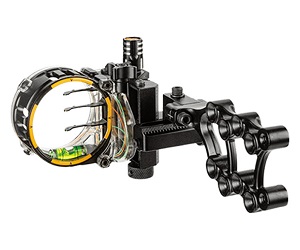 We conclude our list of the best bow sights under $100 of 2023 with the Trophy Ridge AS325R. You already know that Trophy is the leading high-tech company to manufacture quality bow sights. However, this is an Onboard adjustment bow sight. The two are fixed pins and the third pin is for quick accuracy at longer and unpredictable distances.
You can easily adjust the third pin with an adjustable toolless knob. It will provide strengthened accuracy at severe angles over long distances with second-axis leveling. Because the 0.19" fiber optic pins are suited to any dawn or dusk condition and improve your shooting accuracy outdoors.
The site housing is aluminum and well built. And the components move smoothly and silently, making sure you don't frighten your prey. You will love the adjustability of this model, which is quick and very easy. There are a lot of mounting points to fit virtually with any bow. The mounting screws are also included in the package.
The pins are super bright, and the light really gets them glowing big time. The movable bottom pin is just magnificent! However, you cannot see or adjust the tape when the bow is drawn. But you can easily adjust the floating pin while in the field.
Overall, you won't be disappointed with the Trophy Ridge AS325R. Because it is a versatile bow sight.
PROS
Easy to adjust
Comes with light
Simple to use and setup
Well made and looks good
Made of high-quality aluminum
CONS
There are no instructions
Useless sight tape
---
How to Choose the Best Bow sights under $100
We have compiled a series of criteria that will help you throughout your shopping experience. It will help you earn much more information about the bow sight you are looking for. And after complete to read this section, you have a practical idea of which best bow sight under $100 is most suited for you.
So without further delay, let's see in detail…
The materials
In most cases, bow sight housing is made of aluminum or plastic. However, there are a few models, but these are scarce, which are made of carbon fiber. Carbon fiber bow sights are insurmountable.
However, aluminum frame models are more durable, especially when they slam into a tree trunk or are released. But they are more expensive and heavier than carbon fiber.
The combined model of carbon and aluminum is durable, and at the same time, lightweight.
The pin
Pins are permanently set for individual distances. It can be used up to five in different disciplines.
Single pin bow sight is suitable for focusing on the specific spot and it is ideal for several yards distance. Multi-pin bow sights on the other hand contain different colors with wide adjustability to make the perfect shot when you fixed the target. The more pins the bow sights have, the more functionality they offer. And they are easier for the archers to estimate the distance between them and the target.
As we previously mentioned, pins come in several different colors or as illuminated pins, which is beneficial for personal taste. Also makes it easier to keep the small sticks in the pin visor apart.
Bubble levels
Today, most of the well-known brands produce bow sights integrated with bubbles. Unfortunately, many shooters don't notice that. The bubble level contains alcohol that prevents it from freezing during winter seasons, to ensure proper function.
Fiber optic
The diameter of the fiber optics can tell you a lot about the construction and quality of the bow sight you have chosen. So, look for a model that is small, sharp and bright. In bright sunlight, your sticks are washed out if they are of the cheaper variety.
Large fiber optics are difficult to aim accurately and prone to breakage, so look for small, light and flexible ones.
The balance
Athletes who work with a compound bow have more options when it comes to sights and should make use of them. Bow sights also include a scope. This magnifying aid is equipped with a small spirit level, which ensures that the archer can keep his bow optimally in balance and that it does not tilt.
The price
Bow sights are available in different quality levels for different purposes and the price range is enormous. However, an archer or beginner bowhunter can achieve satisfactory results in his free time with a solid sight in the middle price range. On the other hand, high-quality bow sights in the upper price range are essential for professional archery and tournaments.
The warranty
If this is the first time buying a bow sight, do not buy a bow sight without warranty because it points out the quality of the device. If the company is not willing to stand by its product, you should not do so either.
However, the market is fully covered with a lot of options, and buying online gives you access to the entire market with just a click or the occasional phone call.
FAQs
Which types of bow sights are typically available under $100?
You can find both fixed pin sights and adjustable single-pin sights within this budget. Fixed pin sights offer multiple pins set at specific distances, while single-pin sights allow you to adjust a single pin for different distances.
What's the difference between 3-pin and 5-pin sights?
3-pin sights have three aiming pins set at different distances. They're suitable for shorter ranges or faster shooting scenarios. 5-pin sights have more pins, accommodating longer distances and more precise shots.
Do these bow sights work for both left- and right-handed archers?
Many bow sights are ambidextrous or can be easily adjusted for left- or right-handed use. Always check the product specifications to ensure compatibility with your shooting hand.
Is a tool-less adjustment feature important?
Tool-less adjustment can significantly enhance your shooting experience. It allows you to fine-tune your sight quickly without needing additional tools, making it convenient while on the field.
Can I use these sights for bowhunting?
Yes, many bow sights under $100 are suitable for bowhunting. Look for models with low-light visibility features and durable construction to ensure reliable performance in various hunting conditions.
Are there any drawbacks to budget bow sights?
While budget sights offer great value, they don't have the same level of precision and durability as higher-priced models. Additionally, they might lack certain advanced features found in more expensive options.
Conclusion
The modern compound bow is a high-tech device used for both hunting and sport. A recent study showed that women are very interested to join the bow hunting and archery practice. But modern bows are more complex in their design because there are variations of models specific to the course disciplines that do not all accept the same things in terms of bow sight or crossbow scope.
In our humble opinion, if you're a bowhunter, multi-pin bow sight will be the best option for you. Because multi-point sights are not allowed in the field shooting with unknown distances, since there is no change in distance!
Hope this guide helped you find the best bow sights under $100 according to your needs.
If you're interested to experience the best cheap compound bows under $300, you can take a close look at our complete buyer's guide.

You can also check our neutral reviews of the best entry level compound bows under $200, which will help you save some extras.