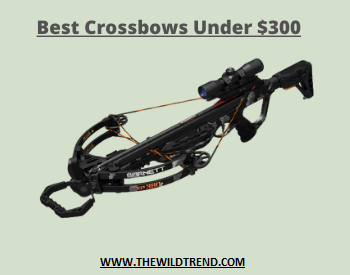 Best crossbows under $300 are already going to be closer to a professional level experience than the categories we've seen before. With a budget like this, you're already going to take super smooth shots with velocity up to 400 FPS, and definitely with the good draw weight.
We've looked at hundreds of crossbows under 300 to find the best and read hundreds of comments & reviews from people who have bought them.
Based on their feedback, our experience, and the most important features we've selected the top 6 best crossbows under $300. Now you can find them all in one location, so you can pick the good crossbow that suits all your needs.
However, as there are different models of crossbows on the market, the power of the stroke, weight, speed of the projectile, and ergonomics must be taken into account before buying a crossbow for less than 300. We also encourage you to focus on robustness and reliability that will promise you long hours of recreational shooting.
Best Crossbows Under $300 – At A Glance
Let's see our comparative analysis of the best crossbows under $300 in 2023.
1. Killer Instinct Lethal 405 Ultralight Crossbow – Top Pick
Speed: 405 FPS | Power Stroke: 14.5" | Axle-to-Axle: 18.75″ | Draw Weight: 210 LBS | Weight: 7.2 LBS | Kinetic Energy: 134 FT. LBS | Length: 34.5" | Silencing System: No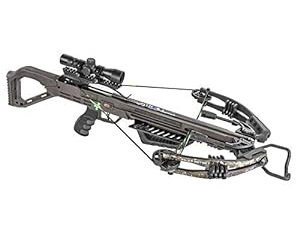 Killer Instinct is always famous for its survival gears and accessories since 1994, especially crossbows because they successfully touch all the budget range crossbows on the market. The Lethal 405 model is their cheap addition. But the quality is not underestimated because the Lethal 405 hunting crossbow is designed and engineered in the USA by expert mechanics.
The frame surface is covered with shock absorbers custom rubber, which reduces noise and vibration to increase stealth and performance. The ultra-light composite stock is comfortable to handle and you can easily maneuver it. The adjustable full-length Picatinny rail also provides custom comfort with multiple holding options. It also has a bottom Picatinny rail for mounting a flashlight.
Killer Instinct Lethal 405 crossbow features a heart-pounding speed of 405 feet per second and 134 foot-pounds of kinetic energy when triggered. The maximum draw weight is 210 lbs, which is pretty much enough to drag down small to big games.
This ultralight crossbow is more than suitable for small to big games within a reasonable distance. And with high accuracy of shooting, it is good enough to hunt with at the fairly close range.
Although the price is less than $300, the package comes with everything you need to start target shooting or hunting, for example, illuminated scope, rope cocker, string suppressors, 3-bolt quiver, 3 bolts with field tips, and 1 stick of rail tube.
It is simple to assemble because the included visual instructions are straightforward. In less than 10 minutes, you can fully assemble it. However, the scope that comes with the order isn't very good but works in low light conditions. But it is good enough to hunt from close to medium range.
What we liked:
Extremely accurate and powerful crossbow
Lightweight and durable frame
Quiet performance
Pretty good speed
Easy to assemble
Lifetime warranty
What we didn't like:
Doesn't come with fully assembled
Buttstock isn't adjustable
---
2. CenterPoint AXCS185CK Sniper 370 Crossbow Package
Speed: 370 FPS | Power Stroke: 13.5" | Axle-to-Axle: 18.0" | Draw Weight: 185 LBS | Weight: 7.9 LBS | Kinetic Energy: 134 FT. LBS | Length: 36.5" | Silencing System: No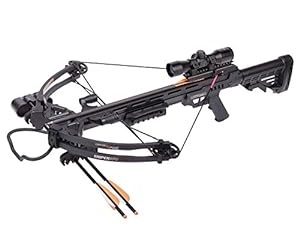 The CenterPoint Sniper 370 is a modern & slim design crossbow that is made from robust aluminum materials. It has a solid front grip, ideal for hunting and target shooting.
The stock and foregrip are fully adjustable for a customized fit shoulder. This model is also built with high safety and is designed with an anti-dry fire trigger for both right and left-handed hunters.
The bullpup trigger is placed very forward, which allows better handling and precision. The package was delivered with three 20-inch carbon arrows, parallel quiver, 4x32mm scope, and a rope cocker. You can adjust the buttock for optimal comfort and control while aligning your perfect shot.
The CenterPoint Sniper 370 crossbow is also integrated with string suppressors to ensure a quiet and vibration-free shot. It has 18 inches axle-to-axle at full draw. The draw weight is 185 pounds. And you can fly arrows at high speeds up to 370 FPS.
The durable and lightweight design helps you carry easily and maneuver in the field. And if you have a stand of hunting trees, then your hunting trip will be even more successful.
It is energetic, accurate, and well made. The safety guard is nice and big to prevent losing a finger. It could be a good crossbow under $300 for men, women, and small teens who are learning.
However, the included scope is not good as we have reviewed. Although some assembly is required. All tools, except a flat screwdriver, are included in the package. Instructions are also easy to follow. Overall, CenterPoint Sniper 370 is a premium crossbow under 300, so experienced hunters can look at it for small-distance shooting.
What we liked:
High performance crossbow
Looks pretty cool
Includes safety relaxation features
Durable and lightweight construction
Adjustable composite stock
Comes with 5-year warranty
What we didn't like:
Does not come with a case
Sling fell off pretty quickly
It requires some simple assembly
---
3. K EXCLUSIVE Avalanche Anaconda Recurve Crossbow
Speed: 245 FPS | Power Stroke: 18.5" | Axle-to-Axle: 18.0" | Draw Weight: 175 LBS | Weight: 5 LBS | Kinetic Energy: 120 FT. LBS | Length: 33.0″ | Silencing System: No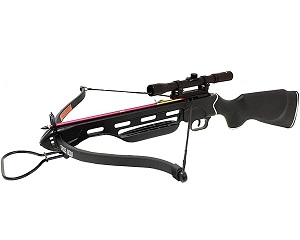 Whether you are a seasoned pro or a beginner hunter, the K EXCLUSIVE Avalanche hunting crossbow would be the perfect kit. The materials used make it resistant and durable.
E EXCLUSIVE Recurve crossbow also convinces with its unusual Bull-Up construction and adjustable composite stock. The tough composite stock is 33" from the foot claw to the end.
Moreover, you will appreciate its black design, allowing it to be discreet in nature. And with up to 18 inches of power stroke and 175 lbs draw weight, the K EXCLUSIVE Anaconda will deliver arrow speeds up to 245 fps.
This model is also lightweight compared to the CenterPoint Sniper 370 and weighs approximately 5 lbs. In addition, it is particularly easy to use.
The trigger has an anti-empty fire safety device. The package includes everything you need to use a crossbow. However, some assembly is required. The assembly directions and pictures are not good. Despite that, we encourage beginners to choose this crossbow.
With the proper broadhead and a well-placed shot, you can kill a deer-sized animal with ease because the crossbow has 120 ft. lbs of kinetic energy. The ergonomic front grip improves accuracy. The cocking rope also makes it easier to pull back, but you can grow a pair and pull it back by hand to save time.
It comes with a red-dot scope, which attaches to the Picatinny rail. The bolts that are included in the order are decent. The Picatinny rail allows the mounting of sights, such as the included red-dot scope, scope.
What we liked:
Includes a lot of accessories
Very high quality crossbow for the price
Delivers fast and accurate shot
Lightweight and slim design
What we didn't like:
No warranty
Quiver does not quite fit right
Assembly instructions could be clear
---
4. Barnett BAR78089 Wildcat Camo Recurve Crossbow
Speed: 260 FPS | Power Stroke: 12.0" | Axle-to-Axle: 22.0" | Draw Weight: 165 LBS | Weight: 4.8 LBS | Kinetic Energy: 53 FT. LBS | Length: 35. 5″ | Silencing System: Yes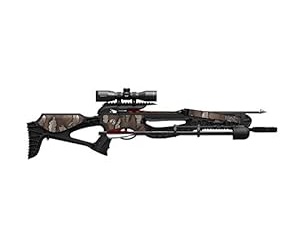 Barnett has been the most trusted name in bow industries since 1952, and their Wildcat recurve crossbow is one of the latest complete crossbow packages under $300. Because of its slim and light design, the Barnett Wildcat crossbow could be a great option for women.
It features a soft-lock floating bristle arrow retainer to keep from dry-firing. This crossbow is also strong enough for hunting deer and defending against wolf a moose. To ensure high safety, the package includes string and rail lube wax and finger safety reminders.
The weight is less than 5 lbs. The total length is 35.5 inches and the build quality of this thing is simply amazing at this cheap price tag. In addition, the package was delivered with a 4 x 32 rifle scope, an arming rope, two 20″ Aluminum Arrows, lightweight side mount quiver.
Barnett Wildcat Camo crossbow is perfect for target practice and outdoor shooting training or hunting game, great fun with it. However, the arrow not lying flat and that is common with cheap crossbows. This unit comes mostly assembled, only the three bolts need to be put together.
Remember, the quiver only mounts parallel to the stock, so you need to use both hands when aiming to shoot rub against quivers/bolts. Also, the Barnett Wildcat crossbow doesn't come cocking rope, which is referenced throughout the manual. You need to order it separately, especially if you don't already have one to use.
What we liked:
Built in high-quality material
High safety design
High accurate shooting ranges
Well-made bow for the price
Easy to assemble
What we didn't like:
Included quiver is not good
---
5. Killer Instinct MSCKI-1104 Boss 400 Hunting Crossbow
Speed: 405 FPS | Power Stroke: 13.5″| Axle-to-Axle: 18.75″ | Draw Weight: 220 LBS | Weight: 12.8 LBS | Kinetic Energy: 134 FT. LBS | Length: 33.5" | Silencing System: Yes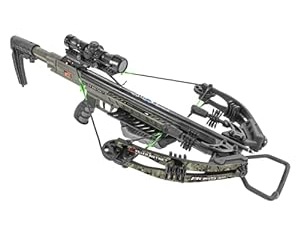 Killer Instinct boss 405 crossbow features a tough and agile mechanism that helps you to hit quickly small game as well as large, even tougher animals. It could be a great choice for all different height beginner hunters, as the butt-stock can be adjustable in 6-position to fit a variety of users' bodies.
However, the weight is measured at 12.8 lbs, which might be very heavy for women.
This device is very accurate and effective at 30 to 40 yards depending on the wind with maximum effectiveness of 60 yards. The fires at a rate up to 405 feet-per-second and generates up to 134 foot-pounds on a hit, which blends accuracy and striking power.
It built dead Silent limbs and string suppressors, which greatly reduce noise and prevent prey from noticing you as you track them. Killer Instinct MSCKI-1104 crossbow also convinces with its pistol grip and foregrip. The foregrip has the same design as the pistol grips with finger grooves. It has a Rubber Coating Grip.
The included scope is also very nice quality and has a good magnification for what you pay for. The package includes 3 premium Hyper carbon cross bolts, complete with a 5-bolt quiver. However, we would recommend you get heavier bolts to use with the Killer Instinct Boss 405 because light bolts can damage the limb.
It comes disassembled. You will need to mount the illuminated scope to follow the instruction manual. However, cocking this crossbow is a bit challenging – you need to order the cocking device for it. The alignment of the quiver is straight to the bottom of the bow when mounted.
What we liked:
Quick and deadly silent
Adjustable design for different users
Delivers very accurate shoot
Lifetime warranty
What we didn't like:
Adjustable stock could be a bit longer
Stock is not changeable
A little bit heavy
---
6. Barnett Explorer XP370 Crossbow – Personal Choice
Speed: 370 FPS | Power Stroke: 16″ | Axle-to-Axle: 16.35" | Draw Weight: 175 LBS | Weight: 6.0 LBS | Kinetic Energy: 135 FT. LBS | Length: 34.5" | Silencing System: Yes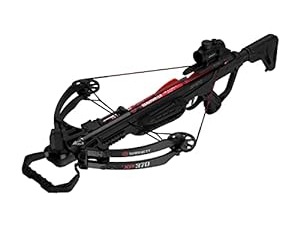 The Barnett Explorer XP370 is not only the best crossbow for beginners but also professionals or hobbyists can use it. It is one of the most powerful crossbows under 300 dollars on the market, with a heated speed of 370 fps. In fact, Barnett XP370 is one of the best cheap hunting crossbows this year.
The draw weight is 175 pounds without a string cocking device, but cocking with the device reduces it by 50%. It's also super compact, and the dimension is 34. 5″ X 37″ overall. It is lightweight; only 6 pounds. However, the balance is perfect and stable.
The kinetic energy when exiting the arrow is calculated at 135 ft. lbs, which is not the best but reasonable at this price range. However, it takes a little extra muscle to get the arrow to stay in well position.
Barnett Explorer XP370 crossbow comes with string dampeners. You can use it for target shooting up to 100 yards with no problem. However, the quiver does not attach the way it's supposed to.
It is a powerful, precise, and perfectly configured hunting crossbow under $300, provided with a telescopic button with 5 levels (anatomically adjustable in height). The handguard is also horizontally adjustable and provides additional protection. The rubberized butt plate greatly reduces recoil.
The Explorer XP 370 is a complete crossbow package. However, safety sometimes does not get engaged. Therefore, make sure to have one additional step to verify the safety, that is engaged prior to loading a bolt.
What we liked:
Super easy to put together
Very fast and accurate crossbow
Easy to sight-in
High performance
Lightweight
What we didn't like:
Crank is not included
A little bit noisy
Scope is cheap
---
Crossbow for Different Needs
Mini-crossbows or crossbow guns offer 50 lbs of draw weight. They are ideal for beginners who shoot targets at a distance of around 10 to 20 meters. With experience, you can increase to a power of 80 lbs. This type of model will remain very handy, and you can handle it with one hand.
On the other hand, crossbows for hunting displaying the power of 120 lbs are ideal. Because of ease of arm, these models are also suitable for sports shooting and recreational shooting. Beginners can use them. In terms of price and power, the best alternative hunting crossbows offer up to 150 lbs of draw weight.
Finally, the most powerful and fastest crossbows exceed the draw weight of up to 200 lbs. And they shoot arrows that fly at over 390 km/h! These crossbows are mainly dedicated to hunting or long-distance shooting.
FAQs
What kind of features can I expect from crossbows under $300?
Crossbows under $300 typically offer basic to moderate features. You can find adjustable stocks, decent draw weights, basic scopes or red dot sights, and possibly a few accessory attachments.
What's the expected draw weight and velocity for these crossbows?
Crossbows under $300 have draw weights ranging from 150 to 200 pounds, with velocity between 250 to 350 feet per second (fps). However, these numbers can vary among different models.
Can I use these crossbows for hunting, and if so, what type of game?
Yes, you can use crossbows in this price range for hunting. They are often suitable for small to medium game hunting, such as deer and hogs.
How accurate are the scopes or sights that come with these crossbows?
Scopes or sights that come with crossbows in this price range are usually basic. They can provide decent accuracy at shorter distances. But for more precise shooting, you need to upgrade to a higher-quality optic.
Can I upgrade the accessories on these crossbows later on?
Yes, many crossbows under 300 dollars are compatible with a range of aftermarket accessories. You can often upgrade the scope, quiver, bolts, and other components as needed.
Our Advice
Crossbow is one of the most powerful weapons that you can buy freely when you are of legal age. The practical range of these weapons varies according to the power: from 20 meters for entry-level, to more than 100 meters for the most powerful. The speed range of the projectile extends from 55 m / s to 175 m / s, so it is advisable to narrow down a bow based on your specific needs.
The choice of lines and bolts must always be taken into consideration. For a survival crossbow, supposed to be used in a context where spare parts are no longer available, it will be more prudent to choose a medium power that is lighter and easier to maintain than a weapon of 400 fps or more.
Hope you find happiness in our selection of the best crossbows under $300. To make your next hunting trip more effective and enjoyable, check out our guide to the best rangefinders for hunting.
If the price is significant to you, find out more about crossbows at different price ranges…