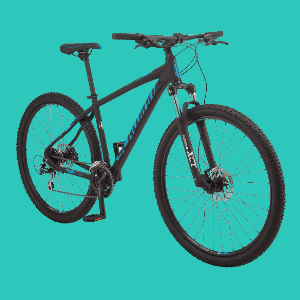 If you're an avid mountain biking enthusiast or someone just starting to explore the thrill of off-road cycling, you don't need to break the bank to find a reliable and capable mountain bike. With a budget of $750 or less, you can still find mountain bikes that offer a combination of quality components, solid frame construction, and the versatility needed to triumph over a variety of trails.
Among the many mountain bikes available in different price ranges (Under $600, Under $400, Or Under $300), we have selected the top five models under 750 dollars. Whether you're seeking a hardtail for efficient climbing and responsive handling or a full-suspension bike for tackling the roughest trails, we've got you covered.
However, before buying a suitable mountain bike for less than 750, it is necessary to know how to choose the right model and what you need. This is why, we include their specifications, key features, and real-world user experiences to help you make an informed decision.
Best Mountain Bikes Under $750 Reviews 2023
Here is the list that's ready to take you on your next adventure without emptying your wallet…
1. Schwinn Moab 3 Black Adult Mountain Bike
Frame Material: Aluminum | Frame Size: Small-Large | Wheel Size: 29.0 Inches | Brake Style: Hydraulic Disc | Suspension Type: Front | Speeds: 24 | Max Weight Capacity: 330 LBS | Weight: 35 LBS | Suitable Height: 5'2" to 6'2″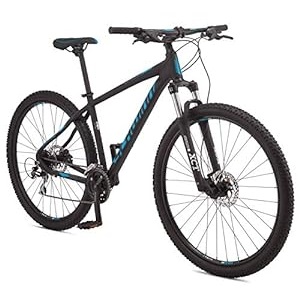 Schwinn Moab 3 is a versatile mountain bike under $750. It is good for different uses and a more demanding mountain bike than what people might expect. The frame of the bike is made of N LITENED 2 aluminum, which is completely weather resistant. To guarantee a long life, all parts are well made and assembled.
Schwinn Moab 3 mountain bike fits right between mid-grade and high-end. It is very solidly constructed and sturdy enough to withstand up to 330 lbs. All joints and parts are secure and stand up to a fairly aggressive initial trail run. It is a model among the Best Quality Mountain Mountain bikes in 2023, as often happens with the products offered by Schwinn.
The handlebar is suitable for different people's heights. The handlebar is ergonomically designed to facilitate driving and control. The seat holder is adjustable and a lever on the handlebar facilitates its adjustment.
This mountain bike is also comfortable to ride on all-terrain. It is quiet and shifts nicely through all the gears. A real gem that makes versatility its most interesting feature.
The disc brakes are 100 mm diameter front and 135 mm in the rear. The maximum excursion of the entire suspension system reaches 140 mm and its adjustment takes place simply and directly from the handlebar. Thanks to practical and intuitive leverage.
This is a front suspension mountain bike that has hydraulic disc brakes with 3×8 drivetrain. This is truly standard in this price range. The weight is close to 35 lbs in medium size. At first glance, the design looks aggressive (not bad), but at the same time, it is homogeneous and with pleasant stylistic lines.
Unfortunately, it lacks some accessories, such as the bottle cage which must be purchased separately.
PROS
Lifetime warranty on frame and handlebar
Easy to assemble
Good value for money
Ensure super smooth rides
Solid and sturdy construction
CONS
Doesn't have a water bottle holder
Pedals could be better
---
2. Royce Union 76009 RHT Men's Mountain Bike
Frame Material: Aluminum | Frame Size: 15/17.5/19/21-Inch | Wheel Size: 29.0 Inches | Brake Style: Dual Hydraulic Disc | Suspension Type: Front | Speeds: 22 | Max Weight Capacity: 300 LBS | Weight: 42.85 LBS| Suitable Height: 5'0" to 6'6″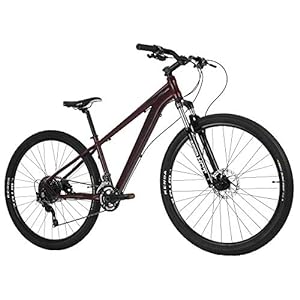 Made by Royce Union, the RHT mountain bike is equipped with an aluminum frame in order to guarantee lightness and easy maneuverability. It adopts a particular forging process capable of ensuring remarkable structural integrity and high wear resistance.
Royce Union RHT mountain bike is particularly suitable as a vehicle for urban travel, on preferably paved roads and paths.
The seat tube and the brakes are made of high-grade aluminum that won't damage easily. And the thick and strong tires are designed for different roads to deliver long-lasting service life. The seat can also be adjusted to different heights and inclinations.
The Shimano SLX 2×11 shifter paired with Shimano SLX 11-speed index provides comfortable gear changing among 22 speeds, for any uphill environment. It features Neco Alloy 3-piece crank and an 11×42 cassette. The Dual hydraulic disc brakes also provide excellent stopping power and precision.
The design is simple but looks very pleasant and sporty. Among the various mountain bikes produced by the Royce Union company, the RHT 76029 model stands out with 29.0-inch diameter durable wheels. So this bike is suitable above all only for adults. It has a design that fits only men.
The frame, gearbox, and brakes are already assembled. You just need to adjust them according to your own pace. You only need to mount pedals, wheels, handlebar and seat. The assembled tools are also supplied with the scope of delivery.
Overall, if you are looking for a good starter bike that served for a long time, we would highly recommend this model. Although it is a low-cost mountain bike, it does well in tackling different tracks, even obviously it can be considered a means for intensive and professional use.
PROS
Shifts great up and down hills
Great choice for the price
High-quality front fork
Functionality is well
Strong and durable
CONS
Seat is a bit uncomfortable
Kickstand is not included in the package
---
3. Mongoose Mech V-Brakes Mountain Bike
Frame Material: Aluminum | Frame Size: 16-inch | Wheel Size: 26.0 Inches | Brake Style: Linear Pull | Suspension Type: Front | Speeds: 21 | Max Weight Capacity: 300 LBS | Weight: 35 LBS | Suitable Height: 4'8" to 5'6″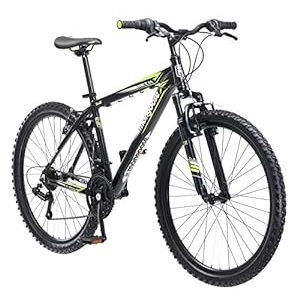 Mongoose took years of research and development to find a way to structure the material in such a way, for increasing the rigidity and resistance, while giving great lightness to the whole vehicle. Finally, Released their latest Mongoose Mech V-Brake mountain bike. This is a nice and solid aluminum frame mountain bike under $750 with great tread tires and easy shift throttle control gear selectors.
The color is black and white, which makes it easy to see from a long distance. The aesthetics satisfy the eye in an incredibly fascinating way, and the materials even more. The technology present in the components used and therefore in the entire vehicle is truly indescribable (The absolute top of the range).
The 27.5-inch wheels offer a good compromise and the rims are ready to accommodate tubeless-ready tires. Equally popular elements are the wheel tires, which ensure considerable grip even on muddy or wet dirt paths. Considering the low price, we have nothing to complain about.
The total weight of the bike is 35 lbs. The stand-over height is approximately 28″. However, the Mongoose Mech bike uses common types of mountain bike technology. It is also easy to drive; you don't need previous training. The price is very reasonable, and it is certainly designed for everyone.
This model comes mostly assembled, the handlebars, seat, and wheels need to be put on. If you've owned bikes before and are somewhat mechanically inclined, the assembly process will take about 10 minutes. This is also one of the best ever in the entire All-Mountain mountain bike sector.
PROS
Solid construction
Comfortable to drive
Switching among the gears is easy
Very strong frame and durable handlebars
Good cushioning system
CONS
Single chainring transmission
Doesn't have quick-release wheels
---
4. Kent Hawkeye 62970 One-Size Mountain Bike
Frame Material: Aluminum | Frame Size: 18.5-inch | Wheel Size: 29.0 Inches | Brake Style: Front & rear mechanical Disc | Suspension Type: Front | Speeds: 21 | Max Weight Capacity: 300 LBS | Weight: 37.1 LBS | Suitable Height: 5'2" to 6'2″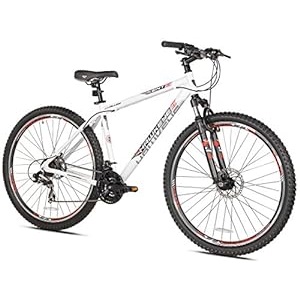 If you're looking for great value and don't mind checking a few things, you will not be disappointed with the Kent Hawkeye 62970 mountain bike. In all respects, from manufacturing materials to assembly and finishing, the Kent Hawkeye is one of the best mountain bikes under 750 dollars for adults. It is suitable for both men and women and stands out for its high performance in terms of speed and reaction times.
The aluminum frame and rims make the bike very robust but light. Kent Hawkeye Mountain Bike is also characterized by a higher degree of safety than similar bikes produced by competing companies. In fact, it mounts disc brakes both front and rear.
The Shimano rapid-fire speed shifters allow you to select up to 11 speeds. Both the shifting and braking systems are produced by Shimano. These are models specifically designed to offer high-level performance. It is possible to travel along stretches of gravel and sand even with assisted pedaling.
The 18.5 ″ aluminum frame can offer top-of-the-range transmission power, combined with strong bike stability and equally precise handling. However, it is a front suspension mountain bike and the wheel size is 29″. The brakes are disc brakes and are among the best currently on the market as they allow you to brake suddenly or gradually according to the needs of the moment.
The Kent Hawkeye mountain bike is suitable for all types of terrain, from a quiet ride in a park to woods, mountain dirt paths, and so on. The pedaling comfort is also good.
Keep in mind that this is an entry-level category mountain bike, therefore intended for cyclists who pedal at a competitive level, but it is also very popular with the most demanding enthusiasts. Although instructions are detailed, it can take two hours to assemble for newcomers.
PROS
High-quality construction
Smooth and comfortable for taller people
Nice wheels and great gear shifters
Very lightweight design
Detailed assemble instructions
CONS
Fork is not great
Wheels are not quick release
Not good for height in less than 5'5″
---
5. Mongoose Tyax Sport Mountain Bike for Adults
Frame Material: Aluminum | Frame Size: Small-Large | Wheel Size: 27.5 & 29.0 Inches | Brake Style: Hydraulic Disc | Suspension Type: Front | Speeds: 22 | Max Weight Capacity: 330 LBS | Weight: 31.5 LBS | Suitable Height: 5'2" to 6'4″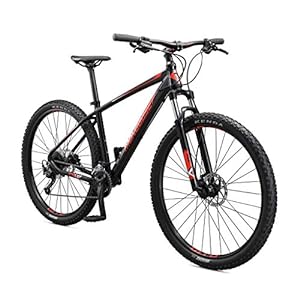 Mongoose Tyas Sport Mountain bike is made from Tectonic T2 aluminum frame, which is lighter and stronger than ever. Despite being of a fairly economical range, the Mongoose Tyas mountain bike has excellent mechanical specifications such as integrated steering and mechanical hydraulic disc brakes. It features 141 mm rear hub spacing, which creates a more stable and rigid on the hardtail.
Let's go back to the design, you can choose wheel sizes between 29″ and 27. 5″, making it suitable for a wide range of terrain and riding styles. The tires are tubes but are tubeless capable, so you can turn them into tubeless if you choose to!
The seat is also comfortable and equipped with protections that allow you to stay in the "saddle" even for a long period of time. The Kraton lock-on grips provide added comfort and security while riding. The internal cable routing allows for neat, clean lines while providing added protection.
The rear is a Shimano Tourney derailleur; the fork is of the Zoom type and is very soft, able to absorb any unevenness of the ground very well. It is suitable for both road and off-road.
Mongoose Tyas Sport mountain bike is very comfortable both for beginners and more experienced bikers. Furthermore, it also offers excellent performance both on paved roads and on dirt paths, making it a good mountain bike for different activities: sports, touring, or commuting.
The body on this bike looks and feels very high-end at a competitive price. The welds are all good and visible. Overall, it is a perfect mountain bike under $750 for seasoned ridders or someone who's newer to the sport but still demands high performance from their investment.
PROS
Assembly is pretty simple
Very user-friendly design
Comfortable riding on all-terrain
Excellent seat and grips
Superb Disc Brake
Different color options are available
CONS
Doesn't come with a kickstand
Pedals are of a plastic composition
---
How to Choose the Best Mountain Bikes Under $750
Here are some important points you need to think about before buying a mountain bike for less than 750 dollars.
Types of mountain bikes
There are five different types of mountain bikes available on the market. Before making the purchase decision you need to figure out which design is best suitable to your budget and requirement.
Cross-country bike: This category is the most common model because the cross-country bike is a versatile solution for all cyclists who want to take a break from asphalt. Cross-country bikes are usually equipped with a simple front suspension and small wheels. These bikes allow a pleasant pedaling efficiency on rolling trails. They are also faster and more maneuverable. Cross-country style would be a good choice, especially if you're looking for a performance mountain bike under 750 dollars.
Hardtail Bike: The Specialized Epic Hardtail is a cross-country bike benchmark. It is lightweight, fast and agile. Hardtail mountain bikes are therefore a rocket on the trails! Sport cross-country bikes, especially those with 29-inch wheels, are similar to bikes in the hybrid category. Sure, they're heavier but can be suitable for occasional riders who want to pedal as much on bike paths as they do on trails.
Trail bike: These are the preferred bikes for trail enthusiasts who want more control and stability on rough terrain. Trail bikes promise better absorption. They generally offer two suspensions and are therefore heavier (and slower) than cross-country bikes. They are also more responsive.
All-Mountain Bike: They are bikes dedicated to cycle hiking and all those non-competitive MTB activities. The peculiarities of these bicycles are the good pedal ability, reliability, and comfort even downhill. The geometry is also stable and allows riders to overcome both steep and uphill sections with ease.
Downhill bike: Downhill mountain bikes developed specifically for the homonymous competition which consists of a downhill time trial on fast and technical tracks. To achieve sustainable high speeds, the geometry is stable. The wheelbase is also long and the steering and saddle angles are relaxed. Lightness is the most important aspect of downhill mountain bikes.
Frame materials
As we have seen, there are frames in carbon, steel and aluminum, and we are sometimes wondering which is better to choose.
Carbon is very resistant and resists stress well. In fact, it is used for road bikes and for specialized riders. But it's difficult to find a carbon frame mountain bike for nearly 750 dollars. Aluminum on the other hand is very light and low-cost so it's good for low-budget bikers. Steel is cheap but very durable and great bicycles that are used every day and therefore suffer wear.
Wheel size
Another fundamental parameter is the diameter of the wheels, which affects the performance and driving comfort. However, the wheels of mountain bikes have different heights and obviously. Make sure to choose the one that best suits your needs.
The most popular sizes today are 27.5 and 29 inches. 27.5″ mountain bikes have become very popular in recent years because they have excellent comfort and grip and therefore make driving significantly precise. However, if you don't know what to buy, then choose a 29-inch wheel to remove all doubts.
Braking system
A very careful discussion must be made regarding the brakes issue. Mountain bikes must have adequate brakes. If you want to give your all on descents and beat your speed records, disc brakes are always recommended. In addition, hydraulic brakes are the best but more expensive.
The weight
When it comes to mountain biking, we see how weight is often a variable on which few like to compromise. We must point out that we are talking about a bike created to face different situations and conditions, even a lot compared to an exit on a city route. There is therefore no doubt that the weight and build of the bike adapt accordingly.
When choosing your mountain bike, keep in mind that the heavier the bike, the harder it will be to climb. Also, make sure your bike weighs between 30 and 50 pounds.
Comfort to use
It should not be forgotten that for mountain bikes, the discourse of safety and performance must always be accompanied by pleasantness in pedaling and in the support of a properly cushioned fork on all occasions. It is therefore good to try it before buying.
And if possible, touch the product or compare the opinion of those who buy this model.
FAQs
Can I find a good quality mountain bike under $750?
Yes, you can find decent mountain bikes in this price range. They don't have all the high-end features, but there are many options that offer good value for the price.
Should I consider buying last year's model for a discount?
Yes, buying a previous year's model can be a great way to get a quality mountain bike at a lower price. Often, the changes between model years are minor.
What is the difference between a hardtail and a full suspension mountain bike?
Hardtail bikes have suspension only in the front, making them lighter and more affordable. Full suspension bikes have suspension in both the front and rear for better comfort and control on rough trails.
Are disc brakes better than rim brakes?
Disc brakes offer better stopping power and perform more consistently, especially in wet conditions. They are a good choice for mountain biking.
Conclusion
Buying a quality mountain bike under $750 that serves for a long time can be a little more difficult than you think. Because everyone rides mountain bikes in a different way, and we aren't all looking for the same thing. For example, for those who just want to enjoy the scenery while keeping fit, an electric mountain bike may be the best option, while those who like to get away from the crowds and think outside the box may decide on a gravel bike.
However, if you know what you like, it becomes easier to choose the best mountain bike without breaking the bank.
We hope that now you can easily find the best mountain bike on your budget. For any tips, put your question in the comment section below and we will answer it.
We have written another article just for that topic — Best Hardtail Mountain Bike Under $1000 – Buyer's Guide.