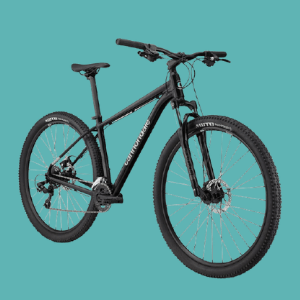 Riding rough trails might tire you a little more, but the results in terms of speed are unmatched. Hardtail mountain bike has a fairly high pedaling efficiency because there is not as much movement in the rear wheel. It is the most effective way to climb at high speed.
They're lighter, cheaper, and more flexible than most other types of mountain bikes, and certainly bring more fun to drive. And these could handle a lot of different terrains.
I have selected 7 hardtail mountain bikes from 500 to 1000 dollars that I consider recommendable (ready for all of your 2021 mountain bike adventures). Both pro and beginner bikers will find attractive hardtail mountain bikes here. I also guide you on how to choose the best hardtail mountain bike in your budget.
Best Hardtail Mountain Bikes Under $100 in 2021
1. Royce Union RHT 76029
2. Trekbikes Marlin 7
3. Mongoose Tyax Expert
4. Cannondale Trail 8
5. Diamondback 02-17-2222 Overdrive
6. Cannondale Trail 7
7. Huffy Tekton
1. Royce Union RHT 76029
Frame: Aluminum | Frame Size: 19" | Wheel Size: 29" | Brake Style: Disc | Suspension Type: Front | Speeds: 22 | Weight Capacity: 330 LBS | Weight: 42.85 LBS | Suitable Height: 5'10" to 6'4"
Royce Union has been making bikes since 1904, so I have no doubt about their quality. As an inexpensive hardtail mountain bike, their latest edition RHT 76029 is one of the excellent options for those looking for a model that can be ridden on all grounds and surfaces, especially hardtail comfortably.
The available range is extremely impressive for men, women, and children in different heights. The available frame sizes are 15 inches, 17.5 inches, 19 inches, and 21 inches, suitable for anyone between 5 feet 2 inches and 6 feet 4 inches. However, here I'm picking the men's series (19-inch frame), one of the lightweight hardtail mountain bikes under $1000 on the market with plenty of travel control and decent performance.
Everyone hardtail mountain bike needs a good front suspension, thanks to the front forks, which incorporate the excellent Suntour XCT suspension system. Having a strong frame is also a considerable advantage when it comes to front suspension mountain bikes and this one is made from air-plane grade aluminum which is strong but not heavy at all.
It features dual-hydraulic brakes that operate at optimum levels regardless of whether the conditions are wet, dry or off-road. You can also quickly stop the speed on your brakes. The Kendra small block eight tires also make sure you have optimum grip when stopping or turning.
Royce Union RHT 76029 has used Shimano SLX 2 x 11 gear shifter, which provides up to 22 different speed options so you can sprint or climb with a little effort. You can also ride fast on smooth ground. It can extensively handle riders' weight range from 200 to 300 pounds.
PROS:
Lightweight and solid construction
Smooth shift between gears
Excellent tires for well grip
Simple but well functions
Available size for all riders need
CONS:
Seat a little bit uncomfortable
The pedals are BMX type
---
2. Trekbikes Marlin 7
Frame: Aluminum | Frame Size: 15.5-23" | Wheel Size: 27.5-29" | Brake Style: Disc | Suspension Type: Fork | Speeds: 22 | Weight Capacity: 300 LBS | Weight: 30.35 LBS | Suitable Height: 4'6" to 6'8"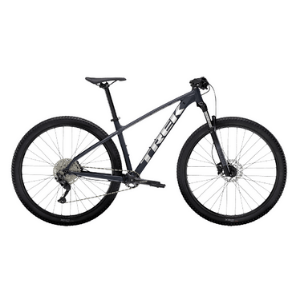 If you're new to the trail but have serious singletrack aspirations, and want a versatile, race-worthy mountain bike with upgrades on the parts that make a big difference in your performance, like a higher quality suspension fork and a simple 1x drivetrain, then Marlin 7 is the best option for you.
It is smooth in surface, and lightweight and the RockShox fork makes this bike the best choice for new fast cross country hardtail riders. Although the Trek Marlin 7 performs like any other mountain bike, it has unique design and very consistent amount of power for its build quality.
The frame is pretty much light compare to Royce Union. Because it made of Alpha Silver Aluminium frame which is very durable and light and features a low standover. The mountain bike comes in different sizes for a wide range of riders (both men and women).
It has some differences compared to the previous version Marlin 6. For example, the women's option is pretty light compared to Marlin 6. But all other components and parts are same.
The Marlin 7 comes outfitted with a Shimano Deore M4100, 10-speed shifter and a Shimano Deore M5120 long case rear derailleur. Both components work together seamlessly and deliver smooth gear transitions. It also has wide range of gearing options with sample climbing capabilities. The Shimano hydraulic disc brakes deliver almost instant stopping power regardless of the terrain.
For an entry-level hardtail bike, the Trek Marlin 7 is a reasonably inexpensive bike at right around $800. But you will get access to tons of advanced features. The quality parts and well construction make this bike fully capable of taking on big trail adventures and XC races. However, this model is considered an entry to intermediate level hardtail bike due to the low price tag.
PROS:
Versatile and race worthy mountain bike
Lightweight and durable Alpha Silver Aluminum frame
Feels like a much more expensive mountain bike
Easy to accessorize for various use
Available in different size, fit for every rider
Rear kickstand mount
CONS:
The wheels and tires are tubeless compatible
---
3. Mongoose Tyax Expert
Frame: Aluminum | Frame Size: 15-19" | Wheel Size: 27.5-29" | Brake Style: Disc | Suspension Type: Front | Speeds: 21 | Weight Capacity: 330 LBS | Weight: 31.5 LBS | Suitable Height: 5'4" to 6'4"
After a long time, when Mongoose announced a new hardtail bike launched, I thought it would be a super high-end model and super sharp as a racing bike, so I was surprised when I realized it will be dedicated to budget riders. Look-wise, it's one of the coolest mountain bikes under $1000.
Although it is a starter price mountain bike, you will be impressed Mongoose Tyax series, especially Tyax Expert. However, there are also Comp and Sport model available for beginner riders. Not a huge difference among these three models, but I incredibly recommend Tyax Expert as a hardtail bike for long time use.
The bike rolls smooth and fast. It climbs great and provides real comfortable hardtail biking experience. However, it's a bit spiny when you tackle a long series of bumps but just having a fork that doesn't fight back allows you to focus more on your riding generally.
The weight is not much difference between the first and second options, but we think there will be plenty of riders out there willing to stop at nothing to secure the lightest bike.
Mongoose has managed to keep this lightweight despite its characteristic Forward geometry. It is available in 29", 27. 5" and 24" wheel options and four component spec levels. The wheels and 146 mm rear hubs are built to last and are not very heavy at all, even with the tires. The tires are also pretty good on different terrains.
The Shimano shifting and Tektro brakes are great, better than some expensive models I have found. You can easily assemble it. Also, you can follow the straightforward user manual. All parts of this bike are almost good and gearing is totally adequate for next-level riders.
PROS:
High-quality lightweight frame
Shifting and brakes are adjust perfectly
Smooth and wide range of gear shifting
The seat and grips are very comfortable
Roll ok on pavement/hardpack, and even dirt
CONS:
Wheels were fairly thin but ok
The fork is a little bit heavy
---
4. Cannondale Trail 8 Bike – 2021
Frame: Aluminum | Frame Size: X-Small to X-Large | Wheel Size: 27.5"/29" | Brake Style: Mechanical Disc | Suspension Type: Front | Speeds: 14 | Weight Capacity: 300 LBS | Weight: 32.9 LBS | Suitable Height: 4'6" to 6'4"
The Cannondale mountain bike has a luxurious design and a tough exterior (the previous 2020 model didn't have any visible attraction). With 27.5 in. wheels on smaller sizes and 29 in. wheels on larger sizes, it can go over any terrain very fast, and bring fun for every rider. If you are on the low or medium height, definitely get the small one.
The mountain bike has a maximum weight limit of 300 lbs (the 300 pounds includes the weight of the bike, rider, and gear/equipment on the bike) and is extremely durable with its aluminum frame and Mechanical Disc Brake, so even if you are the more adventurous type ride, you can rest assured that the bike will last you a long time.
Other than that, the Cannondale hardtail bike has 14 gear shifting options which is capable of delivers a smooth and controlled ride. The 2 x 7-speed drivetrain offers you a wide range of riding positions. Now this may be the best trail bike under 600 dollars. You can also rest assured knowing that the Cannondale prioritizes safety.
The Tektro mechanical disc brakes provide reliable stopping power for all conditions and a slack 68° head angle creates exceptionally stable handling so you can charge the descents with confidence. You can ride long hours without hurting the back. It is also a good bike for the more experienced riders but there are some components on the lower end that the expert rider will be noticed.
The components work well and the tires are pretty good for an entry-level bike. It's not really heavy compare to the previous three (weight 32 lbs. 14.4 oz.). The assembly process is simply easy because the detailed instructions and hex key tool are included.
If I talk about the minor issues, the rear derailleur needs adjustments every now and then and the Grips might not be the most comfortable for long-distance riding.
PROS:
Sturdy and well-made frame
Fast, safe, and easy to ride
Available in all height riders
Slick and simple design
Lightweight
CONS:
Size is a bit confusing, make sure double check before place your order
Basic level hardtail bike because of its price
---
5. Diamondback 02-17-2222 Overdrive
Frame: Aluminum | Frame Size: 20" | Wheel Size: 27.5" | Brake Style: Disc | Suspension Type: Front | Speeds: 24 | Weight Capacity: 330 LBS | Weight: 32.0 LBS | Suitable Height: 5'10" to 6'2"
Let's be honest, this model first release over 4 years, but the components are new standards, so you will get the latest greatest parts. If you are riding on hardtails on a regular basis, you have come to the right place. This hardtail mountain bike is great at all, but they are too cheap (half of thousand dollars), especially compared to the premium versions.
The Diamondback 02-17-2222 has a simplistic design, has a pair of tough rubber 27.5 inches wheels that can take you through most obstacles. While the Shimano 3 x 8 shifter 24 speed, you can achieve different speeds in comfortable ways. However, I wouldn't recommend this model for beginner riders unless they have enough awareness about balancing.
This is a versatile bicycle that can ride on various terrains, performing tricks, racing with friends or for transportation purposes. Because it features SR Suntour XCT 27 Coil Spring fork with 80mm travel that Soaks up bumpy terrain for more control and less fatigue. The disc brakes work great, rims and tires as well. Of course, it would definitely recommend justifying your height.
Adult bicycles have been used extensively by riders in the weight range up to 300 pounds. It comes with comfortable fit handlebars along with an adjustable seat. So if you are a man who looking for something more on budget, then this is the one for you.
To ensure quality, Diamondback offers a lifetime warranty of frame against manufacturing defects and the components have a 1 year warranty. I can also ensure that this front suspension bike provides a long time service without changing any part. Out of the box, it's easy to put assemble with simple directions and diagrams.
PROS:
Lightweight and durable construction
Strong and comfortable seat
There is relatively little assembly
Lifetime frame warranty
Very cheap price
CONS:
Used a plastic clip to hold the shift and rear brake cables
---
6. Cannondale Trail 7 Bike – 2021
Frame: Aluminum | Frame Size: X-Small to X-Large | Wheel Size: 27.5"/29" | Brake Style: Hydraulic Disc | Suspension Type: Front | Speeds: 16 | Weight Capacity: 300 LBS | Weight: 32.8 LBS | Suitable Height: 4'6" to 6'4"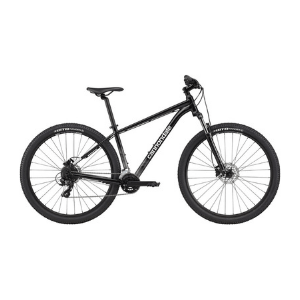 The Cannondale Trail 7 and Trail 8 both are aluminum frame hardtail CrossCountry bikes with modest components. However, Trail 7 has a bigger fork and features Shimano MT200 hydraulic disc brake while trail 8 built-in mechanical disc brake. And it is one of the best models from Cannondale line of advanced entry-level bikes.
With a price of just less than $600, the Cannondale Trail 7 should be shortlisted by people who have little experience on the trails and want an affordable ticket into this colorful cycling subculture. Nonetheless, it has some advanced features that should make you feel proud when you compare it with similarly priced models from other brands.
The frame made of SmartForm C3 Alloy, these frames offer light and lively design and stiff and snappy performance. It also features a moderated, upright geometry that improves the handling while hardtail riding and gives you a better view of the road in front of you and makes your rides more comfortable.
Depending on which size mostly feet with you, Cannondale Trail 7 offers both 27.5″ and 29″ wheels. Namely, this mountain bike is available in four sizes: S, M, L, and XL. This is important because shorter riders often feel uncomfortable controlling 29″ wheels bicycle. These wheels also have great diameters for multi-surface rides on gravel, dirt, and pavement.
I have rarely seen that entry-level trail bikes with a price tag of under $600 offer a pair of hydraulic disc brakes. If you are familiar with V-brakes or mechanical disc brakes, you'd be impressed with the improvement in braking power and performance.
Overall, if you keep your rides moderately relaxed, you'll be quite happy with Cannondale Trail 7.
PROS:
Fantastic relaxed manner bike
Wide range of gears for climbing
Solid construction with hydraulic disc brake
Available for men and women
A great all around bike for the money
CONS:
It is a bit slow and heavy
Not a good choice jumping or black diamond trails
---
7. Huffy Tekton Trail Bike
Frame: Aluminum | Frame Size: 15-20" | Wheel Size: 26" | Brake Style: Linear Pull | Suspension Type: Front | Speeds: 21 | Weight Capacity: 330 LBS | Weight: 44.0 LBS | Suitable Height: 4'6" to 6'4"
Huffy Tekton is designed for beginner to intermediate mountain bikers, thanks to their lower price and ease of use. This model is really suitable most people who want to ride mountain bikes will be looking at entry level bikes from some of the biggest brands out there. The Huffy Hardtail Mountain Trail Bike is designed for both men and women. There are also six color options available.
The bikes of both brands have specific geometry for women designed around the size of the female body. These entry level mountain bikes often play numerous roles, you can add rack and fender mounts to increase versatility.
This bike has 21 types of effective speed changes. This is possible due to the all-SHIMANO drivetrain. The oversized tires maximize the traction on road filled with dirt and gravel paths in wet or dry conditions.
On the rough terrains, the braking system is impressive with beautiful mechanism behind it. The brakes can be applied very swiftly. Also, there is an immediate stopping option which is very useful for comfortable riding. The total assembly weight is around 44 pounds.
There are six variations of frame size to the nature of your biking trips. To maximize the comfort of the riders, the pedals and seat cover use resin. So if you have to plan to ride for long distance, the material used in the seat cover and pedal ensures a large amount of comfort.
In this Hardtail Mountain Bike, there is an acceleration mechanism based on the gears that can be managed well and smoothly. However, some buyers complain that pedals look cheap due to the resin materials.
PROS:
Oversized tires maximize traction
Built in slight-rise handlebar
Decent components decent with leather seat
Easy to assemble
10-year warranty
CONS:
One of the heaviest bikes in this list
Pedals are made of resin material
---
Buyer's Guide
You already see that there is a lot of option when it comes to choosing a front suspension mountain bike. That's why I have included a number of key features that you can consider before making a purchase decision.
Materials of the frame
A front suspension mountain bike frame should be strong but also light. From the bikes I have reviewed, you have two options: carbon or aluminum composite.
Aluminum is a great choice for a hardtail bike frame. It is the substance material that is mainly powerful but still light. This is generally what you would expect on a mid-century bike and will give you excellent performance capability.
The combination of carbon is a very impressive and expensive material. This is what is found on high-end bikes, and you should expect the price to match. It is quite light while being very powerful. You will feel the difference if you go for the carbon composite, but it will put you back a bit.
Wheels and tires
A larger wheel will roll up more easily and give you the best control. If this sounds like everything you are looking for, buy a bike with 29 inches wheels. Smaller wheels, such as 27.5 inches, will give you better handling, making them a favorite for downhill racers.
When it comes to tires, the wider they are, the more traction you are likely to have. But you can compromise on speed. 5cm thickness is normal for an XC bike, but you might want something thicker to get a road bike.
Customization
Most hardtail mountain bikes have at least a small degree of customization, allowing you to adjust the seat position or put extra padding on the seat surface. Unfortunately, as you enter more specialized terrain, you may find that a few of the specially designed bikes are not compatible with each of the additional instruments and accessories that you want to include.
Driving quality
Many mountain bikes are likely to be very straightforward in keeping your rides enjoyable and pain-free. However, this is not always an indication of an inexpensive setup. Hardtail feels responsive compare to dual-suspension bike when pedaling. You may have just picked a budget bike that excludes relaxation is not a good idea. A hardtail bike should be responsive, fast, and delivers efficient ride. It's not just about how relaxed you feel, but also how well it performs on regular routes.
Prices and other various tips
The prices of the mountain bike and in particular of the hardtail vary a lot according to what you want to buy and more than anything else to the use you want to do.
To start the adventure, I advise you to turn to a model that is not too high a price. In fact, it starts from a minimum of 200 dollars up to very high prices that are even around 3000 dollars. Initially, it is good to opt for a medium-low budget. There are also very good bikes you have seen with prices that are around 300-1000 dollars with aluminum alloy frames.
Obviously, a better quality bike will be lighter, efficient and will perform better, but in the initial phase of training and testing, it will probably be the technical limitations of the beginner to set limits on the purchase. On the other hand, if you are determined to want to buy a bike of a high-quality level, the budget should be at least around 1500-2500 dollars.
FAQs
What is a hardtail mountain bike?
The hardtail is the one that promises an easy and carefree ride. These bikes have a suspension front and non-suspension rear. They have the characteristic of being able to be dedicated to both beginner and pro riders given their simple structure characterized by aluminum frame. They are lighter and better equipped than full-suspension bikes and therefore more suitable for people who want to spend a lot of time hiking with their bikes.
Is buying a hardtail mountain bike worth it?
As I mentioned, hardtail bikes are very light, with a weight sometimes less than 30 lbs. They shoot very fast and run on the ground but give the biker little in terms of fun. They're also easy to maintain.
However, the geometry and materials of these bikes are optimized for light use. The inclination of the top tube is not very marked, saddle and steering angles are relatively vertical and the riding position is very low. Quite difficult to ride over rocky terrain because there's no rear suspension to absorb that shock.
Which wheel diameter to choose?
Whether you are a beginner or a veteran of this sport, the wheel diameter of these bikes takes on fundamental importance in terms of safety and therefore good road holding.
For a beginner, the optimal diameter is 29 inches because it offers stability in driving, increases weight and reduces handling. In the 26 and 27.5 inches, the advantage is greater malleability and a lower weight, ideal for those who are already familiar with off-road routes.
Who are hardtails for 1000 dollars aimed at?
They are of course beginners who are just discovering the wonderful sport for themselves. But that's also everyone who is looking for a solid, low-maintenance, not too heavy, "honest" mountain bike. Many ambitious bikers also choose an inexpensive hardtail as a second bike for dirty days.
Can I use my own hardtail mountain bike on the street?
The short answer is yes. Even you can use a hardtail mountain bike on commuting. However, it won't perform nearly as wells as a road bike, but you can definitely do it. But keep in mind that many of them are built to be strong – you may end up moving faster than you know.
Conclusion
Hardtail bikes can meet almost any mountain bike need. The general consensus is that by using a hardtail you usually get more for your money. These are mountain bikes and a lot of fun to ride.
When you need to ride cross country tracks, you can choose an entirely different model. Regardless, all of the bikes we reviewed are lightweight and flexible and fit a variety of terrains.
---
Related: